"Second-place, Guem Abraham, South Sudan, 3:42.99"

The numbers on the digital scoreboard display a new South Sudanese Men's 1500m national record. On April 4, Guem Abraham of South Sudan set a new personal best at the "Tokyo Athletics Association Middle Distance Challenge" held at Komazawa Olympic Park Athletic Field in Tokyo. He was unfortunately overtaken on the back straight and finished second, but still set the best official record in Japan.

Through an introduction by JICA, Maebashi city in Gunma Prefecture is hosting a team of athletes from South Sudan. About a year and a half has passed since the start of a long-term training camp for the Tokyo Olympics. The warm support of Maebashi city and encounters with various people encouraged the South Sudanese athletes and helped them improve their athletic performance. YOKOTA Masato, a professional track and field coach, and members of the middle- and long-distance track club "TWOLAPS" that he leads, were among them. Mr. Yokota is a former Japan national record holder of Men's 800m, and he took part in the London Olympics.

As fellow track and field athletes, they proved that sports have the potential to help people understand each other beyond racial and national borders. They also shared the power of sports beyond just winning and losing, stimulating each other to improve.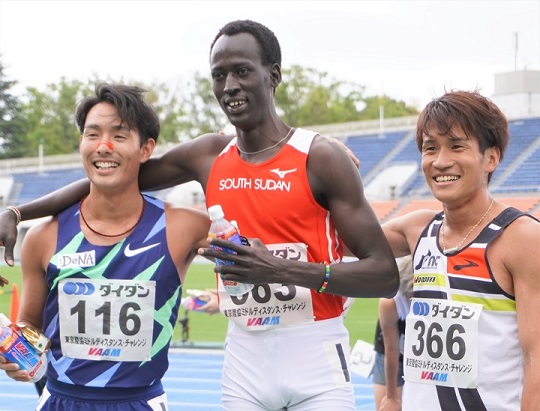 Following the race, Guem Abraham (center) and TWOLAPS members, KUSU Yasunari (right: Ami Athlete Club member, third place in the Men's 1500m at the 2020 JAAF Athletics Championships) and TATEZAWA Ryoji (left: DeNA Athletics Elite member, first place in the Men's 1500m at the 2020 JAAF Athletics Championships), congratulate each other on a job well done
Looking forward to the Olympics with confidence, aiming to break more records
Mr. Abraham reflected on the race as follows.

"In most competitions I have participated in so far, I usually ran in first place, so never really learned about pacing myself. This time, I was able to set a new personal best thanks to this high-level competition, with the help of Mr. Kusu (of TWOLAPS) who I trained with leading me as a pacemaker."

Mr. Abraham said that the record he set in this first competition of the season gave him a lot of confidence going into the Olympics. "I was able to get good results despite the windy conditions. Today's race made it clear that I still need to work on the last 80m, so I will continue to train and aim to improve on my record."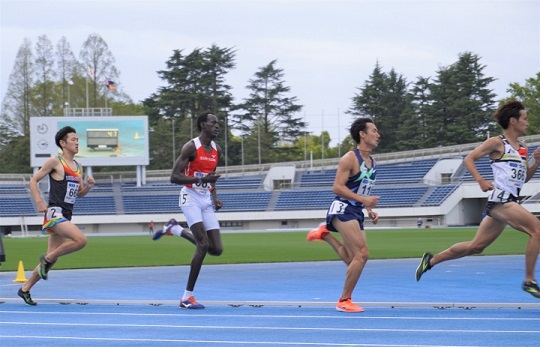 Mr. Abraham (center) pursuing Mr. Kusu (right), the pacemaker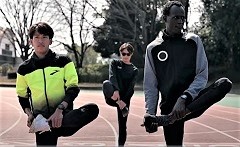 Coach Yokota (center) and Mr. Kusu (left) who visited Maebashi city, working out with Mr. Abraham
Mr. Yokota, the coach, was the one who invited Mr. Abraham to this championship. Last December, he interviewed Mr. Abraham for JICA's article. Mr. Abraham's desire to run with hopes for the future of his home country, South Sudan, resonated with Mr. Kusu and other members of TWOLAPS. They visited Maebashi city in March this year to train with Mr. Abraham, and assisted him in preparation for this event.
Since coming to Japan, Mr. Abraham had been unable to improve on his record. However, through these joint workouts, he learned how to maintain his motivation for the race, how to warm up, and many other things that he was able to utilize in this high-level competition.
"Running for the future of my country" - rediscovering the significance of sports
"Mr. Abraham carefully prepared for the race saying, 'I want to improve upon my personal best,' and I could sense his determination even before it started. I was leading the race as a pacemaker, but when I looked back around 1000m, I could see that Mr. Abraham was starting to make a move. But the headwind was strong. I knew I had to push harder, so I ran 100m longer as a pacemaker than planned."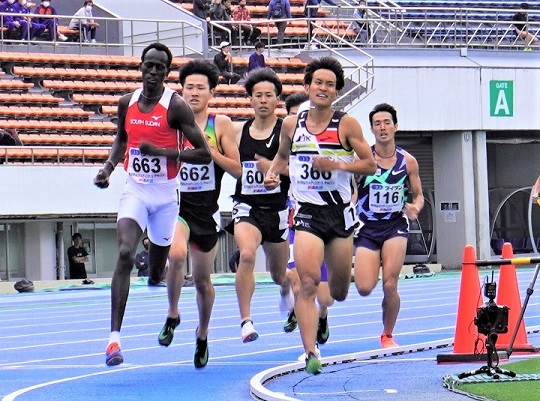 Mr. Abraham (left) competes with some of Japan's top-class athletes
These are the words of Mr. Kusu, the third-place finisher in the Men's 1500m at the 2020 JAAF Athletics Championships. As he is currently aiming for the Tokyo Olympics in the 3000m steeplechase, Mr. Kusu said that his encounter with Mr. Abraham was an opportunity for him to reevaluate the significance of the Olympics and sports.

"While coaching track and field to about 300 children, I wanted to compete in the Olympics because it could serve as a dream and goal for them. When I heard about Mr. Abraham, I was moved once again by the fact that the Olympics can lead a nation to peace, and that Olympics has its own meaning in each country. I also empathized with him when he said that he wanted to share his experiences in Japan with the children of his country."

Mr. Kusu, who was training with Mr. Abraham, smiled and said that although he seemed to be an unapproachable person with a sense of mission, he was actually a hard-working young athlete who genuinely wanted to run fast. The two hit it off, vowed to be friends, to raise each other's level, and to stand together in the Olympics.
We should not be killing each other, but caring for each other
At the post-race press conference, Mr. Abraham was asked by the media, "What kind of performance do you want to show your country at the Olympics?" Mr. Abraham answered as follows.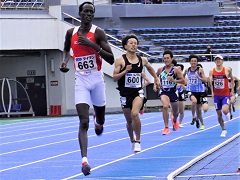 "By competing in the Olympics as a South Sudanese, everyone will support me beyond tribal boundaries. I want to run to bring South Sudan together," says Mr. Abraham
"Of course, I want to set a good record. But more than anything else, I will be able to set a good record only if I gain the courage and the will not to give up through the relationships I have with various people and from those who support me in Maebashi city. So, in addition to my record, I want to show my home country this spirit of love for each other, instead of killing each other in conflict..."



In South Sudan, about 3.7 million people, or almost a third of the population, are still refugees or internally displaced persons due to tribal conflicts over the years. Mr. Abraham's experience in Japan should provide a bright future for his home country.
Mr. Yokota would like to continue to support Mr. Abraham in the future. "It is my desire that the club, TWOLAPS, be a game changer that transcends gender and nationality and changes society through sports, even outside of competition," he says. The encounter with Mr. Abraham has been a valuable experience for the members of TWOLAPS as they create a value for sports that goes beyond just winning and losing.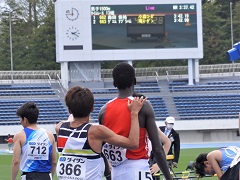 Mr. Abraham and Mr. Kusu look at the digital scoreboard displaying the new South Sudanese national record. The bond between the two will continue to deepen
Mr. Abraham, Mr. Yokota, and Mr. Kusu, all say, "This is not the end of our encounter. We would like to continue this relationship after the Olympics."

A single encounter through sports, and the bonds fostered therein, can create new power and become a catalyst for social change - JICA will continue to support such a path.