The 26th UN Climate Change Conference of the Parties (COP26) is taking place in Glasgow, U.K, from Oct. 31 to Nov. 12 to discuss measures to tackle climate change.

Climate change is an urgent issue that poses a threat to the livelihoods of people all over the world. It leads to frequent and extreme natural disasters such as droughts and heavy rainfall and increases the risk to food supplies. Developing countries are particularly vulnerable to climate change and people's lives are at imminent risk due to lack of climate-resilient infrastructures and insufficient measures to fight against climate change. Flooding and water shortages can also spark conflict in their watersheds.

Looking 10 to 20 years into the future, JICA is supporting developing countries to accelerate their efforts to fight against climate change.

The fact is: "We are facing an imminent crisis"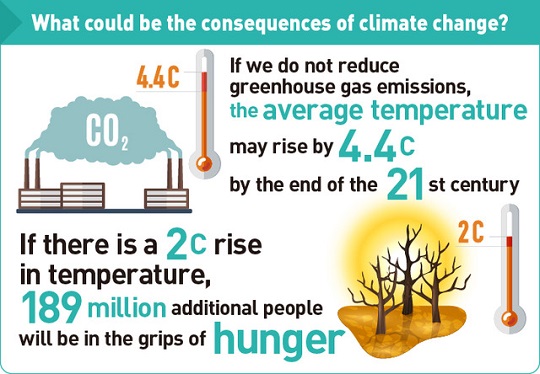 The Paris Agreement, which was adopted in 2015 at the COP21, aims at keeping the increase in the global average temperature to well below 2 C while pursuing efforts to limit rise in temperature to 1.5 C above pre-industrial levels. On the other hand, according to the Sixth Assessment Report (Working Group I) published in August this year by the United Nations' Intergovernmental Panel on Climate Change (IPCC), the global average temperature between 2030 and 2052 is expected to exceed 1.5 C compared to pre-industrial levels, and reach 4.4 C by the end of the 21st century, if no measures are taken to significantly reduce greenhouse gas emissions.

What would happen if the temperature rose?


In September 2021, the World Bank announced that over 216 million people will be forced to move within their countries by 2050 unless immediate and concrete measures are taken to curb greenhouse gas emissions (Note 1). In addition, a United Nations World Food Programme analysis in October 2021 showed that a 2 C rise in average global temperature from pre-industrial levels will see a staggering 189 million additional people in the grips of hunger (Note 2).

These results show that climate change is an imminent crisis. As the IPCC Sixth Assessment Report indicates, there is "no room for doubt" that climate change is being caused by human activities such as industrialization. In other words, we need to change our own behavior in order to contain global warming.

Supporting sustainable development of developing countries and tackling climate change
In developing countries that are in the process of nation-building, it is crucial to take a "Co-benefits Approach," where development initiatives are implemented while actions are taken to respond to climate change at the same time.

In various sectors such as energy, transportation, urban development, agriculture, water, disaster risk reduction, and forest conservation, JICA is taking measures to reduce greenhouse gas emissions and increase carbon absorption (climate mitigation). At the same time, we are taking measures to counter the negative impacts of climate change that are already in progress (climate adaptation).

In particular, since the 1990s, JICA has been engaged in efforts in line with the needs of developing countries to respond to global climate change. To date, JICA has supported climate actions in more than 50 countries, and people from more than 100 developing countries have participated in training programs on climate change countermeasures in Japan.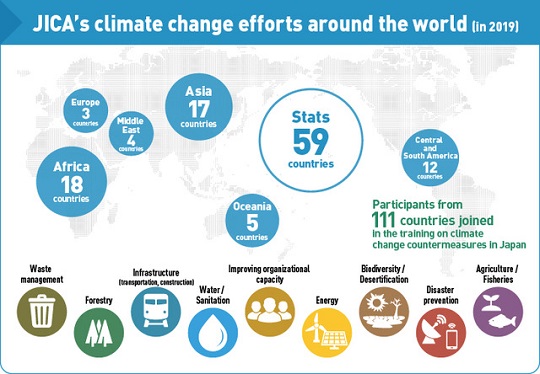 Four approaches to fight against climate change
JICA is deploying four specific approaches in developing countries with an aim to promote the implementation of the Paris Agreement and the Co-Benefits Approach.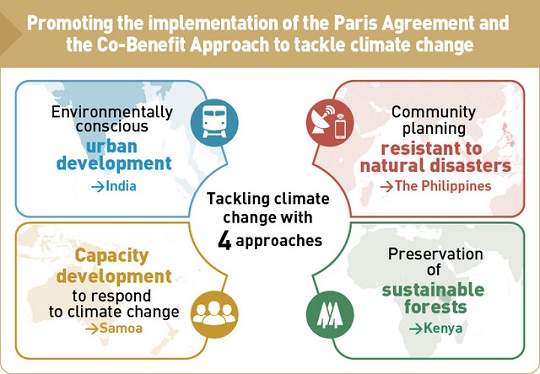 In India, where urbanization is rapidly accelerating, the increased ownership of private vehicles has resulted in serious traffic congestion and environmental problems due to exhaust gases. JICA is supporting its efforts to reduce greenhouse gas emissions in the capital city of Delhi through public transportation development. In Davao, the Philippines, where floods frequently occur due to climate change, we have supported the city establish control measures to reduce the damage caused by floods. In Samoa, training programs have been provided for ministries and agencies in charge of climate change in the Pacific region. In Kenya, where the degradation of forests is an issue, we have assisted in implementing a forest management policy and a monitoring system as well as setting up a scheme to preserve and sustainably develop woods.

Left: An urban railroad in the Indian capital of Delhi
Right: Samoa, an island state in the Pacific region, where training programs are provided for relevant ministries and agencies in the Pacific region to take climate action

Standing together with developing countries to tackle climate change
Last year, the Government of Japan declared that Japan would realize carbon-neutrality by 2050. As many developing countries also move towards the same goal, there is a need for support for this shift; reducing greenhouse gas emissions while enhancing socio-economic activities.

Looking ahead, MIYAZAKI Akihiro, director general of JICA's Office for Climate Change, comments as follows.

"The impact of climate change is becoming increasingly more serious and is also referred to as the 'climate crisis.' In order to promote wide-ranging and sustainable efforts to combat climate crisis in terms of both mitigation and adaptation, it is vital to mainstream climate change measures within a variety of development issues. In addition to assisting developing countries in their efforts towards carbon neutral society, we must contribute to achieving the goals of the Paris Agreement and building climate-resilient societies. This assistance must be implemented by incorporating climate change measures into a variety of issues, including energy, transportation, agriculture, forestry, disaster risk reduction, water resources, and healthcare."