Representatives of the Japan Overseas Cooperation Volunteers (JOCV) and Youth Volunteers for Nikkei* Communities (NJV) who returned to Japan after their two-year assignment in developing countries had the honor of talking informally with Their Majesties the Emperor and Empress of Japan at the Imperial Palace on Oct. 25.

*Japanese Descendant

Since the launch of the volunteer initiative in 1965, Their Majesties have talked informally with volunteers who have returned to Japan, and this year, as well, representatives of returned volunteers have received the opportunity to report to Their Majesties on their activities in the foreign countries where they served.

On this occasion, two JOCV and one NJV back from being dispatched to countries in Eastern Europe, Africa, and Central and South America met with Their Majesties the Emperor and Empress of Japan. Before this informal conversation, they met with JICA President KITAOKA Shinichi at JICA headquarters in Chiyoda-ku, Tokyo.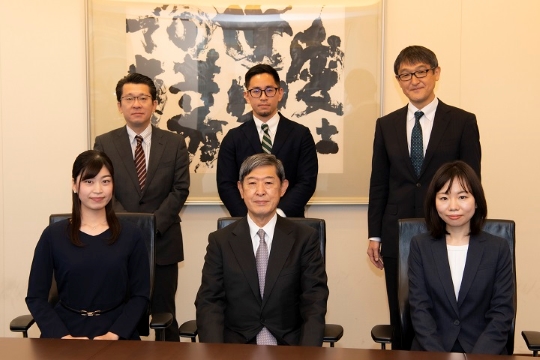 From left in the front row are Ms. Kondo, JICA President Kitaoka, and Ms. Tomita.
In the back row from left are Mr. Tanaka, chief secretary of office of the president, Mr. Miyagi, and Mr. Kobayashi, director general of JOCV

First JOCV assignment to Serbia: Instructing persons with special needs in sports
MIYAGI Yuya (category: Support for Children and Adults with Disabilities, age 27, from Okinawa Prefecture) and his fellow instructors visited several facilities in Belgrade to provide instruction in swimming and other sports to children and adults with special needs. He was one of the first JOCV to be dispatched to Serbia. In 2019, he and his colleagues were awarded the "Heros of the Belgrade Marathon" award for their highly regarded efforts of running together with people with disabilities in the Belgrade Marathon. He earned the trust of the colleagues and members of the association as well as their families, having contributed to improving the recognition and image of Japan and JICA. He also appeared in foreign media such as Al Jazeera. Moreover, he participated as a language service volunteer for the Serbian delegation to the Tokyo Olympics after he returned to Japan.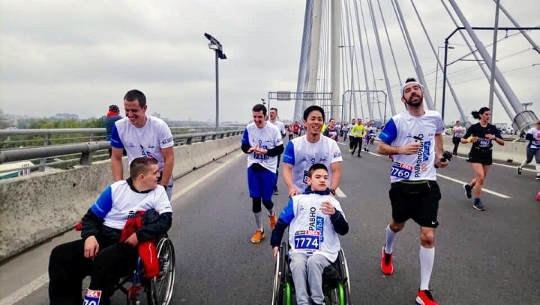 He took part in the Belgrade Marathon (in the Half Marathon). Mr. Miyagi is pushing a wheelchair in the center
Promoting water and sanitation awareness and improving nutrition in Rwanda
TOMITA Mika (category: Community Development, age 34, from Saitama Prefecture) worked in the Kayonza district located in Eastern Province, Rwanda, to promote water and sanitation awareness, to establish a community committee to manage water wells, and to support its operation.

She was engaged in activities such as holding workshops on washing polyethylene tanks and handwashing for local residents and schools, cooking training to improve nutrition, surveying the water quality of water supply stations, and identifying and sharing their condition with local residents. She also cooperated with JICA to create video materials for development education. During her temporary return to Japan due to COVID-19, she conducted educational activities such as teaching about life and water conditions in Rwanda to Japanese elementary schools and companies.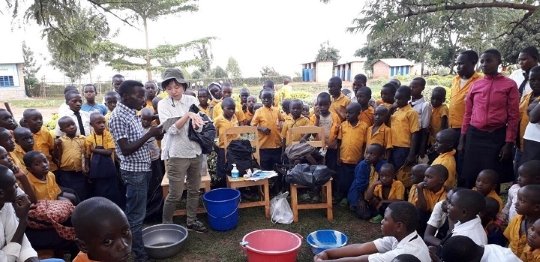 Ms. Tomita (center) conducting a handwashing workshop with a local teacher. Students in yellow uniforms are elementary school students, and in white uniforms are junior high school students
Promoting Japanese language education and Japanese culture in Brazil
KONDO Yumi (category: Japanese Language Education, age 29, from Shiga Prefecture) acted as a fifth generation JOCV at a Japanese language school established in 2008 in the city of Pindamonhangaba, located about 180 km northeast of Sao Paulo, Brazil. Her main activities included holding workshops and study sessions aimed at improving the Japanese language teaching skills of local teachers. She also provided guidance on Japanese culture and the Japanese Language Proficiency Test to students. She encouraged the staff at her workplace and her peer JOCV members to sing "Paprika," a support song for the Tokyo Olympics, and with a total of 16 organizations participating, she made this into a video to cheer on the Olympic Games. She worked vigorously on public relations.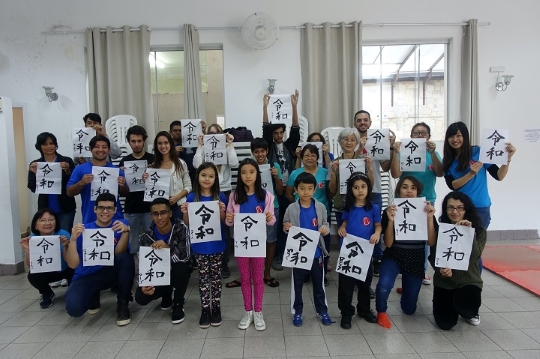 At the monthly Japanese culture class, which was very popular among the students, the class did calligraphy to commemorate the coming of the Reiwa era. Ms. Kondo is in the second row on the far right
Following the informal conversation, participants left comments such as, "It was a great honor that Their Majesties listened intently to the report in a friendly atmosphere and asked us questions," and "They showed interest in my activities after I returned to Japan. Their words of encouragement were invaluable."