Ms. Suzuki works as a volunteer teaching elementary school children in Brazil. More than half of the children are third- or fourth-generation Japanese descendents and each has a different level of Japanese-language capabilities.
JICA's volunteer programs support activities by citizens who wish to cooperate in the economic and social development as well as the reconstruction of developing countries. Through these cooperation activities, participating volunteers can not only contribute to the development of partner countries but also gain valuable experience in terms of international goodwill, mutual understanding and an expansion in their international perspectives.
Widely recognized as a representative Japanese international cooperation program, volunteer activities have not only earned high acclaim from partner countries but are also receiving increased praise in Japan, where expectations for these programs are also rising.
Types of Volunteer Programs
Japan Overseas Cooperation Volunteers (JOCVs)
Recruitment campaigns target people between the ages of 20 and 39, with the areas of cooperation spanning eight sectors and a diverse range of about 120 sub-sectors, including agriculture, forestry and fisheries, fabrication, repair operations, civil engineering, sanitation, education and culture, sports as well as planning and administration. In fiscal 2009, a total of 1,708 people were sent overseas, with a cumulative total of 34,956 people dispatched to 87 countries since the program was inaugurated in 1965.
In principle, JOCVs are assigned to developing countries for a period of two years*. As summarized by the phrase "together with the local community," JOCVs live and work together with the communities in the country to which they were sent, speak the same language of the community and carry out activities with an emphasis on raising self-reliant efforts while fostering mutual understanding.
* In addition to the regular volunteer dispatch period of two years (long-term volunteers), short-term volunteers can be recruited and dispatched for periods of less than one year in response to local requests.
Senior Volunteers
Mr. Sugaya, who is assigned to the Rifuu rice cultivation testing area in Malawi, with worker, Mr. Maxwell, who is assisting with cultivation work in the field. Mr. Maxwell also served as interpreter of the local language during the observation tour of a class at an elementary school.
Recruitment targets people between the ages of 40 and 69 who have a strong desire to participate in cooperative activities in developing countries utilizing their solid experiences, including specialized knowledge and technologies, cultivated over long years.
Areas of cooperation span nine different sectors, including agriculture, forestry and fisheries, energy, health and medical care, and human resources (education, culture, sports, etc.). This program started in fiscal 1990 as the Senior Cooperation Specialist Program and its name was changed to Senior Volunteers in 1996. In fiscal 2009, the number of people sent overseas grew to 445 people, and a total of 4,462 people have been dispatched to 64 countries.
The average age of Senior Volunteers is 58. In recent years, there has been an increase in applicants from retirees seeking to spend their "second life" in a meaningful way.
Youth and Senior Volunteers for Nikkei Communities
The Nikkei (Japanese Descendant) Communities Volunteer Program, consisting of the Youth and Senior Volunteers for Nikkei Communities, sends volunteers to cooperate in the development of Nikkei communities in Latin American countries that accepted many immigrants from Japan. Since the start of the program in 1985, a total of 1,053 people have been dispatched overseas as Youth Volunteers and 391 people as Senior Volunteers for Nikkei communities.
The Special Program for school teachers**, which was previously opened only to JOCVs, has been opened to Youth Volunteers for Nikkei Communities since fiscal 2009. Volunteers who have returned to Japan following the completion of their activities are thus now expected to be able to participate in an expanding range of activities that contribute to both Latin America and Japan. These activities include participation in multicultural activities targeted at children living in Japan who are descendents of persons of Japanese ancestry.
** A system whereby teachers at national and public schools can participate while maintaining their positions. The Special Program for school teachers recruits people who are currently serving as teachers in public schools and schools affiliated with national universities to participate in JICA's volunteer program and study local culture and language while retaining their current employment status.
Volunteer Recruitment, Selection, Training and Support for Returned Volunteers
Volunteer Recruitment and Selection
Volunteer recruitment takes place twice a year in spring and autumn (Volunteers for Nikkei communities are recruited only once a year in autumn). Recruitment information is provided on JICA's website as well as at explanatory recruitment meetings held throughout Japan. Selection criteria include technical and linguistic skills and health determined by document submissions, a written exam and personal interviews.
In addition, short-term volunteer recruitment and selection takes place four times each year.
Training and Study before Dispatch
Persons selected as volunteers take training and study courses in Japan before being dispatched overseas. These courses focus on language studies in the language of the host country and also include studies on the principles of international cooperation, on understanding different cultures, on the history and culture of the host country and on health management and safety measures.
Support for Returned Volunteers
Returned volunteers have experience in addressing issues faced by developing countries and have gained broad perspectives, abundant communication skills and problem-solving abilities. For this reason, high expectations have been placed on these volunteers by local communities, government, educational fields and corporations in Japan. For example, as of April 1, 2010, the number of local government authorities and boards of education that had introduced special employment quotas for returned volunteers reached 31 (20 boards of education and 11 local government authorities).
Moreover, there is an increasing number of JICA's returned volunteers helping to address various problems faced by Japanese society, including child-rearing support and revitalization of Japanese communities. JICA volunteer programs thus not only contribute to developing countries but are also helping to "energize Japan."
Publications and Videos
Working for the World
Volunteers contribute to the Sustainable Development Goals
Together with the local community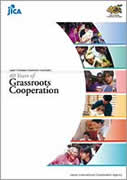 Poverty Reduction
The Environment
Community Development
Education
Health
Architecture and Civil Engineering
Cultural Properties Protection
Independence of People with Disabilities
Vocational Training
Mutual Understanding
Giving Back to Society
The Hidden Story of JICA Volunteers
Ethiopia : A Story of Science and Mathematics Education
JICA volunteer provided a spark for Ethiopia's education policy to be changed and improved.
(Windows Media Player/121.48MB/10 minutes and 7 seconds)
JICA Volunteers Supporting
The Great East Japan Earthquake Disaster Areas
The World's Messages of Support to Japan Sent Via JICA Volunteers
(Windows Media Player/63.94MB/5 minutes and 29 seconds)