JICA's volunteer programs support activities by citizens who wish to cooperate in the economic and social development as well as the reconstruction of developing countries. Through these cooperation activities, participating volunteers can not only contribute to the development of partner countries but also gain valuable experience in terms of international goodwill, mutual understanding and an expansion in their international perspectives.
Widely recognized as a representative Japanese international cooperation program, volunteer activities have not only earned high acclaim from partner countries but are also receiving increased praise in Japan, where expectations for these programs are also rising.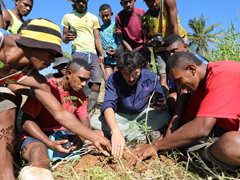 Mr. Shigeyoshi was in charge of agricultural training at vocational school in Fiji. He introduced the methods which can be a part of their traditional way of living.
Types of Volunteer Programs
Japan Overseas Cooperation Volunteers (JOCVs)
One of the oldest volunteer programs in the world. This is the category for those with a strong commitment to utilizing their own skills and knowledge for people in developing countries, by selecting the job type.
Senior Volunteers
This is the category for those with a strong commitment to utilize their specialized skills and knowledge for people in developing countries, by selecting a project that requires expertise.
Japan Overseas Cooperation Volunteers for Nikkei Communities / Senior Volunteers for Nikkei Communities
This program sends volunteers to assist in the development of Nikkei (Japanese Descendant) communities in Latin America. Many volunteers cooperate in Japanese Language Education and Social Welfare Services, while also fostering further understanding of Japanese culture.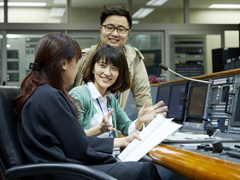 Ms. Inamoto used to work at TV Station in Japan. With her specialized skills and knowledge, she worked at TV Station in Vietnam to develop its TV program production skills.
Volunteer Recruitment, Selection, Training and Support for Returned Volunteers
Volunteer Recruitment and Selection
Volunteer recruitment takes place twice a year in spring and autumn (Volunteers for Nikkei communities are recruited only once a year in autumn). Recruitment information is provided on JICA's website as well as at explanatory recruitment meetings held throughout Japan. Selection criteria include technical and linguistic skills and health determined by document submissions, a written exam and personal interviews.
In addition, short-term volunteer recruitment and selection takes place four times each year.
Training and Study before Dispatch
Persons selected as volunteers take training and study courses in Japan before being dispatched overseas. These courses focus on language studies in the language of the host country and also include studies on the principles of international cooperation, on understanding different cultures, on the history and culture of the host country and on health management and safety measures.
Support for Returned Volunteers
Returned volunteers have experience in addressing issues faced by developing countries and have gained broad perspectives, abundant communication skills and problem-solving abilities. For this reason, high expectations have been placed on these volunteers by local communities, government, educational fields and corporations in Japan.
Moreover, there is an increasing number of JICA's returned volunteers helping to address various problems faced by Japanese society, including child-rearing support and revitalization of Japanese communities. JICA volunteer programs thus not only contribute to developing countries but are also helping to "energize Japan."
Publications and Videos
Poverty Reduction
The Environment
Community Development
Education
Health
Architecture and Civil Engineering
Cultural Properties Protection
Independence of People with Disabilities
Vocational Training
Mutual Understanding
Giving Back to Society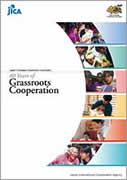 JICA Volunteer Program Movies (English)