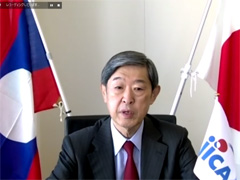 On February 3, 2022, JICA held a Special Lecture of "JICA Chair" (JICA Program for Japanese Studies) in Vientiane, Laos, co-organized by Laos-Japan Human Resource Development Institute (LJI).This special lecture was conducted together with the book launch, "Small Countries, Big Diplomacy - Laos in the UN, ASEAN, and MRC", written by H.E.Mr. Alounkeo Kittikhoun, Former Minister to the Prime Minister's Office and longest-serving former Ambassador of Laos to the United Nations, and Dr. Anoulak Kittikhoun, Mekong River Commission Secretariat Chief Executive Officer. This event was realized through the active support of the JICA President, Dr. Kitaoka Shinich, who used to work with H.E. Mr. Alounkeo when he served as Japan's ambassador to the United Nations.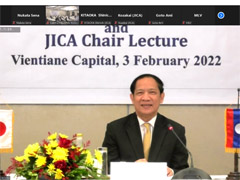 In the first part of this event, President Kitaoka expressed his gratitude on the launch and highlighted JICA's activities and future cooperation in Laos. Then as a keynote speech, H.E. Mr. Alounkeo and Dr. Anoulak shared their knowledge of Laos' foreign policy. Using the case of Laos, which is located in the heart of the Mekong region and the only land locked country in ASEAN, they shared their experiences on how a small and developing state maneuvered among the big players in international politics.

During the second part of the event, Dr. Sonobe Tetsushi, Dean and CEO of the Asian Development Bank Institute, gave a special lecture on "Economic Development in Postwar Japan". Dr. Sonobe shared Japanese experience and lessons learned through the course of development of the country. In the Q&A session, participants proactively engaged in the discourse, giving their opinions and answering the questions such as "What is necessary for small and landlocked Laos to develop in terms of economic aspects?" and "Is that possible to realize advanced agriculture and industrialization at the same time?"
The event was a success with 130 participants, including guests such as follows;
- H.E. Dr. Khampheng Saysompheng, Minister of Industry and Commerce,
- H.E. Assoc. Prof. Dr. Phout Simmalavong, Minister of Education and Sports,
- H.E. Mr. Thongsavanh PHOMVIHANE, Head of External Relation Committee of the Lao People's Revolutionary Party Central Committee,
- H.E. Madam Sengdeuane Lachanthaboun, Vice President of Lao Front for National Development and President of Lao Japan Friendship Association,
- H.E.Mr. Phoxay KHAYKHAMPHITHOUNE, Vice Minister of Foreign Affairs,
- H.E. Dr. Pratito SOEHARYO, Ambassador of the Republic of Indonesia to Laos and Dean of Diplomatic Corps,
- H.E. Mr. KOBAYASHI Kenichi, Ambassador of Japan to Laos,
- H.E. Mrs. Phongsamouth ANLAVAN, Ambassador of the Laos to Japan.

Government officials and personnel of the University of Laos showed their high interest in the Japanese developmental experience, thus this event was a good opportunity to boost the "JICA Chair" in Laos. Furthermore, with the participation of H.E. Assoc. Prof. Dr. Phout Simmalavong, Minister of Education and Sports, and H.E. Mrs. Phongsamouth Anlavan, Ambassador of the Lao PDR to Japan, who had both studied in Japan, this event would surely strengthen the relationship between Japan and Laos, and promote JICA's cooperation with Laos.