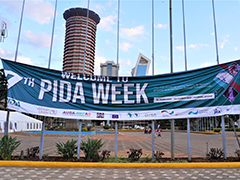 7th PIDA WEEK held in the Kenyatta International Convention Centre (KICC) in Nairobi
The Programme for Infrastructure Development in Africa (PIDA) is a continental undertaking approved by the 18th Ordinary Session of the African Union at the end of January 2012. As an African Union Commission initiative, PIDA is being implemented in through the overall coordination of the African Union Development Agency (AUDA-NEPAD) in close collaboration with the African Development Bank (AfDB) and the United Nations Economic Commission for Africa (UNECA).

From 28 February - 4 March 2022, over 1,000 key stakeholders of the PIDA gathered for the 7th PIDA Week, one of the largest continental infrastructure forums in Africa. For the first time this year, the Japan International Cooperation Agency (JICA) joined the 7th PIDA WEEK as one of the co-organising institutions and contributed to the discussion on accelerating regional integration in Africa.
Co-hosting a Border Management Session with AUDA-NEPAD: Providing JICA's intervention on One Stop Border Post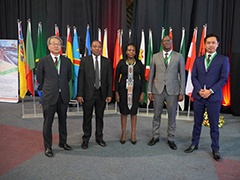 Ms. Kisa C Nkhoma, AUDA-NEPAD Move Africa Programme Lead (centre), Mr. Jean-Baptiste Mutabazi, Director of Infrastructure, COMESA (centre left), Mr. Arthemon Ndizeye, Principle Customs Officer, EAC (centre right), Mr. Eiji Inui, Senior Advisor to CEO, AUDA-NEPAD (left), Mr. Jumpei Sunahara, Infrastructure Advisor, AUDA-NEPAD (right)
The One Stop Border Post (OSBP) is a border facility that combines two stops for national border control processing into one thereby consolidating border control functions in a shared space for exiting one country and entering another significantly cutting down on time spent in cargo clearance across borders. There is a growing need to functionalise OSBP to meet the needs of increasing intra-African trade volume arising from the operationalization of the African Continental Free Trade Area (AfCFTA), strengthening of border quarantine systems in response to the spread of COVID-19, and immigration procedures in response to the growing threat of international terrorism.

JICA and AUDA-NEPAD co-hosted a side event of the 7th PIDA Week on "Sustainable and Resilient Coordinated Border Management: Key Learnings from Move Africa Traffic Light System and the Revised OSBP Sourcebook" on 2 March. The session took stock of interventions underway at selected border posts and made recommendations for effective coordinated border management mechanism in compiling practice and experience from Regional Economic Communities (RECs), National Government, Development Partner, Financial Institution, and Telecommunication Company.

In the session, JICA presented the importance of the OSBP Source Book Revision and the need to functionalize the OSBP to promote intra-regional trade, while providing its findings from the experiences of the OSBP in Eastern Africa, which JICA has supported for many years.

Providing Technical Insights on Supporting Regional Integration in Africa through a Corridor Development Approach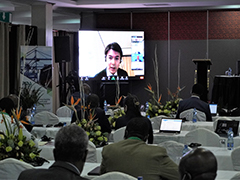 Presentation provided by Mr. SANUI Kazumasa, Group Director, Urban and Regional Development Group, Infrastructure Management Department of JICA
Since the Fifth Tokyo International Conference on African Development (TICAD V), JICA has been involved in regional corridor development by providing technical support to master-planning in JICA's three Core Corridors namely Northern Corridor, Nacala Corridor, and West Africa Growth Ring. Corridor development is often seen as infrastructure development, while JICA's Corridor Development Approach is distinct in creating spill-over effects through a multi-sectoral approach. It is also a key development axis that will stimulate and increase economic activity in the region. While building on these achievements, the lessons learned of the Strategic Master Plan developed by JICA are of high interest by partner organisations in Africa.

On 28 February, the OECD Development Centre, the African Centre for Economic Transformation (ACET), and AUDA-NEPAD co-hosted a "High Level Technical Meeting on Quality Infrastructure for Africa" as a side event of PIDA Week. In this session, Mr. SANUI Kazumasa, Group Director, Urban and Regional Development Group, Infrastructure Management Department of JICA showcased technical insights on JICA's Corridor Development approach in Africa. In his presentation, Mr. SANUI described the importance to strengthen urban-rural connectivity and industrial diversification, showing the case study of the West Africa Growth Ring.
7th PIDA Week Final Communique: Call upon PIDA Stakeholders to Continuous Engagements for the OSBP Source Book Revision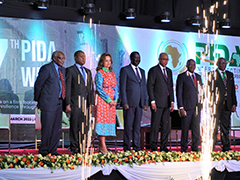 The Opening Ceremony of the 7th PIDA WEEK
In the 7th PIDA Week Final Communique, JICA was officially mentioned as a co-organising institution for the first time, and the outcomes of the PIDA Week were announced. The final Communique commended the progress made in the revision of the OSBP Source Book with the support of JICA and called upon PIDA stakeholders to continue providing data on OSBP implementation and technical guidance on the revisions, particularly in light of developments with the AfCFTA and COVID-19.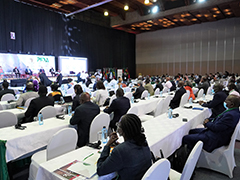 The Opening Ceremony brought together infrastructure experts from around the globe.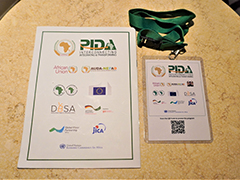 JICA's Logo on handouts as a PIDA Week Co-organising institution.
In the run-up to this year's 8th Tokyo International Conference on African Development (TICAD 8), JICA will strengthen its efforts in OSBP and corridor development with the aim of promoting regional economic integration in Africa and operationalising the AfCFTA.