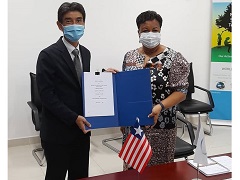 signers
On Jan. 7, the Japan International Cooperation Agency (JICA) signed a Record of Discussions with the Government of the Republic of Liberia at Monrovia for the Improving Rice Production for Smallholders Project (LibRice), which is the first technical cooperation project in the agriculture sector in the country.

The project aims to increase the rice yield in Bong County, which is one of the foremost counties for domestic rice production, by improving rice cultivation techniques, disseminating improved rice cultivation techniques, empowering the capacity of participating farmers groups for conducting group activities, and enhancing the monitoring and evaluation capacity of the Ministry of Agriculture.

Rice consumption per capita in Liberia, where rice is a staple food, is one of the highest in the world. However, rice yield in the country has been low over a long period (averaging 1.3 ton/ha), and 60% of domestic consumption depends on imported rice. In the "Pro-Poor Agenda for Prosperity and Development," which is a mid-term development plan of the current government, an increase of domestic rice production is an important strategic activity from the viewpoint of food security and employment promotion. The project, which develops and disseminates rice cultivation techniques suitable for Liberia, contributes to the achievement of this government plan as well as SDGs Goal 2.

Furthermore, Liberia is one of the participating countries in the Coalition for African Rice Development (CARD) initiative for rice development led by Japan, and the project contributes to achievement of the target of CARD Phase 2, which is doubling African rice production.

Details for the project are provided below.
[Basic project information]

| | |
| --- | --- |
| Country | Republic of Liberia |
| Project title | Improving Rice Production for Smallholders Project (LibRice) |
| Planned implementation period | March 2021 to February 2025 |
| Executing agency | Ministry of Agriculture (Department of Regional Development, Research and Extension) |
| Target region | Bong County |
| Specific project details (provisional) | Improving rice cultivation techniques, disseminating improved rice cultivation techniques, empowering the capacity of participating farmers groups for conducting group activities, and enhancing the monitoring and evaluation capacity of the Ministry of Agriculture. |