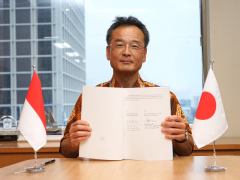 Scene from the signing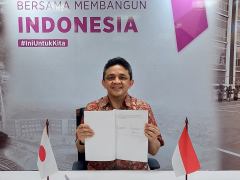 On May 20, the Japan International Cooperation Agency (JICA) signed a loan agreement with the Government of the Republic of Indonesia in Jakarta, to provide a Japanese ODA loan of up to 70,195 million yen for the Patimban Port Development Project (II).

The objective of the project is to strengthen the Jakarta Metropolitan Area's logistics capacity through the construction of a new port in Patimban in the eastern metropolitan area. Such an improved investment environment will further promote economic development in the Republic of Indonesia. This project will contribute to the achievement of SDGs (Sustainable Development Goals) Goals 8 (Decent work and economic growth) and 9 (Industry, innovation and infrastructure).A follow-up to the Patimban Port Development Project (I), for which the L/A was signed in November 2017, this project aims to expand the car terminal and the container terminal constructed under the Patimban Port Development Project (I).

Special Terms for Economic Partnership (STEP)* will be applied to the Japanese ODA loan for this project, and Japanese technology including quay wall/seawall construction, reclamation, and ground improvement, etc., will be utilized for rapid implementation of the project and reclamation work on soft ground, etc.

* STEP refers to special assistance terms for promoting the visibility of Japanese aid through a transfer of outstanding Japanese technology and expertise to developing nations. The main contract is Japan tied and subcontracting is general untied. The main agreement partner must generally be a Japanese company, an overseas subsidiary of a Japanese company, or a joint venture between a Japanese company and the borrowing country where the Japanese company is the lead partner, although under certain conditions, a joint venture between a Japanese company (which is the lead partner of the joint venture) and an affiliated company (as accounted under the equity method) of a Japanese company may be the main agreement partner.

Details for the project are provided below.

Project title
Amount
(million yen)
Annual interest rate (%)
Repayment
period
(years)
Grace
period
(years)
Procurement
Project
Consulting services
Patimban Port Development Project (II)
70,195
0.1
0.01
40
10
Japan tied
2.Executing Agency
Directorate General of Sea Transportation, Ministry of Transportation
Address: Jl. Medan Merdeka Barat No.8, Jakarta 10110, INDONESIA
TEL: +62-21-3811308 FAX: +62-21-384963

3. Planned Implementation Schedule
(1) Completion of project: December 2026 – when the facilities are put into service
(2) Issuing of letters of invitation for consulting services (including detailed design work): Already hired
(3) Tender announcement of initial procurement package for international competitive bidding on project construction: Already hired

4. JICA Contact Information
For further information about the procurement schedule, please contact the address below.
JICA Indonesia Office
Address: Sentral Senayan II, 14th Floor Jl. Asia Afrika No. 8, Jakarta 10270, INDONESIA
Phone: +62-21-5795-2112 FAX:+62-21-5795-2116