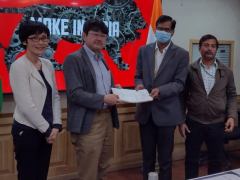 Signing ceremony
On December 23, 2022 the Japan International Cooperation Agency (JICA) signed a Record of Discussions with the Government of the Republic of India for the Project of Sustainable Global Business Breakthrough Ecosystem (SGBBE), a technical cooperation project.

In India, where the labor force is projected to reach 700 million by 2022, the manufacturing industry is expected to develop as a source of employment. However, the industry accounts for 14% of the country's GNP (2021, World Bank), which is low among emerging economies. In addition, the number of people employed in India's manufacturing industry remains at around only 27 million (2020-2021, the Centre for Economic Data and Analysis, Ashoka University). To strengthen the manufacturing sector, the Indian government aims to become a global manufacturing hub, utilizing the opportunity presented by the rebuilding of the global supply chain after COVID-19. The linkage formulation between Indian business and foreign companies, including those from Japan, is necessary for the realization of this goal.

Project aims
1) Business cooperation between Japan and India through business matching and networking
2) Promotion of entrepreneurship and education
3) Capacity development of support-service management such as setting up business meetings.

The project will encourage the development of an ecosystem that generates business innovation across India and will contribute to the development of an inclusive Indian manufacturing industry. It will also contribute to the achievement of SDGs (Sustainable Development Goals) Goals 8 (Decent work and economic growth) and 9 (Industry, innovation and infrastructure).

This project will be conducted as one of the initiatives under the India-Japan Industrial Competitiveness Partnership (IJICP), which was agreed upon by the Governments of Japan and India—Ministry of Economy, Trade and Industry (Japan) and Ministry of Commerce and Industry (India)—in December 2019.

Details for the project are provided below.
[Basic project information]
Country
India
Project title
Project of Sustainable Global Business Breakthrough Ecosystem (SGBBE)
Planned implementation period
60 months
Executing agency
①Department for Promotion of Industry and Internal Trade, Ministry of Commerce and Industry
②Ministry of Education
③The Confederation of Indian Industry
④Indian Institutes of Technology
⑤Indian Institutes of Management

Target region
Entirety of India (main area: Kolkata, Mumbai, Bengaluru, Chennai, Kanpur and Gurgaon)
Specific project details (provisional)
Based on the three pillars of 1) business matching, 2) start-up support, and 3) Industry 4.0, the project will promote the development of an ecosystem for business collaboration between Japan and India through the consideration and implementation of support for specific business collaboration measures such as networking events, seminars, and business meetings, as well as the education of Indian students in the field of innovative business, all of which will be carried out between Indian implementing agencies and Japanese business-support organizations including JICA.