Past events
Title

JICA Research Institute Open Seminar "Japaneseness of Japanese Aid: The Case of Education and Training"

Day

February 25, 2016, 17:00 - 18:30

Place

Seminar Room 202AB, 2F, JICA Ichigaya Building
10-5 Ichigaya Honmuracho, Shinjuku-ku, Tokyo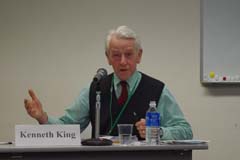 JICA-RI visiting fellow Kenneth King, professor emeritus of the University of Edinburgh, headlined a seminar entitled "Japaneseness of Japanese Aid: The Case of Education and Training" at the JICA Ichigaya Building in Tokyo on Feb. 25, 2016. He pointed out some characteristics of Japanese cooperation to discuss with various participants.

First, King pointed out that the words "soft power" and "the Japanese language" appear in Japan's new Development Cooperation Charter, established in February 2015. He said it is exciting that it is the first Japanese ODA charter to contain those words.

Next King talked about "the X factor," which he said is one of the most important parts of Japanese cooperation. He defined it as experience, expertise, technology and lessons learned. Short-term and long-term Japanese expertise is evident in any country where Japan is providing ODA, he noted, calling Japanese ODA and expertise inseparable.

The most important word that appears in the charter to describe Japaneseness may be "proactive," King said, calling it a key new emphasis.

King noted that there's not much about education in the charter, but rather an emphasis on human resource development (HRD), particularly through triangular cooperation. He also noted that Japan tends to stress its own history in talking about its international cooperation, and recommended the first chapter of the book "Japan's Development Assistance" by JICA's Vice President Hiroshi Kato as "a very useful analysis of Japaneseness" with a particular focus on HRD.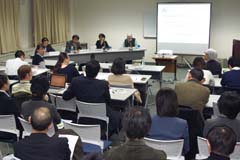 King's talk was followed by Professor Izumi Ohno of the National Graduate Institute for Policy Studies, who gave a presentation entitled "The UK and Japan in a New Era of Development Cooperation," Professor Kazuo Kuroda of Waseda University on "Japaneseness of Japanese Aid: The Case of Education and Training" and Masaei Matsunaga, deputy director general of JICA's Southeast Asia and Pacific Department, on four categories of knowledge: explicit or tacit and non-contexual or textual, and the combinations thereof.

After the presentations, King facilitated a discussion with the floor and received various questions and comments.

Kiyoshi Kodera, JICA's advisor to the president, said that he thinks pursuing Japaneseness only among the Japanese is a very dangerous exercise. What is important to developing countries is that we answer such questions as what kind of specific knowledge we can give to them, he noted.

A person from a consultancy company stressed the importance of tacit contextual knowledge. "Since it is tacit, we cannot export it. That's why we are there to facilitate as a catalyst, we facilitate the process of localization of Japanese experience... We use Japanese experience as a reference point."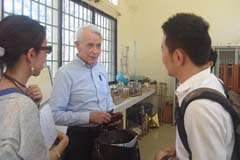 Nobuko Kayashima, JICA senior advisor, said that the mixture of the characteristics of JICA programs and long-term local adaptation process is important for a successful program.

King illustrated this point by giving an example related to lesson study:"Our point of hybrid is the one that I'm always referring to. It's not simply transferring and translating a Japanese textbook on lesson study. It is a much longer process. ... We [Japan] wait until they [aid recipients] say, 'This is our project.'"

Prior to the seminar, King visited JICA's cooperation sites in Cambodia for his research on Japaneseness, including Cambodia-Japan Cooperation Centre, where JICA has provided business training to the locals and the Kompong Cham Hospital, where JICA volunteers work to improve the hospital management in 5S fashion.

He will write an academic paper, which is expected to serve as a valuable source for discussion on Japan's foreign aid.