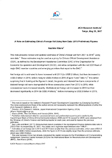 China's net foreign aid dropped from US$ 5.2 billion in 2013 to US$ 5.0 billion in 2014 but rose to US$ 5.4 billion in 2015.

A new estimate by Naohiro Kitano, director of JICA Research Institute, is revealed in a note.

By using new data, the note presents updated estimates of China's foreign aid between 2001 and 2015.