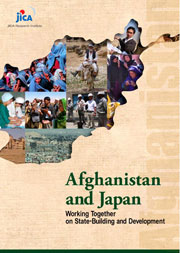 This volume illustrates the stories of a great number of Japanese who have worked to support reconstruction and development in Afghanistan, with a focus on the ten years since 2001.

After the September 11 terrorist attacks in the United States in 2001, the international community has collectively supported a new state-building in Afghanistan. Japan, as part of the community, has been providing support, drawing on its unique expertise and experience. Many Japanese have endeavored to help local Afghans return to peaceful daily lives and to support the state's reconstruction and development, sometimes with taking personal risks. The book, introducing their daily activities alongside the accomplishment of their painstaking work, attempts to recapture the overall picture of Japan's support for Afghanistan.

In preparing the volume, the JICA-RI established a project team to compile the experiences and information from a variety of people—representatives of the Japanese government and the private sector, NGO members, staff of UN organizations and JICA—who have involved in the Afghan reconstruction in various positions. The project team reproduced a concrete picture of their activities in Afghanistan. The book presents a wide range of efforts: the emergency humanitarian aid during the initial stage of reconstruction; the assistance for a new state institution building from scratch; the support to build foundation for people's livelihoods; and the human resource development for the future of Afghanistan. The volume also introduces a number of episodes on Japanese assistance in the 1970s. After the twenty-year absence during the war (in the 1980s and 1990s) their impacts still remains in various places even today. These episodes remind us of the importance of assistance to develop human resources and infrastructure that will serve as the foundation for state-building over decades.

The Conference Volume for the occasion of the Tokyo Conference on Afghanistan in July 2012 is available in English. The contents are mostly same but organized and edited differently from the book.