Measles epidemics began from January this year and has been spreading nationwide in Vietnam, raising the total number of up to 3,928 new infections and 133 victims, as of 5 May. Ministry of Health, Vietnam government asked for technical support to the Project through National Institute of Hygiene and Epidemiology (NIHE), which included invitation of specialists from National Institute of Infectious Diseases, Japan (NIID) who could give strategic advice and guidance against the current outbreak of Measles. Upon receipt of this request, the Project made a quick response through collaboration together with the responsible departments of NIID and JICA Headquarter, in which JICA Vietnam and the Project determined to invite Dr Komase, a chief, laboratory of Measles, 3 rd Department of Virology, NIID to support NIHE researchers by giving advice and guidance on strategy against Measles outbreak.
The current outbreak has some characteristics such as the increased numbers of victims especially in infants (under 1 year old), leading to the concerns about spreading of higher pathogenic variants and request of whole genome sequence of responsible measles virus by Ministry of Health. Dr. Komase has received the explanation of the current epidemics by NIHE researchers, and visited The National Hospital of Pediatrics, Hanoi together with WHO experts and interviewed with medical doctors in sites. Based on the discussions, he advised NIHE researchers that analysis of the whole virus genome sequence of isolates is not appropriate strategies as a quick response against the current outbreak because it might require the high cost, human resource and especially time. He has made up a guidance that they should firstly analyze two important viral genes coding F (Fusion) and H (Hemagglutinin) proteins, which are known to play important roles in attaching and entering to susceptible target cells, resulting with finding out the optimal conditions for specific amplification of each gene from the isolates of the current outbreak. NIHE researchers are expected in intensive future collaboration with NIID researchers to further analyze the viral sequence and compare them with other strains circulating in Vietnam in past and currently prevalent in the world by construction of phylogenic trees, which might allow them to focus on the virus isolates of the outbreak to be investigated.
Smooth cooperation among persons concerned of both sides could make a rapid and appropriate response against the current outbreak of Measles in Vietnam, which is based on the continuous reliance among researchers both of NIID and NIHE. The project staffs would like to appreciate cooperation of persons concerned in this response against the outbreak of Measles in Vietnam and to expect this support might provide a value clue to clarify the outbreak in Vietnam.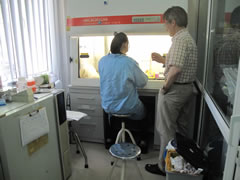 Preparation of RT-PCR reagents and viral RNA.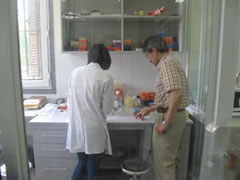 Confirmation of amplification of F and H genes by electrophoresis