Project Name
Project to Support the Planning and Implementation of NAMAs in a MRV Manner (SPI-NAMA)
Country
Socialist Republic of Vietnam
Date of R/D Signed
12th June, 2014
Period of Project
February 1, 2015 – January 31, 2020 (60 months)
Implementing Agency
Ministry of Natural Resources and Environment (MONRE)
Department of Climate Change: DCC
Project Background
Over the past decades, Vietnam has been embraced with steady economic growth coupled with rapid urbanization, enabling the country successfully transition to lower middle-income country. As an emerging economy in the Southeast Asia region, Vietnam continues striving to achieve national developmental aspiration of becoming an industrialized country by 2020.
Such remarkable growth, however, has also brought together 5-fold increase in energy demand (final consumption) from 1990 to 2006, leaving Vietnam one of the fastest GHG emission growth in the region, as well as its CO2 intensity per unit of GDP becoming higher than the regional average.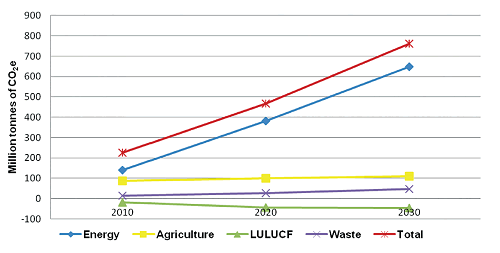 Coupled with the imminent needs to tackle rapid emission growth and in response to UNFCCC provisions, Vietnam has embarked on national climate policy framework. Such endeavor is epitomized by National Target Program to Respond to Climate Change (NTP-RCC), National strategy on climate change (NCCS, December 2011), National Green Growth Strategy (NGGS, September 2012), as well as issuance of policy guidance such as the Decision 1775/QD-TTg (November 21, 2012) on management of GHG emissions and carbon credits. Most recently, Intended National Determined Contributions (INDC) has been developed and submitted to the UNFCCC Secretariat in run-up to COP21.
To date, however, support to NAMAs has been characterized as, and focused on readiness activities. Also, various project-based pilot activities across mitigation sectors are currently being developed in absence of clear policy directive, demarcation of roles and mandates across stakeholders. Capacities to plan and implement NAMA across stakeholders also remain insufficient.
The recently-adopted Paris Agreement of COP21 also requires country to reorient interpretation and strategic use of NAMAs in view of implementation of mitigation beyond 2020. Linkage with NAMAs as part of broader mitigation action to bridge to post-2020 mitigation (INDC, transparency) remains a critical element of consideration when designing policy framework.
Against this backdrop, JICA Technical Assistance Project to "Support the planning and implementation of NAMAs in a MRV manner" (SPI-NAMA) will offers capacity development of Ministry of Natural Resources and Environment (MONRE) effectively assuming its state management, as well as support relevant line ministries and other stakeholders, especially city actors, enhance capacities in planning and implementation of NAMAs while taken into account coherence with the Paris Agreement.
Overall Goal
The Government of Vietnam is able to plan and implement NAMAs in a MRV manner.
Project Purpose
Capacity of the Government of Vietnam to plan and implement NAMAs in a MRV manner is enhanced
Outputs
Capacity of MONRE to facilitate the process of development and implementation of NAMAs is enhanced
Capacity of the line ministries and local governments to plan, implement and MRV NAMAs is enhanced.
Activities
Output 1: Capacity of MONRE to facilitate the process of development and implementation of NAMAs is enhanced
| | |
| --- | --- |
| 1-1 | Review and assess the legal documents, policies and strategies relating to NAMAs; |
| 1-2 | Identify need/gaps of MONRE concerning management and coordination of NAMAs; |
| 1-3 | Conduct study and propose a road map for GHG emission minimization; |
| 1-4 | Conduct study and propose policy on National-level M, R, V procedures for NAMA; |
| 1-5 | Conduct study and propose policy on NAMA database and registry; |
| 1-6 | Conduct workshop, training courses, communication on roadmap for GHG emission minimization, NAMA database and registry, national-level MRV procedures for NAMA; |
| 1-7 | Assess low carbon technology options for implementation of mitigation actions (INDC, F gas). |
Output 2: Capacity of the line ministries and local governments to plan, implement and MRV NAMAs is enhanced
| | |
| --- | --- |
| 2-1 | Select local governments for piloting MRV; |
| 2-2 | Collect information on NAMA/MRV and GHG inventory of the pilot local government; |
| 2-3 | Prepare the GHG inventory for the pilot local government; |
| 2-4 | Pilot MRV on NAMAs in the pilot local government; |
| 2-5 | Propose modalities on GHG inventory and NAMA/MRV for the pilot local government; |
| 2-6 | Conduct training and seminars on GHG inventory and NAMA/MRV for local governments; |
| 2-7 | Conduct training and seminars on NAMA/Means of Implementation/MRV for line ministries; |
Input
Japan's Side:
Experts
2 Long-Term Experts(Chief Advisor, Climate Policy and Mitigation Actions/Project Coordination)
7 Short-term Experts in charge of Output 2 (Chief Advisor, Energy, Transport, Waste, GHG Inventory, Project Coordination)
10 Short-term Experts in charge of Low-carbon technology assessment (Chief Advisor, Sub-chief Advisor, Energy 1,Energy 2, Transport, Agriculture, LULUCF, Waste, Fluorinated gases, Project Coordination)
Local Consultants and Project Assistants
Training in Japan
Training in Vietnam
GoV:
Placement of Counterpart and relevant personnel (MONRE/DMHCC (renamed to DCC (Department of Climate Change) since 2017))
Cooperation Entities (Line Ministries and Agencies related to NAMAs, HCMC People's Committee, Ho Chi Minh City DONRE Climate Change Bureau
Project operational cost
Related Link