JICA President Tanaka Met with National Assembly of Mozambique Speaker Bias
2023.06.28
On June 7, President of JICA Tanaka Akihiko met with Speaker of the National Assembly of Mozambique Esperança Laurinda Francisco Nhiuane Bias, along with members of the country's ruling and opposition parties, in Tokyo.
At the opening of the meeting, President Tanaka expressed his condolences to the victims of Cyclone Freddy that struck Mozambique in March, and said that, with Japan and Mozambique sharing a geographical location that makes them susceptible to many natural disasters such as typhoons, he would like to continue sharing Japan's experience in natural disaster risk management with Mozambique. President Tanaka also mentioned that JICA would continue its cooperation in Mozambican growth through infrastructure development, including that of the Port of Nacala, and human resource development. Furthermore, he stated that in the province of Cabo Delgado, where security is unstable due to the activities of armed groups, JICA would like to cooperate in various fields toward recovery and reconstruction by inviting participants from the province to attend JICA training programs conducted in other provinces that offer guidance in restoring destroyed infrastructure and basic administrative services.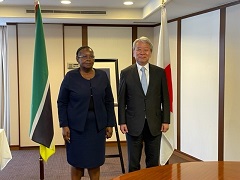 President Tanaka (right) and Speaker Bias
In response, Speaker Bias offered words of gratitude for JICA's many years of cooperation. She pointed out the importance of natural disaster countermeasures, infrastructure development such as that of the Nacala Corridor, and human resource development that will lead to economic growth, while also expressing hope that Japanese companies will be encouraged to set up business operations in Mozambique. As for Cabo Delgado Province, Speaker Bias expressed gratitude for the training that will be conducted outside the province, and, since the security situation is improving, her expectation that JICA will be able to support the recovery of people's livelihoods on the ground.

Both parties agreed to continue to deepen cooperation for the development of Mozambique.