JICA President Tanaka visited Tajikistan and the Kyrgyz Republic
2023.09.13
JICA President Tanaka Akihiko visited the Republic of Tajikistan and the Kyrgyz Republic from August 31 to September 6. In Tajikistan, he held a meeting with President of the Republic of Tajikistan, Emomali Rahmon, Minister of Foreign Affairs of the Republic of Tajikistan Sirojiddin Muhriddin, and other key ministers; gave a special intensive lecture on "The JICA Program for Japanese Studies" (JICA Chair) at Tajik National University; and attended a contract signing ceremony for a scholarship program to accept graduate students in Japan. In the Kyrgyz Republic, he met with President of the Kyrgyz Republic Sadyr Zhaparov, Chairman of the Cabinet of Ministers and Head of the Presidential Administration, Akylbek Zhaparov, and other government officials, and also held interviews with graduates of the scholarship program. He additionally inspected JICA's projects in both countries.
1. Republic of Tajikistan
In the capital city of Dushanbe, President Tanaka met with President Rahmon and Minister of Foreign Affairs Muhriddin, reaffirming the importance of cooperation related to achieving "investment in people" and "quality of growth," while touching on human resource development, infrastructure development, and cooperation in the water sector between the two countries, rich as they are in water resources. He also expressed his willingness to support industrial development that will create employment in rural regions in the future.
In addition, President Tanaka gave a special intensive lecture on "International Relations under Compound Crises" from the JICA Chair at Tajik National University, which was attended by about 300 people, including professors and students of the university and diplomats from Tajikistan. On the same day, President Tanaka received an honorary doctorate from the university.
He also attended a grant agreement signing ceremony for "The Project for Human Resource Development Scholarship (hereafter JDS)," a program to accept young government officials in graduate schools of Japanese universities in Japan, and exchanged opinions with JDS graduates. The JDS has brought over 100 government officials from Tajikistan to Japan to study, and many of its graduates have gone on to hold key positions, including the first female minister. President Tanaka also visited other JICA projects in Tajikistan, including an Afghan refugee support project center, which is a project in collaboration with the office of the United Nations High Commissioner for Refugees (UNHCR).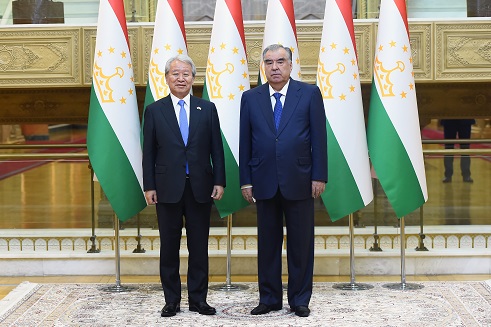 Meeting with President Rahmon of Tajikistan.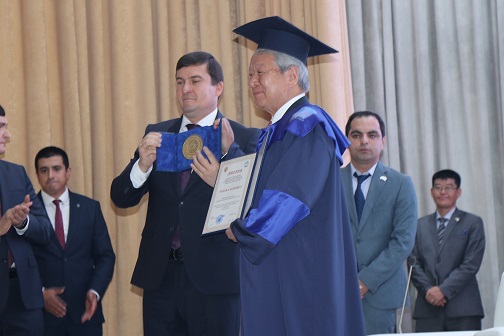 Tajik National University Honorary Doctoral Degree Award Ceremony.
2. Kyrgyz Republic
During his subsequent visit to the Kyrgyz Republic, President Tanaka met with President Sadyr Zhaparov, and they mutually reaffirmed that, with their two countries having celebrated 30 years of diplomatic relations last year, their ties are stronger than ever. In hearing President Tanaka speak of JICA's hope to contribute to the strengthening of bilateral relations through cooperation in the promotion of exports, and the promotion of bilateral interactions concerning industrial, academic, and governmental affairs, President Zhaparov said that the Kyrgyz Republic views Japan as a long-term strategic partner.
During his meeting with Chairman Akylbek Zhaparov, President Tanaka exchanged views on the One Village, One Product Movement (hereafter OVOP) project that JICA has been implementing since 2006. Designated as a national project of the Kyrgyz Republic, it is scheduled to expand to other Central Asian countries in the future. Chairman Zhaparov said that the OVOP project will contribute to strengthening the country's export capacity, which is one of the biggest objectives within Kyrgyz national policy. President Tanaka thanked Chairman Zhaparov for his efforts in the project and expressed JICA's wish to further strengthen the bilateral relationship of the two countries through various cooperative efforts, including that project.
President Tanaka then visited the OVOP project site, which has been designated as a national Kyrgyz project and is scheduled for horizontal expansion to other Central Asian countries going forward. He also attended a general meeting of the Central Asia and Caucasus JICA Alumni Association, as well as a round-table meeting with alumni of the international student acceptance program, to exchange opinions.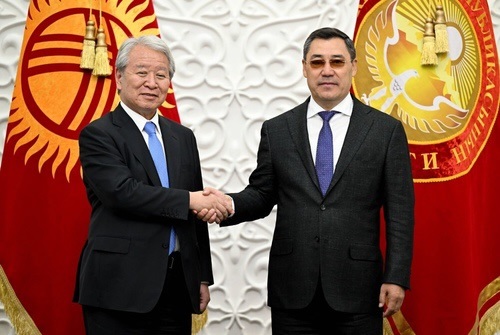 Meeting with President Zhaparov of Kyrgyz.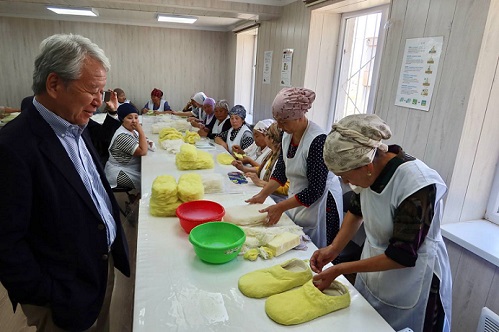 One Village One Product project workshop.