16-20 October 2023:The 25th session of the UNWTO General Assembly
Day:2023.11.08
event |
Overview
The 25th session of the UNWTO General Assembly
Date: 16- 20 October 2023
Sponsors: UNWTO
Location:Samarkand, Uzbekistan
Moderators and panelists
Representatives of tourism ministries and agencies from 159 UNWTO member countries, UNWTO affiliate memberss, private sector and international organizations.
From JICA, Senior Vice President Sachiko Imoto and Associate Expert Tomomi Sato (Economic Development Division) participated in the General Assembly.
Primary objectives and outcomes
The World Tourism Organization (UNWTO) is the United Nations agency responsible for the promotion of responsible, sustainable and universally accessible tourism. JICA has been collaborating with UNWTO since signing a Memorandum of Cooperation in 2017 to further promote sustainable development through tourism.
As part of our collaboration with UNWTO, we have co-published the TIPs (Achieving the Sustainable Development Goals Through Tourism - Toolkit of Indicators for TIPs)in July 2023, and the TIPs was introduced to tourism development officials adn representatives who attended the General Assembly, and discussions were held with dignitaries and others regarding future tourism development to be implemented by JICA.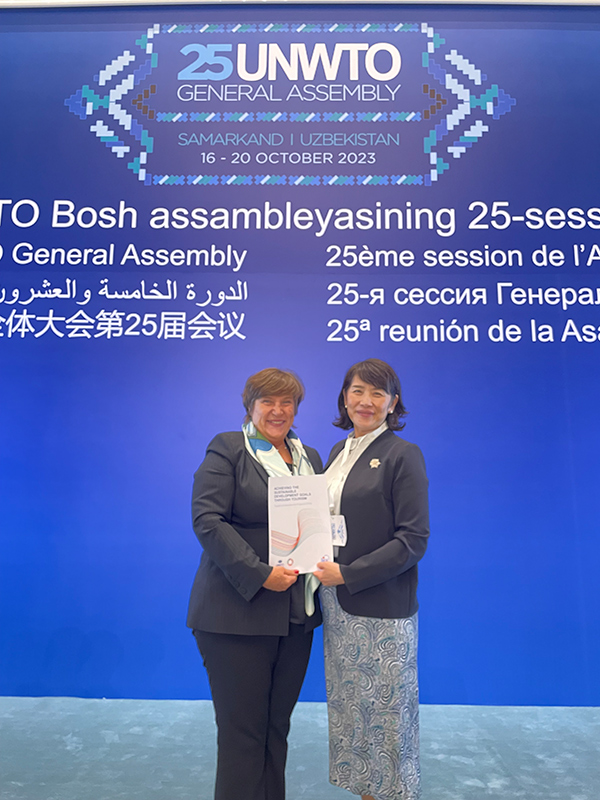 Senior Vice President Imoto and Executive Director Urosevic
Content of the discussions
As one of the results of collaboration with UNWTO, we conducted a project research "Study on Tourism Development Support for Achievement of SDGs" and found that tourism development can fully contribute to the achievement of all SDGs and to have a cross-sectoral effect.
On the other hand, it was also confirmed that it is difficult to objectively measure the impact or contribution of tourism on each of the SDGs. Therefore, from 2020, through the "Information Collection and Verification Study on Tourism Development Support for Achieving the SDGs," an indicator toolkit "Achieving the Sustainable Development Goals through Tourism - Toolkit" is developed to enable objective measurement and evaluation of the contribution of tourism-related projects, businesses, and operations to the SDGs.
At the General Assembly and its side events, UNWTO Secretary-General Zurab Pololikashvili, Executive Director Zoritsa Urosevic and others introduced the TIPs to tourism stakeholders, and noted that TIPs is the first collection of indicators that can be used to assess the sustainability of tourism and its contribution to the SDGs, and the TIPs is highly evaluated by a wide range of tourism sector stakeholders, including international organizations, private operators, and tourism ministries, as a toolkit that can be used to link a wide range of issues, not only environmental issues, to tourism.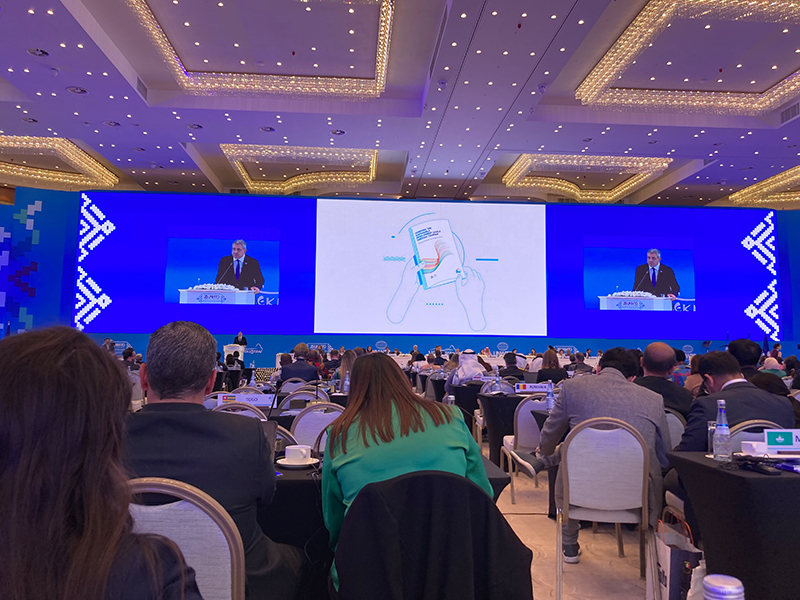 UNWTO Secretary-General explains the completion of the TIPs at the General Assembly
In addition, a side event, "Central Asia Tourism Workshop" was held as a culmination of technical cooperation between UNWTO and the Asian Development Bank (ADB) where Ms. Sato spoke on JICA's cooperation strategy in the tourism sector and some cooperation cases in Central Asia.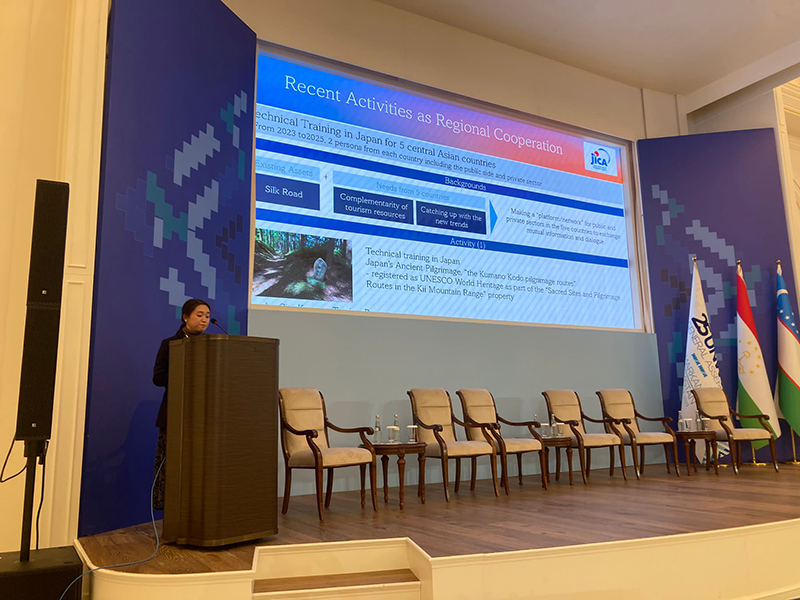 Presentation at the Central Asia Tourism Workshop