[TICAD at 30] Deepening Ties with Rising Africa: Interview with JICA President Tanaka Akihiko
2023.08.23
Launched by the Japanese government in 1993, the Tokyo International Conference on African Development (TICAD) has been held eight times over the past 30 years. It is a forum for discussion on development cooperation with the countries of Africa that has prioritized the wishes and aspirations of the African people. In the following interview, President Tanaka Akihiko emphasizes the importance of Africa, the meaning of TICAD, and JICA's role in strengthening ties with the continent at a time when the world confronts such compounded crises as climate change, the COVID-19 pandemic, and Russia's invasion of Ukraine.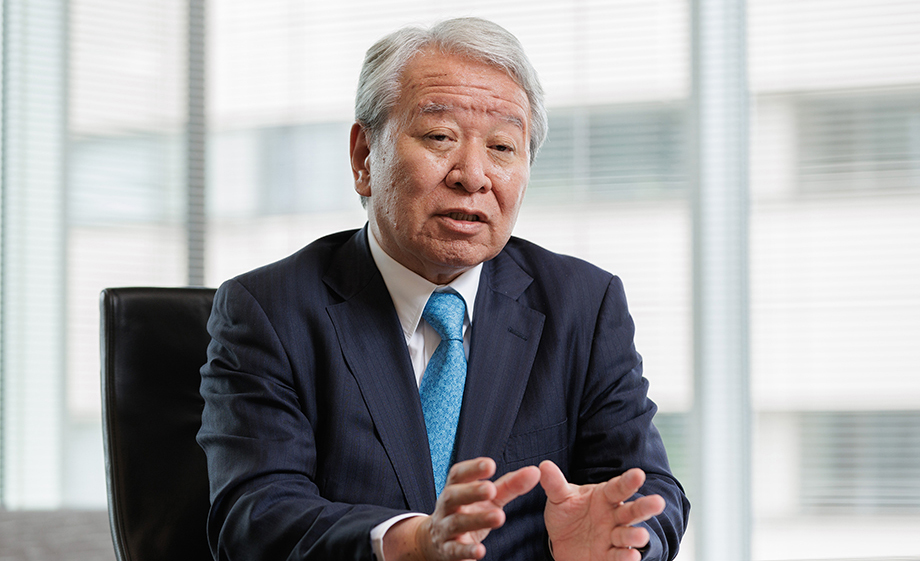 JICA President Tanaka Akihiko

Africa is a vast continent full of diversity and potential
——What have been some of your impressions regarding Africa's potential and challenges during your visits to the continent as JICA president?

TANAKA AKIHIKO: My first overseas trip after being reappointed president in 2022 was to South Sudan. I attended the completion ceremony of a bridge over the Nile River, which JICA had been helping construct since shortly after the country's independence in 2012. The project took ten years to complete, as it was interrupted three times due to armed conflict and the COVID-19 pandemic. In a very promising sign, the ceremony was attended by South Sudan's president and first vice president, who were leaders of rival factions. I have high hopes that the new road link, called the Freedom Bridge, will become a symbol of freedom and peace in South Sudan and that it will contribute to the country's stability and economic development.
President Tanaka (center) attends the May 2022 completion ceremony of the Freedom Bridge in South Sudan with President Salva Kiir (left) and First Vice President Riek Machar.

I've visited some 20 African countries to date and have been overwhelmed by the continent's vastness and diversity. There is no single place that might be described as being quintessentially "African." Each country has its own language, climate, religion, and national character. The vastness and diversity are what make Africa so fascinating.
Conditions in many countries have become unstable in recent years, though, due to such developments as catastrophic weather events stemming from climate change, health challenges posed by the COVID-19 pandemic, soaring energy and food prices triggered by Russia's invasion of Ukraine, and global inflation and rising interest rates in industrial countries, which have exacerbated debt problems in the developing world. Many African countries also face human security threats, and they will have to overcome these challenges.
——Africa's importance seems to be growing as the international community now confronts compounded crises. Why is this?
TANAKA: One reason is the need to address the humanitarian crisis arising from extreme poverty in Africa. This is a challenge for all of humankind. The international community must come together to eradicate poverty in Africa if we are to achieve the Sustainable Development Goals by 2030.
Another reason is Africa's projected population growth. There are about 1.4 billion people in Africa today—roughly the same number as India and China. But by 2050, this figure is expected to swell to about 2.5 billion. By that time, the continent will have grown into a huge market and likely become a dynamic growth center for the global economy. So, enabling Africa to reach its full potential is critical for the long-term prosperity and stability of the entire world, including developed countries.
TICAD: A forum for dialogue to deepen trust
——The Tokyo International Conference on African Development was launched thirty years ago in 1993. How important is TICAD as a framework for cooperation between Japan and Africa?
TANAKA: Japan had not yet developed close ties with the continent when TICAD was first held. But the decision to launch a framework for dialogue to deepen relations with Africa, which had great potential for long-term growth, was one of great foresight. Just as important, I believe, has been the efforts made over the past three decades on both sides to build trust through dialogue.
TICAD is designed to develop solutions to various issues together with African leaders and other stakeholders, rather than offering aid from donor to recipient countries. From the beginning, TICAD has invited multilateral institutions like the United Nations and the World Bank to work as co-organizers, so there's greater openness than similar forums for dialogue with Africa organized by other countries.
Since the turn of the century, TICAD's discussions have focused not only on development cooperation but also on broader means of contributing to Africa's economic and social development, with greater attention being given to the impact of private investment.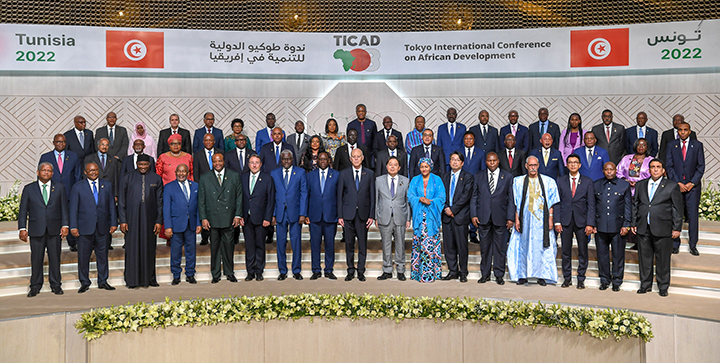 TICAD 8 was held in Tunis, Republic of Tunisia, in August 2022. It marked the second time the forum was held in Africa, following Kenya's hosting of TICAD VI in 2016.
——How can Japan's longstanding commitment through TICAD help Africa address the compounded crises it currently faces?
TANAKA: The TICAD framework embraces a longer-term perspective in enabling Africa to better cope with crisis situations. Rather than trying to achieve something all at once with huge investments, it prioritizes human resources development and the accumulation of technology and know-how. This approach, I believe, will lead to a broad dissemination of the skills needed to cope with various crises and help strengthen the resilience of society as a whole.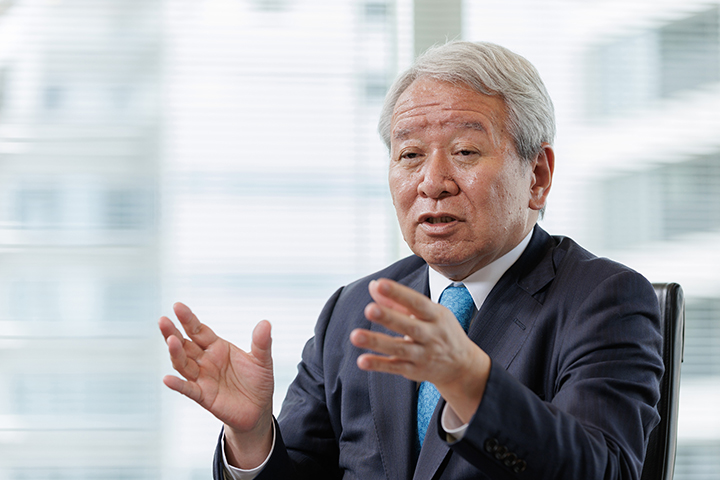 JICA's role in building the foundations for growth and strengthening partnership
——What specific initiatives has JICA taken to strengthen Japan's ties with Africa in line with developments in the TICAD process?
TANAKA: One example is the Coalition for African Rice Development (CARD) that was announced at TICAD IV in 2008. CARD was launched to meet the challenges of population growth, and it has helped to double rice production over the ensuing ten years. The program now aims to double production again by 2030. This doesn't involve making huge investments; instead we're promoting yield improvements by sharing know-how on efficient rice planting methods and irrigation systems.
Another prime example is the African Business Education Initiative for Youth (ABE Initiative), a program to develop human resources that was proposed at TICAD V in 2013. JICA has accepted more than 1,600 African youths under the ABE Initiative, providing them opportunities to obtain master's degrees at Japanese universities and serve as interns at Japanese companies. After returning home, many have maintained ties with Japanese companies, starting their own businesses or serving as intermediaries with Japanese firms and serving as a bridge between Japan and Africa.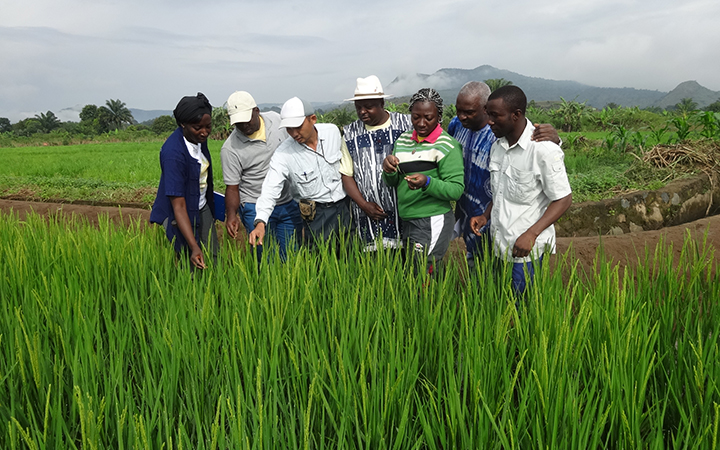 A Japanese expert shares tips on what to look for in ears of rice with farmers in Cameroon, where rice consumption is on the rise. (Photo courtesy of PRODERIP)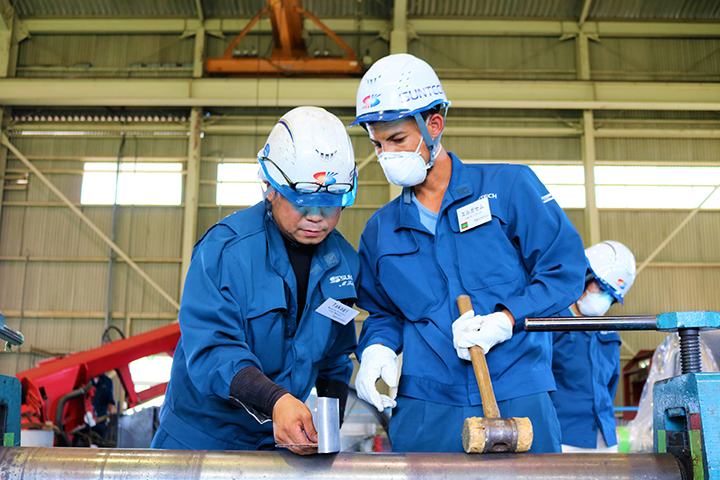 An ABE Initiative participant from Mauritania receives guidance while serving as an intern at a Japanese company. (Photo courtesy of Suntec Co., Ltd.)
We're also undertaking kaizen projects to develop Africa's manufacturing sector that incorporate Japanese-style practices for quality and productivity improvement. It was launched in Tunisia and Ethiopia in the 2000s and has since been implemented in many other countries following TICAD VI in 2016. Japanese experts provide detailed advice on boosting efficiency in keeping with local customs and conditions.
None of these initiatives are being undertaken by JICA alone, though. We work closely with Japanese universities and private businesses, as well as with development-related regional and international organizations. This format has facilitated the sharing of best practices among different countries.
——How will JICA help promote Africa's long-term growth and socioeconomic stability going forward?
TANAKA: Many African countries have expressed their hope for greater private-sector investment from Japan. But this will require improving the investment and business environment. Some governments, working on their own, may not have adequate resources to build the infrastructure or develop the legal and other institutions needed to attract foreign businesses. That is where development institutions like JICA can help in building such foundations.
Of particular importance will be efforts to strengthen connectivity among countries on the vast African continent. We will focus on developing economic corridors through assistance for the construction of ports, roads, and power lines, which can reduce disparities between coastal and inland areas, as well as between urban and rural areas.
We also provide support for startups in Africa. Not very many of them grow into successful companies, to be sure, but at least they need to be given a chance. How else will you be able to nurture new drivers of growth? Startups will initially need access to seed funding, and they'll also require a supportive ecosystem, such as organizations trained to offer advice or know-how and institutional measures to facilitate their growth.
Another key to Africa's development will be to make active use of modern tools like information technology and artificial intelligence. This will enable these countries to bypass the classical development path taken by more developed economies and quickly achieve economic and social advances. The widespread use of mobile devices in Kenya, for example, allowed the country to become the first in the world to offer small-amount remittance services for people without bank accounts. Supporting such innovations will make a major contribution to Africa's future growth.
——How can Japan's cooperation with Africa lead to global stability and prosperity?
TANAKA: All countries of the world, no matter how distant they may be, are affected by the compounded crises we face today. Unless greenhouse gas emissions can be reduced on a global basis, for example, all nations will suffer the consequences of climate change in the form of extreme weather events and frequent natural disasters. An activity in any part of the world that threatens the sustainability of our lifestyles will have a direct bearing on all people of the planet, regardless of where they live.
Our cooperation with local people to address social issues in Africa have led to many achievements and innovations that will not only live on in these countries but may also help improve people's lives in Japan and elsewhere. Many Japan Overseas Cooperation Volunteers have launched start-ups after returning to Japan from Africa and are playing a positive role in sustaining our ties. Japan's relationship with Africa, as a result, has grown much closer and deeper.
My hope is that the regions currently mired in conflict will find a path toward peace and that they will emerge as stable and democratically ruled societies. Only then will they be able to pursue economic development and to begin eradicating extreme poverty.
Japan needs to build even stronger ties with Africa, whose global importance is growing. At the same time, we at JICA hope to continue offering our support so that the dynamic changes now taking place in Africa will lead to positive outcomes.