Their Imperial Highnesses Prince and Princess Akishino Received Returning Japan Overseas Cooperation Volunteers
2023.11.16
On October 13, representatives of the Japan Overseas Cooperation Volunteers (JOCV) who had returned to Japan had the honor of being received by Their Imperial Highnesses Prince and Princess Akishino of Japan at the Akasaka Estate, where they reported on their activities in the foreign countries where they had served.

The JOCV who returned to Japan at this time had been impacted by the global spread of COVID-19 since January 2020. Although they had their postings postponed or were forced to return home temporarily, they were able to overcome the obstacles presented by the pandemic and complete their duties by engaging in online support activities and capacity building during their waiting period in Japan. They were then able to apply these skills when they returned to their dispatch countries.

On this occasion, five JOCV back from being dispatched to countries in Asia, Africa, the Middle East, and Latin America met with Their Imperial Highnesses Prince and Princess Akishino of Japan. Before this meeting, they met with JICA President Tanaka Akihiko at JICA Headquarters in Chiyoda-ku, Tokyo.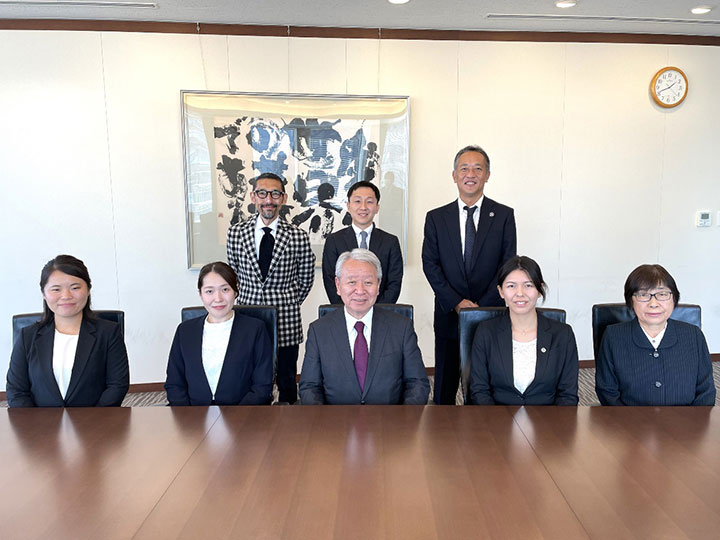 From left in the front row are Ms. Ishii, Ms. Kanzaki, President Tanaka, Ms. Usui, and Ms. Izumi.
In the back row from left are Mr. Otsuka, Chief Secretary of the Office of the President; Mr. Kitagawa; and Mr. Tachibana, Director General of JOCV.
Fusing the Laotian and Japanese Cultures and Contributing to the Improved Livelihoods of Residents
Kitagawa Ryo (dispatched to Laos; category: community development; age 34; from Chiba Prefecture) was assigned to an afforestation center located north of Nam Ngum Dam in Vientiane Prefecture, which had been established for forest conservation purposes, and was involved in supporting the spread of handicrafts, such as paper cloths, to improve the livelihoods of residents. The main activity was to strengthen the brand power of "paper cloth weaving" as a handicraft using natural materials and dyes, from the perspectives of conserving nature, fusing Laotian and Japanese cultures, and achieving the SDGs, displaying these crafts at many exhibitions. He also contributed to the development of business partners for these products. Additionally, he planned a Japanese uchiwa fan-making workshop using the same technologies as those utilized in the production of traditional Edo-period "Marugame Uchiwa" to encourage the initiative of workers at the center, and created opportunities for a wide range of people, including elementary school students, to learn about traditional crafts from both Laos and Japan.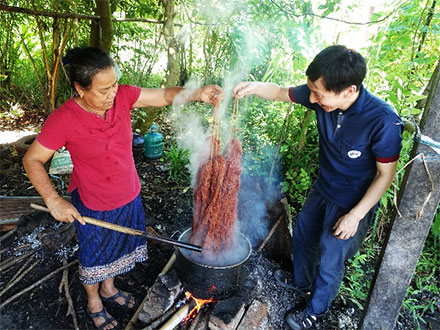 Working with producers to dye paper yarn with plant dyes.
Utilizing Experience as a Teacher in Japan to Provide Educational Opportunities for All
Ishii Risako (dispatched to Rwanda; category: elementary school education; age 30; from Saitama Prefecture) conducted a survey on the awareness of arts and crafts classes among children and teachers at 2&5 Christian Academy, a private school in the capital city of Kigali, and after gaining an understanding of the situation, proposed a curriculum that could be implemented by local teachers. She worked to improve the overall quality of education, supporting training on special needs education and arts and crafts, as well as lessons using ICT education. In addition, she also provided education in aesthetic awareness, cultivating rich sensitivity and imagination through arts and crafts and physical education classes. Further, she created teaching materials and instruction manuals to enable teachers to independently hold their own classes on arts and crafts, and other efforts were made to improve the learning environment such as setting up an art gallery in a corner of the school so that works by the children could be seen by many people.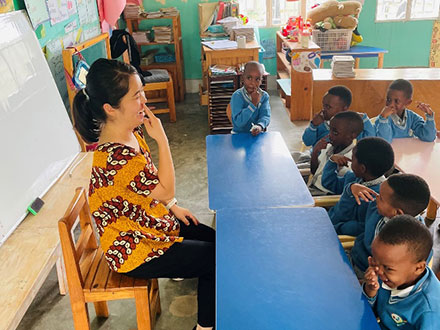 A lower-grade class being taught with hands-on activities.
Sharing the Importance of Dietary Education to the Healthy Growth of Children
Kanzaki Sakiko (dispatched to Egypt; category: school health; age 33; from Wakayama Prefecture) was engaged in activities in the Children and Family Department of the Port Said Branch of the Ministry of Social Solidarity in the city of Port Said, located northeast of the capital, Cairo. The Ministry of Social Solidarity is a government agency with branches throughout Egypt that oversees welfare for people with disabilities, orphans, and children at nursery schools, etc., and the Children and Family Department of this ministry visits nursery schools to implement environmental hygiene management and guidance for childcare workers. During these visits, activities are focused on guidance on nutrition education. Three times during the term of Ms. Kanzaki's appointment, she held training sessions at the place of assignment, bringing together childcare workers and early childhood education volunteers from the same branch. These training sessions continue even now that she has returned to Japan.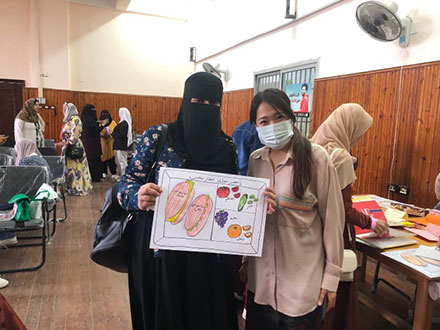 Holding a training session on dietary education at nursery schools for childcare workers in the city.
Working to Popularize Childcare Among the Nikkei Community Through Play
Usui Nozomi (dispatched to Brazil; category: early childhood education; age 30; from Fukuoka Prefecture) was assigned to a Japanese-style nursery school in Belem City, run by Centro Educacional Kyoko Oti (Kyoko Oti Education Center), where she was engaged in activities such as incorporating the PDCA cycle of utilizing, creating, implementing, and improving into annual instruction plans, enabling teachers to create and implement insightful education plans with a clear outlook themselves. In order to strengthen the handing over from Brazilian teachers to Nikkei (Japanese descent) teachers, she introduced childcare diaries, which also contributed to the improved quality of childcare. For parents, she distributed school newsletters and posted information on the school's social media sites to promote understanding and dissemination of Japanese childcare (childcare through play). In addition, she also created opportunities for Brazilian teachers to learn about Japanese childcare, offering activities such as sports days and cooking classes.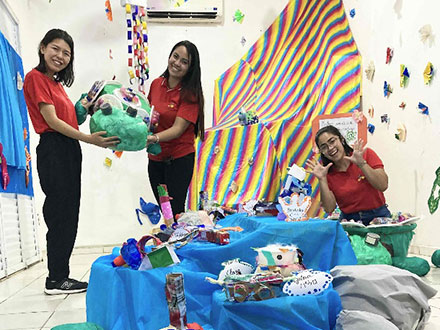 An exhibition of works made with Nikkei teachers from scrap materials with the theme of the Amazon River.
Training of Japanese Language Teachers and Continued Involvement in the Guiding of Students
Izumi Asa (dispatched to Tajikistan; category: Japanese language education; age 73; from Hokkaido Prefecture) was assigned to Russian-Tajik Slavonic University, where she taught beginner Japanese classes for about 23-26 periods a week with local teachers, to train the local Japanese language teachers. Specific activities included proposing a suitable curriculum for Japanese language students, selecting textbooks, and creating supplementary materials based on them. Also, she provided instruction and guidance for Tajikistan's annual Japanese speech contest to students at the place of assignment, as well as to those from other educational institutions such as universities, and she provided guidance and support to local teachers as well. Even after having returned to Japan, she continues to teach Japanese lessons online for enthusiastic students who want to continue their studies.

Teaching a Japanese class with local staff to train new Japanese language teachers.
After the Reception
After the reception, participants expressed their gratitude, with one of the JOCV saying, "At first I was nervous, but the kindness and warmth of Their Imperial Highnesses put me at ease," and another, "Their Imperial Highnesses listened intently to our reports, and I was impressed by how interested they were in our volunteer activities."