Seminar "Options for Stabilization and Prevention in African Regions Affected by Violent Extremism"
event |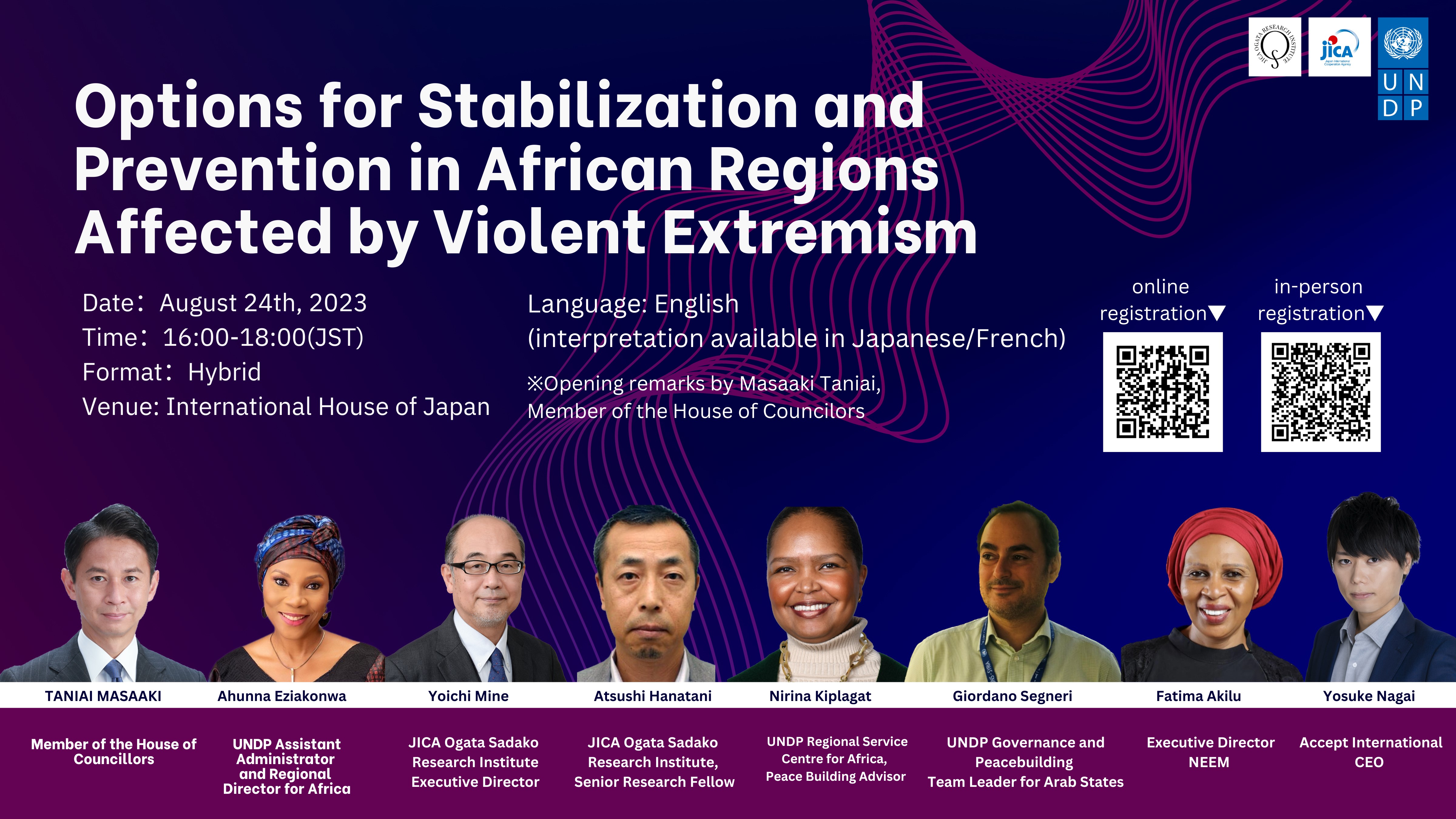 Date & TimeThursday, 24th August 2023, 4:00pm - 6:00pm (JST)
ModeOnline (Zoom) /On-site(Iwasaki Koyata Memorial Hall, International House of Japan )
Co-organized byJICA Ogata Sadako Research Institute for Peace and Development, UNDP
Supported bySophia Institute for Human Security
LanguageEnglish (simultaneous interpretation available in Japanese and French)
JICA Ogata Sadako Research Institute for Peace and Development and UNDP collaborate to host an event "Options for Stabilization and Prevention in African Regions Affected by Violent Extremism", utilizing new research on preventing violent extremism (PVE) and gathering key policymakers and practitioners.

Outline
The growth of violent extremism (VE) is a multi-faceted phenomenon that poses an imminent threat to peace, security and development gains across societies in Africa. Despite significant investment by the international community to counter the devastating impact of violent extremism, it has further expanded and spread in Africa, not retreated, effectively turning the region into a new epicenter of violent extremism. In 2021 alone, Africa accounted for 48% of global terrorism deaths, with numbers of attacks having accelerated tenfold since 2007 in the Sahel. According to the 2023 Global Terrorism Index the Sahel accounted for more terrorism deaths in 2022 than both South Asia and the Middle East and North Africa (MENA) combined.

The urgency of the security crisis characterized by violent extremism, especially in the Sahel region in Africa, has also been highlighted by the United Nations Secretary-General Antonio Guterres, who has called for coordinated international efforts to address the security issues and other structural factors contributing to violent extremism and for a balanced implementation of the Global Counter-Terrorism Strategy pillars. Without a coordinated effort, the effects of violence extremism risk having an impact far beyond the African continent.

Despite the emergence of data and practices calling for greater investments in preventative approaches, securitized and reactive responses have continued to proliferate in Africa while ODA global funding streams for preventative and long-term development, peacebuilding, and preventing violent extremism (PVE) have plateaued or even decreased to a striking 2 percent. The emerging evidence, however, shows a positive return on investments in peacebuilding responses, which is estimated at a ratio of 16:1, meaning that for every dollar invested now, the cost of conflict would be reduced by US$16 over the long run.

UNDP as the primary development arm of the United Nations, together with key partners, has been at the forefront of promoting complementary development and evidence-based approaches to address the underlying causes of violent extremism. Considering the relevance of staying ahead of the curve of development-based solutions, UNDP recently launched a PVE Reports Series - analytical PVE knowledge products- to unravel and shed new light on this rising phenomenon and offer new development-based programmatic and policy responses to address and prevent its spread. This includes the flagship report Journey to Extremism in Africa: Pathways to Recruitment and Disengagement and the research study, Dynamics of Violent Extremism in Africa: Conflict Ecosystems, Political Ecology, and the Spread of the Proto-State, launched early this year, as well as the complementary threat assessment Perceptions, Vulnerabilities, and prevention: Violent Extremism Threat Assessment in Selected Regions of the Southern Libyan Borderlands and North-Western Nigeria, launched in November 2022.

The new emerging evidence contributes to unravelling the highly localized pathways and root causes to violent extremism, making a powerful case for rethinking dominant securitized interventions through a preventative, evidence-focused and development-based approach. The findings and policy recommendations of this emerging evidence-base aim to inform policymaking and further improve evidence-driven work in Africa addressing conflict and violence extremism drivers.

Leveraging the findings of new emerging research and bringing together key policy makers and practitioners in this field, the UNDP, in collaboration with the JICA Ogata Sadako Research Institute, is set to organize a focused policy dialogue.

The primary objective of this event is to facilitate a policy dialogue between Japanese policymakers, practitioners, and national/regional stakeholders. The aim is to delve into the emerging insights from the report and delve into their strategic policy and programmatic implications on the global stage. With due consideration to the multifaceted toll on lives, livelihoods, and long-term developmental strides, alongside the tangible economic repercussions on economies, the discourse will also serve as an opportunity to prompt reflections on how the international community can channel investments in a more cost-effective manner. This will catalyze a shift from reactive measures to complementary, far-reaching outcomes and dividends of peace.

In this light, the event will also function as a platform to instigate profound contemplation on the strides made in recent years. It will reignite a commitment to furthering all-encompassing, integrated solutions, and to making sustained investments in preventing and addressing violent extremism in Africa and Arab states.

The dialogue will be spearheaded by UNDP in partnership with the JICA Ogata Sadako Research Institute for Peace and Development, with support from the Sophia Institute for Human Security (SIHS). The event is expected to bring together Japanese and national/regional stakeholders, encompassing policymakers, academia, research institutions, the private sector, non-governmental organizations, and media representatives. Their collective aim will be to delve into the policy implications arising from the PVE report series.

One segment of the session will delve into the prospective landscape of development on the continent, with a focus on investing in the talents of youth. Esteemed panel members will delve into the prospects, gaps, and potential collaborations for jointly fostering growth and nurturing leadership development among African youth.
Speakers
Masaaki Taniai, Politician of the New Komeito Party, a member of the House of Councilors in the Diet
Ahunna Eziakonwa, Assistant Secretary-General, Assistant Administrator and Director of the Regional Bureau for Africa, UNDP
Yoichi Mine, Executive Director, JICA Ogata Sadako Research Institute for Peace and Development
Nirina Kiplagat, Peace Building Advisor, UNDP Regional Service Centre for Africa
Giordano Segneri, Governance and Peacebuilding Coordinator, UNDP Regional Hub for Arab States
Atsushi Hanatani, Senior Research Fellow, JICA Ogata Sadako Research Institute for Peace and Development,  
Fatima Akilu, Executive Director, NEEM Foundation
Yosuke Nagai, CEO, Accept International
Program
4:00 pm - 4:10 pm, Opening Remarks
4:10 pm - 4:20 pm, Remarks from the Guest of Honour
4:20 pm - 4:35 pm, Keynote Presentation
4:35 pm - 5:20 pm, Panel Discussion
5:20 pm - 5:40 pm, Q&A
5:40 pm - 5:50 pm, Reflection
5:50 pm - 6:00 pm, Closing remarks
Registration
Please complete the registration through the provided links.
Contact
Tsunetaka Tsuchiya, Research Officer, JICA Ogata Sadako Research Institute for Peace and Development
Email: tsuchiya.tsunetaka@jica.go.jp
Chika Kondoh, TICAD Partnership Specialist, UNDP Tokyo Office
Email: chika.kondoh@undp.org