JICA-RI Researcher Kawaguchi Presents Field Research on Gender-based Violence in Uganda
2018.06.21
JICA Research Institute (JICA-RI) Research Fellow Chigumi Kawaguchi gave a presentation at the feedback meetings in Uganda, conducted as part of JICA-RI's two-year project entitled, "Conflict and Gender Based Violence: The role of aid in help-seeking and recovery process of victims." The feedback meetings were held from May 20 to 31, 2018.
This project concentrates on the help-seeking pathways of gender-based violence victims, especially South Sudanese refugees in Uganda.
In February and March 2018, the JICA-RI research team, in cooperation with local partner War Child Canada (WCC) in Uganda, conducted individual interviews and focus group discussions (FGDs) with South Sudanese refugees in six areas in Uganda (Kampala, Kiryandongo, Adjumani, Arua, Moyo and Yumbe).
Based on the results of the interviews and FGDs, the feedback meetings discussed tentative findings. Participants included key stakeholders such as the Office of the Prime Minister (OPM), local governments, international NGOs, and UN agencies working in those areas. In the May 24 feedback meeting at the OPM premise in Adjumani, Kawaguchi facilitated lively discussions, and stakeholders exchanged constructive opinions to develop further actions. They talked about the importance of empowering the youth, linking the mental and medical care of survivors, and supporting livelihood to achieve early recovery.
On May 29, Kawaguchi also gave a presentation at the School of Women and Gender at Makerere University as part of her requirements for Institutional Affiliation Research Associateship. Among the attendees were school dean Sarah Ssali and professors and postgraduate students, who actively participated in discussions about the research experience on gender-based violence issues in the refugee settlement and host communities.
During this visit, Kawaguchi also gave feedback on her field research to UN agencies working on gender-based violence in the settlements. At UN Women Kampala, Kawaguchi discussed with several program officers the gap between standardized referral services in each settlement and refugees' help-seeking pathway. She shared the project's research tools, such as question sheet, to the Joint Plan for Action on Promoting Transparency and Accountability in Uganda's Refugee Response. As part of the plan, UN agencies are committed to various joint actions – vision 3 of the plan was on strengthening safeguards to protect women, children and vulnerable people. Her inputs will be used in conducting a joint assessment on measures, services and safeguards in place to protect women and children and determine the existing gaps.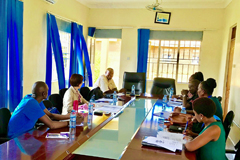 Feedback meeting which was held at the Office of the Prime Minister in Adjumani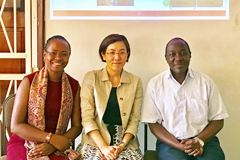 (from left) Sarah Ssali, dean, School of Women and Gender Studies, Makerere University, Chigumi Kawaguchi, JICA-RI Research Fellow and Ronald Kalyango, lecturer at Makerere University
The final output of this project will be published as part of the JICA-RI Field Research Reports and Working Papers. The progress of the research can be followed by clicking the related links below.
Related material (Pamphlet)
Related research projects
ReccommendContent of the same tag as this article