Regional Cooperation for Peace and Development: Japan and South Korea in Southeast Asia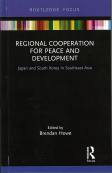 Japan and South Korea have achieved little in the field of traditional security cooperation to date despite their shared strategic situation of US alliance and significant security challenges. However, this book argues that cooperation on nontraditional security (NTS) has the potential to result in meaningful changes.
Major security threats emanating from surrounding countries coupled with a lack of multilateral security organizations, have, in recent years, pushed both Japan and South Korea to strive to raise their international profile through peacebuilding, development, and human security. This book assesses these niche diplomacy initiatives undertaken by the two countries.
The book concludes that cooperation in NTS fields has the potential to not only facilitate peacebuilding in Southeast Asian partner countries but also develop trust between these Northeast Asian actors. Furthermore, cooperation on NTS could likely spill over into the traditional security arena.
JICA Research Institute Senior Research Fellow Ako Muto contributed to Chapter 4 entitled "Japanese contributions to peacebuilding, development, and human security in Southeast Asia" along with her co-author Sachiko Ishikawa, senior adviser on peacebuilding and south-south cooperation for JICA. Additionally, Ishikawa co-authored Chapter 2 entitled "Conceptual framework and intersections: peacebuilding, development, and human security."
Routledge website
Editor

Brendan Howe

Date of issuance

November 2018

Publisher

Routledge

Language

English

Number of pages

134 page

Related areas

Topics

Research area

Peacebuilding and Humanitarian Support

ISBN

978-1-138-32240-0 (Hardcover)
978-0-429-45206-2 (eBook)