Economic Report on Asia—Global Value Chain in the Post-COVID-19 Era—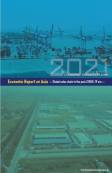 The COVID-19 crisis is likely to be a watershed moment in world history. The JICA Ogata Sadako Research Institute for Peace and Development (JICA Ogata Research Institute) established a series of research teams to address a major question: "What will happen in the post-COVID-19 world?"
One team called "The Socioeconomic Structure of Asia in the Post-COVID-19 World" examines the impact, influence, and transformative effect of the COVID-19 pandemic on global value chains in Asia, which are considered a symbol of globalization.
This report analyzes the impact of COVID-19 and the US–China conflict in terms of trade as well as corporate performance and finance. Moreover, the report collects raw opinions from Japanese companies with value chains and supply chains in Asia by conducting interviews. In this manner, problems and countermeasures they are undertaking to address these problems are revealed. Moreover, the interviews are used to examine the current situation and issues regarding value and supply chains in post-COVID-19 Asia.
Muto Megumi, the vice president of JICA, wrote the Prologue and Epilogue, whereas Nibayashi Ken (former executive senior research fellow at the JICA Ogata Research Institute), Nakata Ryosuke (former chief economist at JICA), and Suzuki Tomoyoshi (research fellow at the JICA Ogata Research Institute) wrote Chapters 1, 2, and 3, respectively.
Author

Megumi Muto, Nibayashi Ken, Ryosuke Nakata, Suzuki Tomoyoshi

Date of issuance

November 2021

Language

English

Related areas