Human Security and Practices of Empowerment in East Asia Research Project: Working Reports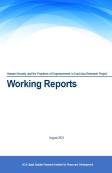 The current JICA Ogata Research Institute research project "Human Security and Practices of Empowerment in East Asia," preceding the studies on human security norms and practices in the region, attempts to gain a comprehensive understanding of the human security concept by analyzing the empowerment of marginalized groups and vulnerable communities facing various and complex human security threats. Concurrent with the implementation of this project, the emergence of the COVID-19 pandemic stands as a significant marker of the value of rethinking the human security approach. In light of the current COVID-19 pandemic, we cannot ignore the worsening downside risks to all identified fields of human security. This project acknowledges these shifts and changes in the threats that women, children, the elderly, refugees, and other vulnerable people confront.
This project is being conducted at two levels to make timely contributions and systematically present human security's combined protection and empowerment framework within the present limitations brought by the pandemic. Level 1 encompasses the country-level analysis of the virus's impact, including the "protection" strategies that are the expected principal means of responding to this crisis. This analysis leads to Level 2, which focuses on vulnerable group/population-specific analyses by exploring the observable levels of "empowerment" in each case study.
Through the guidance of the project advisors, the eight participating researchers present these Working Reports as the interim results of this research project. These reports are mainly based on the Level 1 analysis of eight crucial and interconnected human security issues, namely, health security, food security, gender, economic security, aging society, environment, forced migration, and peace and justice observed from 5 East Asian countries, Indonesia, the Philippines, Thailand, Vietnam, and Japan. While the experiences of these countries do not represent the totality of the crisis in the region, they provide rich analyses of the multiple and overlapping challenges and difficulties that vulnerable groups and communities experience.
These Working Reports emphasize the indiscriminate impact of COVID-19 that compounds the existing vulnerabilities of those experiencing poverty, conflict, displacement, and even the lives of the health care frontliners. COVID-19 pandemic has also exposed the acute inequalities in the loss of opportunities and limited access to resources, including food and even technology. At this stage of the project, the state's role in each case study is salient, with differing accounts of how states have provided protection or otherwise exacerbated people's insecurities. While some countries are finding success, others are still struggling to navigate a clear and practical plan to mitigate the spread of the virus with its recurrent surges and lead their communities to a post-pandemic recovery.
From here on, the participating researchers will continue to develop their case studies, adapting the progress of their Working Reports to capture the necessary details in understanding empowerment practices against the backdrop of the COVID-19 pandemic.
Author

Le Thao Chi Vu, Jonatan Anderias Lassa, Maria Tanyag, Ma. Lourdes Veneracion-Rallonza, ISHIKAWA Sachiko, Arisman, Surangrut Jumnianpol, Nithi Nuangjamnong, Montakarn Chimmamee, Thananon Buathong, Lisette R. ROBLES

Date of issuance

August 2021

Language

English

Related areas

Topics

Research area

Peacebuilding and Humanitarian Support

Research project