"It would be great if anyone could take on any challenge, here in South Sudan." "I wish more people would understand, as we do, that we can get along regardless of ethnic differences, which will lead to peace in the country."

These are some of the messages from young athletes who participated in the National Unity Day (NUD), a sports competition held in South Sudan this June. NUD has been hosted annually since 2016 with the aim of promoting peace and unity through sports in the country. Due to the COVID-19 pandemic, this year's NUD was held on a smaller scale as a Mini-NUD, with only participants from the suburbs of the capital city of Juba. Approximately 500 youths from various communities took part, and this spirit was firmly etched in the hearts of the participants.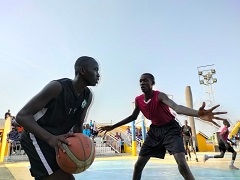 Athletes playing a basketball game at Mini-NUD
This summer, athletes of various ethnic backgrounds selected at NUD will represent South Sudan at the Tokyo Olympics. These athletes, who have overcome difficulties and striving to realize their dreams, are the hope of South Sudan itself.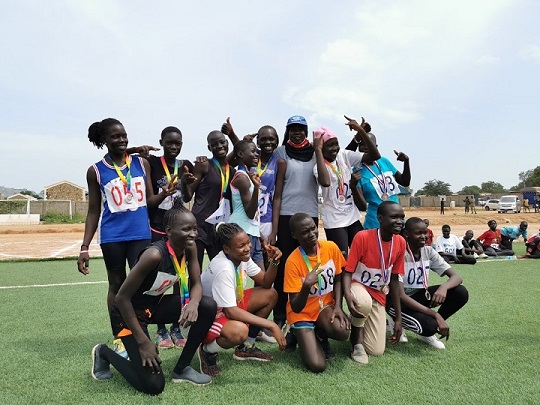 Female athletes with big smiles who participated in track and field
The first step toward peace is mutual trust among people. Sports play a significant role
South Sudan, the world's youngest country, which gained independence from Sudan in 2011, has long since struggled with domestic political conflicts and ethnic confrontations over livestock and land. After the peace agreement in 2016, political conflict has ceased, but due to years of fighting and delays in the peace process, people's day-to-day lives are closely intertwined with anxiety and fear of violence. Every day the television and radio broadcast images of conflicts between and within ethnic groups in various parts of the country. There are also reports of youth groups protesting against the government and humanitarian organizations.
"It is through trust and unity among the people of the nation, transcending ethnic conflicts, that will lead to stability and the development of South Sudan." — The Ministry of Youth and Sports of South Sudan with support from JICA started NUD in the hope of conveying this message to the young people who will lead the next generation through sports. In the case of Japan, such an event is known as the National Sports Festival (Kokutai) for young athletes. Its purpose was also to rebuild and restore Japan's national strength after World War II.
This year's Mini-NUD, which had to be postponed twice due to the COVID-19 pandemic, was held for two weeks and involved hotly contested competitions in track and field, soccer, volleyball, and basketball.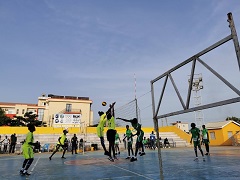 One of the most popular sports in South Sudan, especially among girls, is volleyball
Participants said, "We were able to communicate and make friends with people from teams in other regions," and "After the games, we greeted and congratulated each other on a good performance, and there was a sense of unity. People from different regions were respectful of each other, and I think the referees and coaches were also bonded."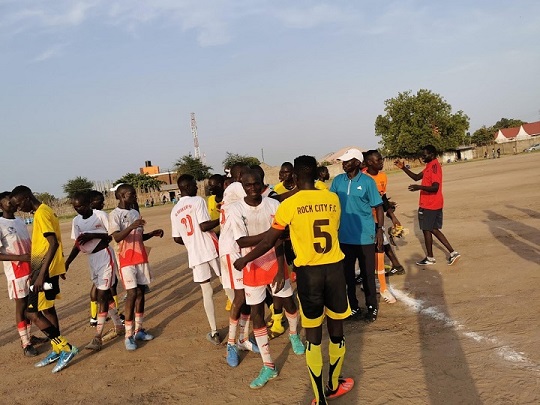 Athletes greet each other after a soccer match. They congratulated one another on their good performance
In addition to competitions, NUD typically holds workshops on the topic of peace. Although the workshops were canceled this year due to COVID-19 pandemic, the participants were able to experience firsthand the joy of connecting with other people through sports.
Young people become ambassadors of peace, featured on the radio
NUD participants are all active as peace ambassadors, sharing their NUD experiences in their schools and local communities. In April of this year, a workshop was held for previous peace ambassadors to learn leadership skills and peace education, and participants reflected on their activities and discussed future initiatives among themselves. Some of the ambassadors organized sports tournaments for children from different ethnic groups and talked about their experiences at NUD on the radio.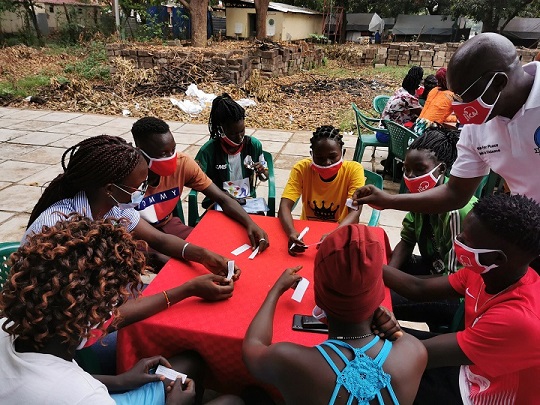 Local NGO members act as instructors, and the peace ambassadors learn about leadership skills and peace education
KANAMORI Daisuke, a project formulation advisor at the JICA South Sudan Office, talks about the efforts to promote peace through sports as follows.

"Through holding NUD annually, representatives from the Ministry of Sports have developed the know-how to manage the event. Although it is difficult to secure funding, the government of South Sudan is now prepared to hold NUD on its own. If they are able to continue organizing NUD, the youth and athletes will have a competition to aim for. Young people across the nation will think, `To continue sports, peace is essential. We must spread harmony ourselves,' and peace and harmony could spread from them. To achieve this, we will continue to support not only NUD but also the peace ambassadors. Additionally, in order to teach youth about peace in schools and sports clubs, we are creating guidelines for teachers and coaches. In the future, I would like to bring about a change in the awareness of peace through sports to many more young people."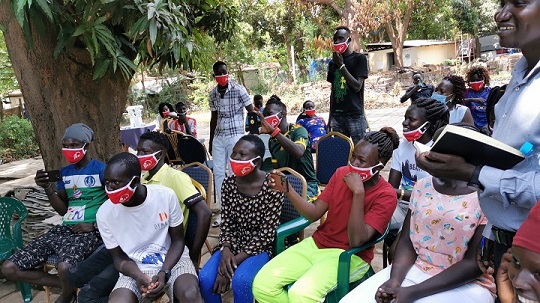 There were about 50 participants in this workshop. Although their activities were limited due to the COVID-19 pandemic, the peace ambassadors had many ideas on how to bring people together through sports
NUD athletes to represent South Sudan in the Tokyo Olympics
Four athletes selected at NUD are staying at a pre-Olympic training camp in Maebashi, Gunma Prefecture. Guem Abraham, who is set to compete in the men's 1500m track and field event, describes NUD as the catalyst that led him to the Olympics.

"Thanks to NUD, I have been able to interact directly with people of various backgrounds in the country and through dispelling preconceived notions, we have come to understand each other. I feel that NUD has contributed more to peace in South Sudan than words can tell."

As a peace ambassador himself, he expressed his thoughts, saying, "I would love to do whatever I can to contribute to peace. I hope that will bring smiles to the faces of people in my country."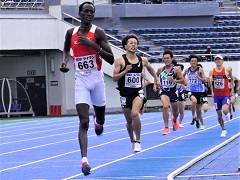 Abraham taking part in a competition in Japan ahead of the Olympics
A participant of this year's Mini-NUD was heard saying, "Abraham is training in Japan and I want to be like him. The valuable opportunity to train in Japan energizes athletes in South Sudan and gives them hope."

For the future of South Sudan and for peace, Abraham will be running in the Olympic Stadium. The starting gun will be fired soon.