The first bus service started in Japan on Sept. 20, 1903. Since then, we have celebrated this day as "Bus Day."

Buses, which are closely related to our daily life, use many technologies and know-how such as operation management and vehicle maintenance to realize their safe operation. JICA's cooperation in this field using such Japanese knowledge began in Asian countries and has expanded to Eastern Europe and Africa in recent years. We are working together to improve bus services while responding to the needs that reflect the times, such as considering the environment and utilizing ICT technology.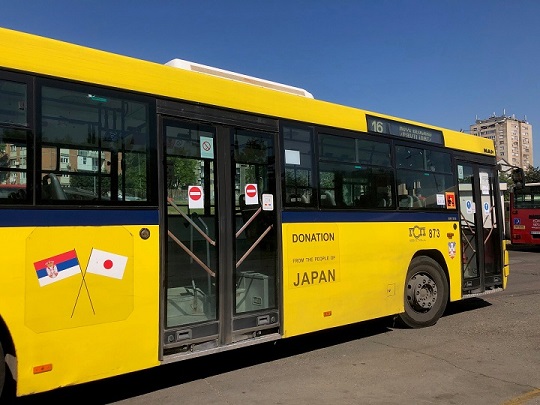 "Japanac" or "Japanaci" (Japan Buses) donated by Japan to the City of Belgrade, Serbia in 2003, are still active
Making buses, a popular means of transportation for the citizens, more convenient in Belgrade and Sarajevo
"In developing countries, safety and punctuality in bus services, which is very much normal in Japan, are often far from being achieved. It is our goal to share the know-how of such attentive services and operation of Japanese bus operators."

These are the words of expert YAGI Sadayuki of ALMEC VPI Corporation, who is currently in charge of the bus business improvement project. In Sarajevo, the capital of Bosnia and Herzegovina, where he currently works, the JICA project is aiming to promote the use of public transport through improving its management capabilities and its convenience. This project started in October 2020.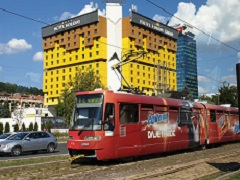 Tram running in Sarajevo. Currently, there are many issues such as insufficient maintenance of tracks and old rolling stock
"Sarajevo Canton is the largest province in Bosnia and Herzegovina. Its public transport consists of buses, trams, and trolley buses. However, issues such as insufficient maintenance of vehicles and tracks, and management difficulties of public transportation as a whole, have led to a decline in the level of its service. In order to improve the situation, we will grasp and analyze the traffic data, formulate an operation plan, review the organization structure of public transport operators, and propose a vehicle location information system," YAGI continues.
Before the spread of the COVID-19, large numbers of tourists visited Sarajevo, a fascinating city that fuses western and eastern civilizations. In the long run, we aim to make the city's public transport system also easy for tourists to use. We will consider introducing MaaS (Mobility as a Service), which allows users to search for the optimal route from multiple traffic modes and make a simple one-time payment.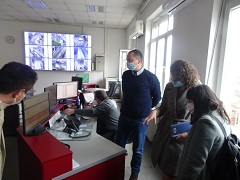 The staff of Secretariat for Public Transport in Belgrade and the JICA Project Team are checking the situation of the bus operation on the monitor. They are discussing the requests for more efficient monitoring by utilizing ICT technology
When we look at Belgrade, the capital of Serbia, buses, trams, and trolleybuses are important means of transportation for citizens. However, the city's route plans have not kept pace with the city's population growth. Therefore, in November 2020, the "Project for Modernization of Public Urban Transport in the City of Belgrade" started.

First, we conduct a traffic demand survey and create a route plan that meets the needs of the passengers. It is also important to secure fare revenue to maintain the vehicles and facilities as necessary. At the same time, we work to solve the issues such as low fare collection and cooperate in introducing environment-friendly public transport.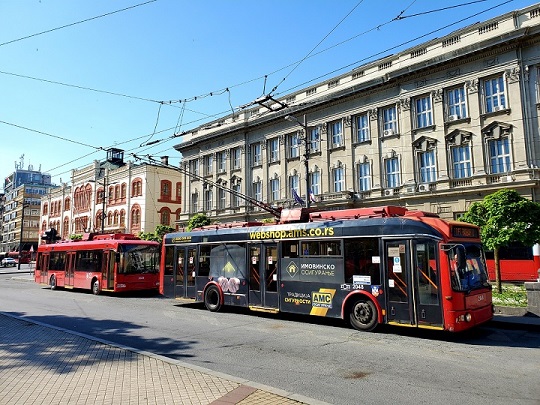 A trolleybus running in Belgrade. Route plans are being improved and plans to secure fare collection are being made
The beginning was an initiative in Southeast Asia. Cooperation during the operation stage is the key to success
Behind the expansion of JICA's cooperation in bus service projects in each country, was the successful experience in Southeast Asia.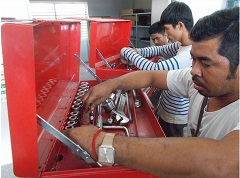 Vehicle maintenance training for mechanics of the public bus corporation in Phnom Penh. We guide them on how to manage the tools properly
In 2011, in Vientiane, Laos, besides the provision of large buses, we launched a project focusing on the improvement of bus operations. With the strengthening of the operation system of the public bus corporation, we succeeded in improving the balance of city's bus business by optimizing the operation timetable, route plan, and fare system.

Starting from the donation of 80 buses in 2017, in Phnom Penh, Cambodia, we have been providing guidance to improve both the convenience of buses by using GPS data, and bus vehicle maintenance methods.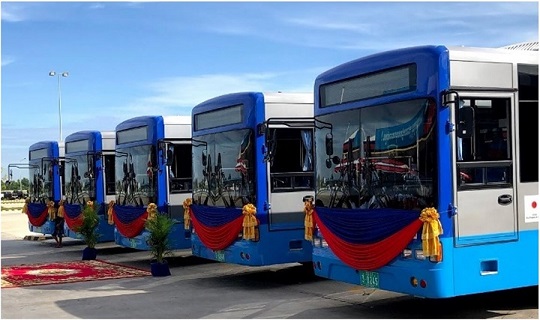 Japanese buses which were donated to Phnom Penh, Cambodia in 2017. Success in Asian countries
is the driving force behind expansion to Eastern Europe and Africa
In these cases in Southeast Asia, Japan's efforts have been highly evaluated for the provision of vehicles and the introduction of systems, and also for the continued cooperation in the bus operation business. In addition, it can be said that through interviews with citizens, these such activities designed to meet the needs of bus users have led to a high degree of user satisfaction.

Expert SEKI Yosui of ALMEC VPI Corporation, who has been involved in various JICA projects, emphasizes, "One of the expectations to Japan's cooperation in the transport sector is the development of high-quality infrastructure. This cannot be achieved by merely providing buses and setting up routes. There is a need for a comprehensive improvement in urban transport, including the bus operation business."

Such efforts to improve public transport centered on buses are currently spreading into Africa. Projects aiming to improve the quality of bus services in Nairobi, Kenya, and others, are being planned.
Introducing public transport infrastructure at the right time, according to city size and its population. What role must the bus play?
The needs of developing countries are changing over time. NAKAZONO Miu, deputy director of JICA Transportation Group, Infrastructure Management Department, talks about the future initiatives as follows.
"To cooperate with the transportation issues in developing countries, it is important to introduce public transport infrastructure at the right time, according to the size of the city and its population.
For example, railway development takes decades from planning to realization. However, the city's population and automobile numbers will increase daily, leading to heavy traffic congestion. In order to stop transition to an automobile society as much as possible, it is vital to improve bus services which are familiar in many countries and encourage the citizens to use them. Recently, developing countries themselves have begun to consider the use of ICT and digital technologies as well as new transportation systems such as electric buses and CNG buses. In the near future, it may be that these experiences and good practices in developing countries jump over Japan and the developed countries, and the day will come when Japan reimports them."

Once again, Sept. 20 is Bus Day in Japan. Why don't you take the bus to celebrate this day with us and contribute to the improvement of YOUR Bus System?