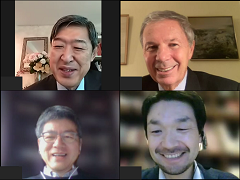 Clockwise from top left, President Kitaoka, Professor Guéhenno, Mr. Murotani, Senior Director, Peacebuilding Office of JICA, and Dr. Takahara, Executive Director, JICA Ogata Research Institute
On February 3, JICA President KITAOKA Shinichi had an online meeting with Jean-Marie Guéhenno, professor of the School of International Public Affairs (SIPA), Columbia University, and discussed recent subjects of global concern such as Ukraine and Afghanistan as well as challenges to international norms and universal values. Professor Guéhenno has been a member of the International Advisory Board (IAB, Note1) of JICA since the Board's establishment in 2017.

At the beginning of the meeting, President Kitaoka raised several topics for discussion. These were: Afghanistan and Africa, including crises in Ethiopia and the Sahel, which experienced drastic changes since the last meeting (July 2021); the Ukraine crisis and its influence on global security; and erosion of international norms, together with challenges to universal values.

Professor Guéhenno presented the following views on the background to the instability occurring in each region and the actions that the international community should take:
・ In order to maintain democracy and international norms, it is important not to limit the definition of democracy to only one form, but to embrace that each country has its own way to achieve democracy depending on its culture and history. At the same time, rather than discussing abstract label of democracy, it is necessary to focus on elements that are fundamental to democracy, such as respect for human rights, accountability, and freedom of speech.
・ Complete isolation of the state from the international community is counterproductive even with an autocratic regime and maintaining contact is of vital importance.
In addition, the participants exchanged opinions on the situation in Ukraine, Afghanistan, the Sahel region, and other areas.

At the end of the meeting, President Kitaoka shared JICA's preparation for the Eighth Tokyo International Conference on African Development (TICAD8), explaining that JICA would continue support, focusing on human resource development, education, and health in Africa and expressed his hope for advice from Professor Guéhenno, who agreed with the proposals. Both sides confirmed that they would continue to hold meetings to exchange opinions in response to changes in the global situation.

(Note1) The International Advisory Board (IAB) was established in March 2017 with the objective of strategically improving JICA activities and initiatives through advice from domestic and international board members who are distinguished experts in their fields.