The G7 Summit for the Group of Seven (G7) major economies will be held in Hiroshima from May 19 to 21, 2023. Japan will chair this year's G7 and lead the discussions on various issues in the international community. The event will offer an opportunity to consider the current and future challenges facing the international community, and the contributions of Japan and JICA. The first installment of a series is focusing on support for Ukraine, more than a year after the Russian invasion began.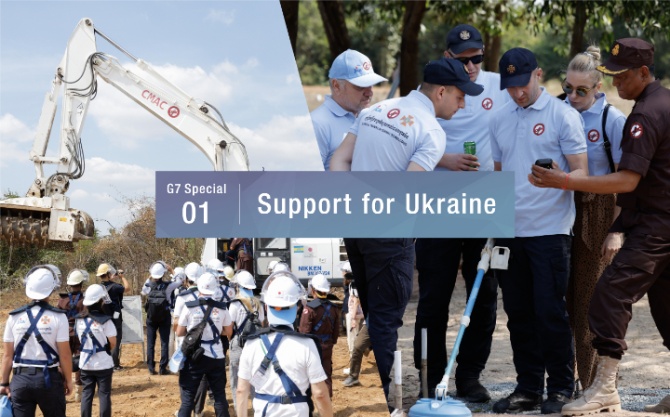 Acts against the international order are global issues
Russia's aggression against Ukraine began last February. The world was shocked by the outrageous act of one country unilaterally and forcefully trampling on the sovereignty and territory of another. Russia ignored the international laws aimed at a peaceful future (such as the UN Charter) that had been put in place after World War II. The order of the international community was formed by the rule of law, based on the principles of the independence and equality of all nations. It is now being threatened, and the universal values of freedom, democracy, and human rights are facing grave challenges. Russia's aggression against Ukraine does not only affect the two countries; it is a serious problem for the whole world.

Japan and the other G7 nations were quick to support Ukraine and implement sanctions against Russia. The fighting has now continued for more than a year, and Japan's Prime Minister Kishida Fumio confirmed Japan's continued support at a press conference last February. "To ensure that unilateral attempts to change the status quo by force are not tolerated under any circumstances, we must steadily implement assistance to Ukraine and sanctions against Russia and restore the peaceful world order based on the rule of law of international law, including the UN Charter," he said. Japan, as the chair of the G7 Summit in Hiroshima, is determined to take the lead in forging unity on the Ukraine issue.

As a peaceful nation, Japan continues to offer support based on its experience and strengths. It has been providing generators and electric utility equipment to help the country during the winter months. It has provided construction and mine clearance equipment for recovery and reconstruction efforts, as well as other forms of assistance that match Japan's technological capabilities with local needs. Japan is sharing its knowledge and experience based on its own history of reconstruction following World War II and the Great East Japan Earthquake, contributing to building a stronger postwar Ukraine.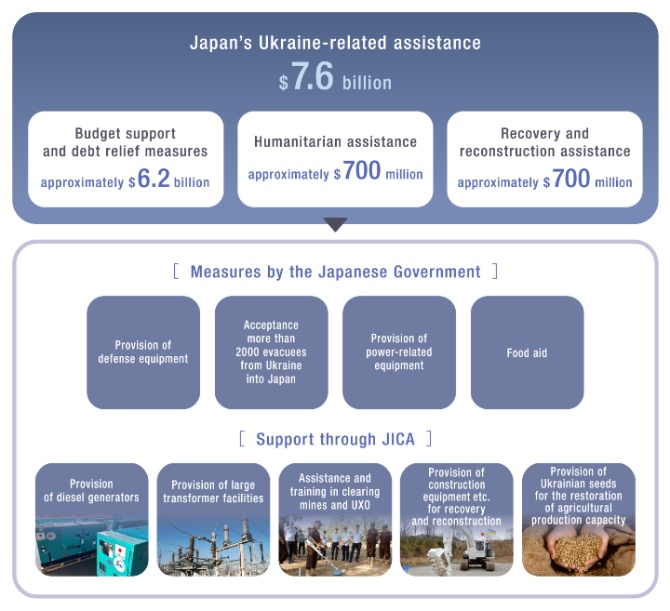 Japan's Ukraine-related assistance (from materials released by the Prime Minister's Office of Japan in February and March 2023).
Building on trust: JICA's first-ever aid to a war-torn country
JICA is playing a major role in implementing aid initiatives by the Japanese government. In September 2022, the Office for Ukraine Crisis Response, Recovery and Reconstruction was established to provide urgently needed aid. The following three pillars make up this comprehensive approach.

In the third area of "Conduct recovery and reconstruction support", it is particularly necessary to support efforts that range from immediate short-term support to medium- to long-term support that will be necessary in the postwar period. Cooperation will focus on four areas: laying the groundwork for full-scale recovery; reconstructing social infrastructure and improving the environment; reconstructing key industries such as agriculture; and strengthening of governance.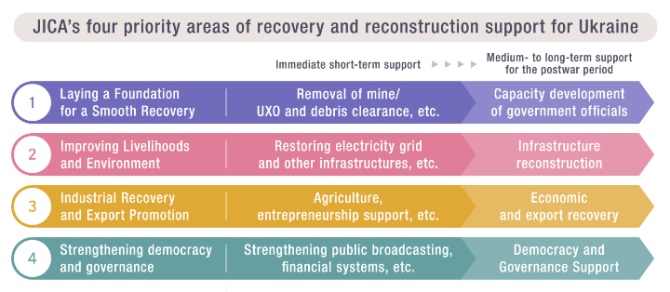 "JICA is expected to play the role of a bridge between Ukraine's needs and Japan's solutions," says Kobayakawa Toru, Senior Director of JICA's Office for Ukraine Crisis Response, Recovery and Reconstruction.

This is the first time that JICA has provided assistance to a country during wartime. Even under these difficult circumstances, Kobayakawa says, JICA has been able to quickly gather information on what is needed in Ukraine and carefully analyze it, thanks to the relationship of trust that JICA has built up with the country through past cooperation.

It was quickly decided to use the two countries' cooperative relationship and provide mobile relay units and cameras to the Public Broadcasting Company of Ukraine (PBC). This enabled the broadcaster to continue rapid and accurate reporting from the ground despite the destruction of its facilities. Cooperation in improving Ukraine's capacity for urban waste disposal prior to the invasion has led to support for debris disposal in the current wartime recovery and reconstruction efforts.

Cooperation also continues in the clearance of landmines and unexploded ordnance (UXO) in Ukraine. This includes training personnel in Japanese-made mine-clearing equipment, with the support of the Cambodian Mine Action Centre, an organization which JICA has been cooperating with for many years. In each case, JICA was able to respond quickly due to the trust it had built up over the years.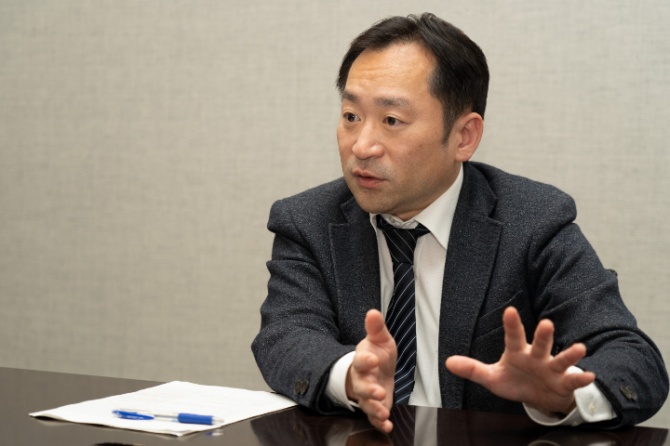 (Clockwise from top) Kobayakawa Toru, Senior Director of JICA's Office for Ukraine Crisis Response, Recovery and Reconstruction; the Public Broadcasting Company of Ukraine (PBC) continues to transmit information from its temporary underground studio when air raid alarms sound; JICA landmine clearance training for State Emergency Service of Ukraine staff in Cambodia January, 2023.
The international community is an interdependent web
There is no end in sight to Russia's war on Ukraine. Ukraine faces the difficult task of rebuilding its economy despite a ballooning budget deficit due to the war. It will be essential to revive industries, create jobs, and increase tax revenues in order to rebuild the country and escape its dependence on foreign financial support.

JICA is supporting the Ukrainian economy by providing assistance to Ukrainian entrepreneurs, and has begun to encourage the revitalization of agriculture, a major industry. Ukraine was promoting decentralization prior to the invasion, and local governments are expected to take the lead in reconstruction efforts in the future. "JICA's one of the emerging roles is to serve as a hub between Japanese companies and local governments that wish to provide assistance and Ukraine's local governments," says Kobayakawa.

In March and April of this year, JICA concluded a Grant Agreement with the Ukrainian government. Under the agreement, JICA will donate up to a total of approximately $560 million for economic and social development in developing regions. In addition to the ongoing cooperation in landmine and UXO countermeasures and the expansion of support for debris and disaster-waste disposal, JICA will support recovery and reconstruction in a total of 10 areas, including energy, medical and health services. Support for the education sector is also included, amid concerns about the impact of the war on children. Thousands of schools have been destroyed or damaged, preventing the education of more than 5 million children. JICA will also be working to provide IT equipment to enable children to continue their education remotely from safe locations.

In order to protect the peace, order and security of the international community, the G7 is united in condemning Russia's aggression, and has expressed its continued support for the restoration and stabilization of democracy in Ukraine. The international community is interdependent and can be likened to a tightly woven web. As members of this global community, everyone of us living in the international community should feel the need to support Ukraine as a part of the web. That is the reason why JICA will continue to study Ukraine's needs and use its years of experience and knowledge to provide steady aid and assistance to the country.