Striving for Research with Practitioner's Perspective
An interview with JICA-RI senior research fellow Yasuo Fujita: His approach to capacity development (CD) research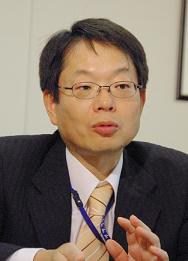 After the release of his working paper, "What Makes the Bangladesh Local Government Engineering Department (LGED) So Effective? Complementarity Between LGED Capacity and Donor Capacity Development Support," in January 2011, Yasuo Fujita visited Bangladesh for a feedback trip in April. He has drawn on his experience from his two-year assignment there upon conducting this research. The study has come into focus as a good example of a practice-based research method. In this interview, he talked about the background of his project and his approach to research as an experienced practitioner.
Committed to Practice-based Research
You were stationed in Dhaka around the time of the new JICA's launch. Did your work in the field spawn your interest in the efficient management of the Local Government Engineering Department (LGED) of Bangladesh?
From April 2007 to March 2009, I was assigned to the Bangladesh office to mainly supervise Japanese ODA loan financed projects. Through my work there, I discovered that despite the general consensus that public organizations in Bangladesh are inefficient, LGED is an exception. LGED implements projects with much less delay than other government organizations in Bangladesh. This is evident in LGED's higher utilization rate of the budget, which is formulated at the beginning of each fiscal year. Staff competency is also particularly high; their decision making in day-to-day operations are swift and accurate, documents, with high credibility, are speedily prepared, and presentations are of high quality, for example. In addition to the capacity of the staff, I always had the impression that the concept of "quick response" is thoroughly understood throughout the organization.
Management consultants and business school researchers in the U.S. have analyzed successful private companies achieving an enduringly high performance, which are dubbed excellent companies or visionary companies. There has been a growing debate on the "pockets of excellence," a concept that even developing countries whose governance is considered poor have at least one or two highly efficient administrative bodies. Field surveys are being implemented to determine how such organizations are born and I decided to comprehensively analyze, from an aid practitioner's point of view, the factors as to why LGED is managed efficiently.
What were you particularly conscious of when conducting the research?
Throughout my two years at JICA-RI, I have always tried to maintain a practitioner's approach to research consciously. I take every effort to theoretically and numerically analyze what I've learned from the field. For university researchers who specialize in development economics, I think it is the norm to apply the most advanced academic theories and knowledge from empirical studies to analyze development assistance projects. However, I dare say that my approach as a JICA official is somewhat reversed. Starting off with the knowledge acquired through practice, I adopt theories and methods suited for its analysis, and theoretically analyze and illustrate the projects' impacts and others. In this study [on LGED], I based my analysis on managerial and organizational theory.
I also place a priority on research that contributes to development aid practice. In this case, I aimed for a highly convincing analysis, so that the findings can be incorporated into future projects such as the enhancement of LGED, managerial and organizational reforms of other governmental organizations, and JICA's development assistance programs. I was told that LGED is currently using this working paper as a supporting material for its negotiations with the government regarding a large-scale organizational reform, which started early this year.
Theoretically-backed Research Approach
What research method did you use?
The research methods are mainly the following two: (i) interviews with the chief engineer and high-positioned officers of LGED, local offices of the World Bank and the Asian Development Bank (ADB), and (ii) literature review of published technical assistance and evaluation reports prepared by donors. I also drew on my experience and knowledge of supervising ODA projects in the field, in which I communicated with the LGED executives, project directors of ODA loan projects, and engineers in local districts. Using managerial and organizational theory framework, I provided evidence for the facts to help explain the LGED's effectiveness, which haven't been thoroughly organized in the past. There have been suggestions that the LGED model should be applied to the reforms of other GOB (Government of Bangladesh) organizations. Therefore, I tried to systematize and conduct an in-depth analysis on the LGED's strengths.
The current headquarters of LGED, for example, has a concentrated, better-working environment with more information technology facilities compared to other public organizations. At the headquarters, LGED staff work together with outside consultants in the office premises, a factor that contributes to lowering communication costs when looked with organization structural theory. Also, a good working environment and modern IT facilities lead to raising staff motivation and efficiency from organization behavioral theory's perspective. In other words, it is not the integration of the headquarters but rather its effects are, I consider, the things worthwhile analyzing. This shows that, to boost effectiveness even when creating an integrated head office is difficult, we only need to find alternative means to reduce communication costs.
The achievements of the late Mr. Quamrul Islam Siddique, founder and former chief engineer of LGED, must not be overlooked. Mr. Siddique was the "architect" of LGED; it was he who clearly set the direction of the organization by designing the compact headquarters and allowing significant delegation of authority to local offices. As a frequent visitor to Japan, Mr. Siddique became convinced of the efficiency of one-stop center after observing Institutes related to rural development in Tsukuba, Japan. He later exerted himself in establishing the Rural Development Engineering Center of LGED with the help of JICA's technical cooperation projects and ODA loans.
Decentralization Promoted by Organizational Characteristics
Mr. Siddique's management style and basic principles seem to be successfully maintained.
Yes, and that is precisely the key. The achievements of a charismatic leader would only be transient if his ideas and practices aren't sustained. What is exceptional about LGED is that the accumulation of successful practices has been handed down in the form of organizational systems and culture. Officials inherit their organizational culture as they climb up the ladder by gaining experience at local work sites and the headquarters. The fact that LGED has assigned internal staff to top and executive posts also contributes to the smooth succession of the culture. While highly valuing the achievements of Mr. Siddique, my main focus was to break down his management principles as thoroughly as possible. Otherwise, the solution for improving organizational effectiveness would be just to have "a talented leader," which wouldn't be very resourceful for future high-level LGED officials and other institutions in Bangladesh.
The delegation of authority, or decentralization, is also successfully done.
LGED's compact headquarters structure and extensive delegation of authority to local offices allow quick project implementation. LGED, whose predecessor was originally formed in the 1960s, has played a major role in operating sustainable rural development and reducing poverty in Bangladesh. It has implemented projects in rural areas severed by numerous rivers of various sizes, from an era that no cell phones or the Internet existed. Due to difficulties of transportation and lack of telecommunication systems, I think they had no choice but to decentralize functions for speedy project implementation. Also, LGED's rural infrastructure projects are comparably small in scale and most of them can be standardized; the risks associated with individual projects are minuscule relative to LGED as a whole. This is another factor behind its success in decentralization. For business content like LGED's, organization structural theory suggests that project implementation can be done more smoothly when authority is not concentrated in the headquarters, but is drastically delegated to local level with clear directions and procedures. It is significant that LGED has built on these ideas and put them into practice.
Most governmental organizations in Bangladesh that have jurisdiction over state-level and rural projects are facing challenges such as poor management and inefficient decentralization. While simple imitation is not an option, I believe these organizations can greatly benefit from the LGED's experience and management methods.
How do you expect this working paper to be utilized in the future?
As I have striven to systematically analyze data with a standardized managerial/organizational theory framework, the research can serve as a good reference for analytical studies of other organizations. This case is an accomplishment of the synergistic effect of LGED and donor assistance, and is also a successful example of multi-donor cooperation (JICA included) for capacity development. It stands as an interesting case for that respect.
This April [in 2011], I visited LGED for a feedback trip. LGED's chief engineer Wahidur Rhaman expressed appreciation for the study's well-balanced analysis, and told me he has instructed LGED officials to take a look and distributed the working paper to other government organizations and aid agencies in the country. Details of research findings were also published in LGED's newsletter. I could confirm that the research was very helpful for them.
On the other hand, some officials expressed their concerns about the future of LGED, such as how to maintain organizational culture and the weakening knowledge base. It is becoming more and more difficult, for example, to acquire advanced knowledge, as very few officials have an opportunity to study abroad these days. Knowledge is also less likely to be retained in LGED because of increased dependency on contracted consultants. Strengthening the knowledge base through staff capacity development is critical; in this regard, they might consider looking into receiving assistance from donors including JICA. As the ongoing technical cooperation project for LGED will finish by the end of this year, I hope that this working paper will provide useful information if JICA will consider designing subsequent projects.