Empirical Study on the Weather Risk Coping Strategy for Households in Rural Kenya──An Interview with Research Fellow Suguru Miyazaki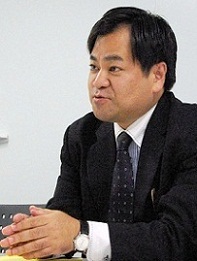 JICA-RI launched "Empirical Study on the Weather Risk Coping Strategy for Households in Rural Kenya"as one of its new research projects for fiscal 2011. This empirical study focuses on the poverty-reduction effects of "weather insurance," especially on index-based insurance which is drawing increasing attention. We asked the project leader Suguru Miyazaki, JICA-RI Research Fellow/Expert(Development Policy) about the salient features of index insurance and its potential for poverty reduction as well as about his approach to this empirical study.
Cognitive Limitation" and "Motivational Limitation
You seem to be consistently interested in the field of institutional analysis. What is the background of your interest in this area?
I looked into the past development projects, and noticed that some were not implemented as planned and failed to achieve their expected outcomes. Exploring the causes of these phenomena, an idea of the presence of a "perception gap" for anticipated benefits among stakeholders came up to my mind── there might be gaps for "what are the benefits" between the donors and the beneficiaries.
Some economists have been collaborating with experts in other academic disciplines to search for the "bounded rationality" of economic behaviors. Although they have not yet agreed on the definitions of bounded rationalities, they are often argued by divided into two types: "cognitive limitation" and "motivational limitation." For example, despite donors' efforts to make people's lives better through various assistance projects, the beneficiary population might not fully understand what will get better, and how, i.e., the mechanisms and theories of the projects. These "cognitive limitations" can be addressed by providing workshops and training programs that promote better understandings of the projects. Meanwhile, in some cases, thorough understanding of the benefits of certain facilities and services does not necessarily cause responses of beneficiaries to purchase and utilize them– "motivational limitations." One of my biggest research objectives is to examine how we can grasp the true needs of beneficiaries in developing countries, and I believe the institutional analysis can provide me with an effective approach in tackling this issue.
Potential of Index Insurance
Now I would like to focus on JICA-RI's new project, "Empirical Study on the Weather Risk Coping Strategy for Households in Rural Kenya," which seems to be reflecting your interest.
Following some final adjustments after an on-site test survey in Kenya, we are now conducting a full-scale survey. One major characteristic of this study is that it empirically examines the impact of "weather insurance" on poverty reduction in Kenya, as well as its potential for wide acceptance among the poor.
The majority of agricultural risk factors are related to weather conditions. Irrigation systems have been widely put in place to guard farmers against these risks. However, irrigable areas account for only 5% of the farmland in Kenya, where farmland itself is scarce to begin with. This makes farmers vulnerable to weather conditions, and they frequently end up with poor harvests. While damages from poor harvests fall into the category of weather-induced "ex-post" losses, there happens to be "ex-ante" losses as well. For example, risk aversive farmers tend to prefer low-risk products over high-yielding varieties, even when they know that the former generates lower returns. They proceed to make increasingly conservative, defensive choices, consequently shutting the door on more profitable options by choice. This result is sometimes called a "ex-ante loss." I set up a hypothesis that, in addition to risk-reducing measures such as irrigation and produce diversification, some forms of insurance system are also needed to reduce these ex-ante and ex-post losses. This became what I call the "ignition point" of my study.
As I gathered information regarding my study, what I started to see was the great potential for a certain type of insurance -- "index-based" insurance -- that can dramatically cut implementation costs. With conventional(non-index-based) types of insurance, insurance companies would respond to farmers' flood damage claims by sending somebody to assess the damages, and judge whether and how much they can payt. However, the poor often might sparsely live in remote areas, which might cause very high transportation cost. And as the "damaged" farmers might understandably overclaim their damages, insurers risk spending a lot of money getting there only to end up with collecting false information. Such high implementation costs would discourage insurers to enterthe market, saying that, in the end, insurance system does not work well with poor farmers. Consequence is that the rural poor would left without any access to risk-reducing measures.
Index insurance, on the other hand, does not require assessment. In our Kenyan case study, a number of weather observation spots are placed in each block of about 10-15 square km in size, so that insurance companies can keep an eye on observational data on-line. This system allows the insurer to know precisely when precipitation levels exceed (or go below) the fixed benchmark and thus determine areas that would be subject to payment. Objective weather data is the sole index used, so the determination process would leave no room for subjective information. Coordination costs (transportation) and motivational costs (false information) can be greatly reduced, thus possibly creating a incentive for insurance companies to enter the market.
What about the payment system? Wouldn't there be a huge requirement for manpower?
Fortunately, mobile phone-based money transfers are common in Kenya, and the ownership rate of mobile phones is apparently around 80% of the population. Systems have been introduced where people can use mobile money transfer services to take care of everything from notification of payment to actual cashing. As a trial marketing approach for individual farmers, stores are selling insurance in addition to agricultural goods in order to target the farmers when they come in to purchase fertilizer and seeds there. For now, the premiums are set at 5% of the purchase price. If weather risks like droughts increase and the trigger conditions are met, up to about 80% of the cost of seeds and fertilizer for next year's planting will be covered, depending on the extent of damages.
We hear of other cases of index insurance that have been introduced. What is the outlook on the insurers' profitability?
Judging from recent surveys, all of these are preliminary, CSR-based efforts that mitigate climate risks in the short term. This also implies that they still have
n't been able to break through the trial phase. However, if insurance becomes widely accepted among the poor, and their view on risk starts to shift, participation rates should grow and lead to more business opportunities.
Follow-up Survey on Perceptions and Behaviours
Please tell us about the purpose and details of the empirical study.
As I mentioned in the beginning of this interview, our research is based on the hypothesis that people's actions are influenced by cognitive and motivational limitations. Participation rates won't increase unless farmers both acknowledge and understand the advantages of buying insurance, so organizing workshops that help them to understand the advantages should be effective in addressing cognitive limits. But we also need the farmers to understand that premiums are nonrefundable, meaning they won't get paid anything if they get good weather.
Meanwhile, farmers that are well aware of the merits and of successful cases in other regions can still have doubts whether the system would be successful in "their" village. However, seeing their own neighbors' experience, which drastically mitigate damages with the payments they get can help eliminate these motivational limits. Our research tracks the changes in people's perceptions and actions regarding index insurance to give us a better understanding of this issue. We are examining whether uninsured farmers who have neighbors that have received insurance payments will buy, or contemplate buying, insurance for the next planting season. We would expect people who have experienced the advantages of buying insurance to buy higher-yielding varieties for the next planting season, thus drastically increasing their agricultural production. Once this is observed I believe we can empirically show that index insurance contributes to the improvement of agricultural productivity and, ultimately, leads to poverty reduction.
We are going to organize workshops and track farmers' activities until this fiscal year's planting season. Through panel data analysis, I believe we can get a more comprehensive view of the positive effects of the insurance, and we are planning to publish our findings as a JICA-RI Working Paper.
"Weather insurance" seems to have the potential to create a completely new approach to ODA.
First of all, we can organize effective workshops to promote the understanding of this innovative "product." The possibility that climate factors will cause widespread destruction cannot be completely ruled out, so the financial strength of insurers will also be questioned. We must also look into the need for reinsurance. The funds required for weather insurance will fluctuate depending on external factors, so the possibility to utilizing ODA funds should be examined from institutional aspects. However, as I believe that it would be meaningful to mobilize public resources in the area of reinsurance, and it would also be an important part of the scope of my survey. Index insurance can be regarded as a form of PPP when you focus on the private insurance participation, and also as a BOP pursuit if you see it in terms of a business that captures the needs of poor communities. In this sense it has a completely new potential.
Advantage of JICA-RI: An Institute Close to "Fields" of Development
What are your views on the collaboration of research and aid practice?
From my point of view as a practitioner-turned-researcher, the most significant advantage of JICA-RI is having access to the fields of development operations. Collecting reliable, extensive data efficiently is one of the biggest challenges in research. JICA-RI is extremely advantageous in this sense, since it is easy to have access to necessary data in the process of JICA's aid projects implementation. I ended up with so many questions and problems during my days as a practitioner. Often I couldn't find the time to look into these questions, and didn't even know where to begin looking. This is the main function of JICA-RI: bridging such gap.
It means a lot for aid practitioners to have access to an extensive database of knowledge, like research institutes, to look for "keys" for unlocking questions that emerge in their daily work. Personnel rotation, in the sense that it provides career opportunities in both aid practice and research, is highly motivating. In the future, I would like to return the knowledge, skills and research findings back to on-the-ground operations to help promote efficient development operations.