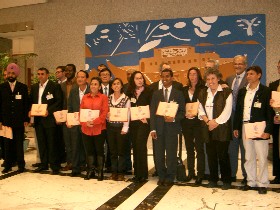 At the 10th annual conference of the Global Development Network (GDN) held in Kuwait from February 1-5, 2009, JICA-RI's Director Dr. Keiichi Tsunekawa presented the Japanese Award for the "Most Innovative Development Project." An award of $30,000USD was given to the institution whose project embodied a fresh approach to an important development need and held the greatest promise for benefiting the poor in developing and transition countries. The criteria included the degree of innovation and the potential for broad replication of the project in other countries. An additional prize of $5,000USD was given to the institution of the second finalist. Funding for the award was provided by Japan's Ministry of Finance. This year, the three finalists represented projects from Ecuador, Nepal and South Africa.

1st place)
Totally Online High School for People in Educational Risk
Represented by: Monica del Rosario Vasconez, Executive Director, The Iberoamerican Virtual Foundation (UVIA), Ecuador

This online high school program provides six years of distance education to over 700 people aged 16-40 that have not finished high school. With state-of-the-art technological resources it specializes in four areas: Informatics, Sciences, Social and Cultural Management, and Cultural Tourism and Sustainable Development. The program, which initially targeted Quichuas people located in the Ecuadorian Amazon in 2004, is now located in 26 different rural and urban-marginal communities and four detention centers.

2nd place)
Biodiversity Conservation through a Community-based Enterprise Approach
Represented by: Bhishma Prasad Subedi, Executive Director, The Asia Network for Sustainable Agriculture and Bioresources (ANSAB), Nepal

This is an enterprise-oriented, community-based, biodiversity conservation program in the Nepalese Himalayas since 1995. It promotes local capacity building and empowerment, long-term sustainability and effective coordination and implementation of project activities, particularly during conflict and security situations. By 2007, nearly 87,000 hectares of degraded forests and meadows were under improved community management.

3rd place)
The South African Social Investment Exchange (SASIX)
Represented by: Carol Tappenden, Managing Director, The Greater Good South Africa Trust, South Africa

SASIX provides a platform which connects social investors and potential beneficiaries on the Internet. It evaluates and lists development projects for corporations and individuals to invest in. Since its inception in 2006 the program has leveled the playing field by giving small non-profit organizations the same access to funds and capacity development as the better-known causes.
| | |
| --- | --- |
| Day | February 01, 2009(Sun) - February 05, 2009(Thu) |
| Place | Arab Fund for Economic & Social Development (AFESD), Kuwait |