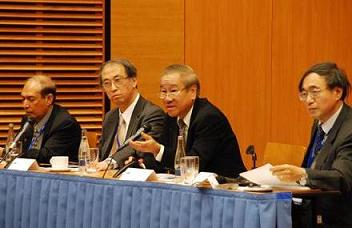 Prof. Kaoru Hayashi (right) chairs a panel session
From January 16 to 18, about 450 researchers of international organizations, aid organizations, research organizations and universities around the world assembled for the Global Development Network (GDN) 11th Annual Conference held in Prague, Czech Republic. The conference, entitled "Regional and Global Integration: Quo Vadis?," raised points on attempting recovery from the damage of last year's economic and financial crisis. From JICA-RI, Deputy Director Hiroshi Kato and others attended as the hub organization representatives for GDN-Japan
GDN was established in 1999 under a World Bank initiative and was incorporated in 2001 as a non-profit organization. In 2008, it became an international organization. With the aim of creating and disseminating international development-related knowledge, GDN establishes international networks connecting researchers and research organizations worldwide.
On the first day of the meeting, GDN-Japan and the East Asian Development Network (EADN) jointly organized a parallel session. GDN-Japan advisor, Professor Kaoru Hayashi (Bunkyo University, Japan), chaired the session themed "Economic Integration in Asia, Trade, Infrastructure and Finance," in which topics in East Asian regional trade cooperation and infrastructure development, and the need for financial cooperation were discussed. Participating researchers of the session highlighted the challenges of developing cooperative relationships for trade, infrastructure, and other areas with China, and expanded comments on the sequence of infrastructure development. Illustrating the spectators' deep interest in East Asia economic integration, of the four parallel sessions, this session drew the largest audience.
On the second day, screening panels for the Japanese Global Development Award were held -- a prize granted by the Japanese government. Of two categories - the most innovative project and outstanding research proposal - JICA-RI Deputy Director Hiroshi Kato presided over the project category. The Japanese Global Development Awards were established in 1999 by the former Japanese Minister of Finance, the late Kiichi Miyazawa, and are intended to recognize research organizations and researchers of developing countries who conduct or assist research or development projects in the field of international development.
This year, out of 200 projects and 140 research studies, three finalists from each category presented their research and projects to the screening panels. The winning project was "The Financially Self-Sufficient School" and the winning research proposal was "Survival of Uruguayan Manufacturing Firms in a Trade Openness Process."
| | |
| --- | --- |
| Day | January 16, 2010(Sat) - January 18, 2010(Mon) |
| Place | Clarion Congress Hotel Prague, Prague, Czech Republic |