China, Korea, Thailand and India have been receiving much attention in recent years as emerging donors; these countries are all as much aid recipient countries as they are donors. Why these countries provide aid to others while receiving aid, themselves, is one of the riddles of emerging donors. To answer this riddle, JICA-RI is conducting comparative research on emerging donors.
On the other hand, the University of Tokyo, Institute for Advanced Studies on Asia (IASA) is also conducting research in the study, "Origin of Post-War Japanese Aid: Analyzing the Effects of Giving and Receiving Aid in the 1950's." This project focuses on Japan's experiences during the 1950's and 1960's, during which time the country was providing economic assistance to Southeast Asia while being developed, itself, through assistance from the World Bank and other donors. As for JICA-RI's research on emerging donors, understanding the experience of Japan, a country which has been down a similar road before, may not only lead to answers to the riddle, but also may derive implications for the future direction of Japan's development assistance. For these reasons, JICA-RI and IASA held a joint symposium on July 9 to review the interim results of the IASA research project.
At the opening of the symposium (sponsored by JICA-RI and Grants-in-Aid for Scientific Research) which focused on Japan's post-war, overseas economic cooperation, University of Tokyo, IASA Associate Professor Jin Sato (also JICA-RI Visiting Fellow), representing the IASA research team, explained the purpose of the symposium. Following this, three experts shared their own interim findings.
Hosei University Professor Emeritus Yasutami Shimomura shared his views on the origins of Japan's development assistance from a political perspective, focusing on the "Ikeda-Robertson Talks" (four weeks of discussions held in 1953 between Hayato Ikeda, then chairman of the Policy Research Council of the Liberal Democratic Party of Japan, and Walter S. Robertson, then US Deputy Secretary of State). At that time, overseas economic cooperation was a major element incorporated in various forms into many revival and reconstruction visions of Japanese politicians and related ministries. Shimomura stated his intention to study further in detail why political leaders and policy-makers at the time were so devoted to economic cooperation in Southeast Asia beyond their visions and positions.
JICA-RI Visiting Fellow and Hosei University Professor Ryo Fujikura reported his findings on the effectiveness of the World Bank's post-war loan assistance to Japan, taking the case, as an example, of the "Kushiro Pilot Farm Project" implemented in Betsukaicho, Hokkaido, and jointly conducted with Professor Mikiyasu Nakayama of the University of Tokyo, Graduate School of Frontier Sciences. Although the project, aimed at establishing the first specialized dairy operation in Hokkaido, received mixed reviews, it brought about new techniques, provided opportunity for the introduction of machine cultivation, and eventually contributed greatly to the dairy industry development of Hokkaido, said Fujikura. He will continue his research so that Japan's present development assistance can take advantage of these lessons.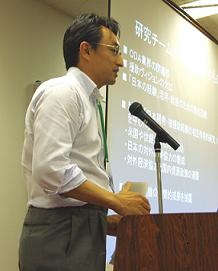 Jin Sato, Visiting Fellow
Jin Sato discussed the relationship between Japan's overseas assistance during the 1950's and 1960's, and domestic resource issues. In his presentation, he said that post-war Japan's overseas assistance was a breakthrough in peacefully reintegrating with international society. He added that the effective use of overseas assistance and domestic resources were integrated through the aid process. Sato intends to review the integrity of overseas assistance and domestic circumstances, which has been lost in the current era. By studying why Japan, still poor at the time, conceived granting aid will help us understand today's emerging donors, he believes. Sato continues his research on emerging donors in Asia.
Responding to each presentation, Hiroshi Sato (Chief Senior Economist, Institute of Developing Economies, Japan External Trade Organization and event commentator) and Takaaki Kobayashi (JICA Public Policy Department and former JICA-RI officer) enthusiastically exchanged their views and perspectives with the participants to deepen the discussions. The IASA research team wishes to continue their studies taking into consideration the discussions at this symposium. The JICA-RI research team, too, intends to follow the progress of this study.
RELATED RESEARCH AREA: Aid Strategies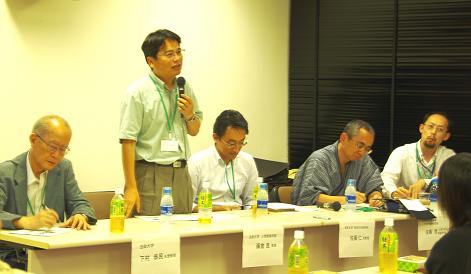 (left to right) Shimomura, Fujikura, J. Sato, H. Sato, Kobayashi
| | |
| --- | --- |
| Day | July 08, 2010(Thu) |
| Place | JICA-RI |