Waves of Active Educational Cooperation Sweep East Asia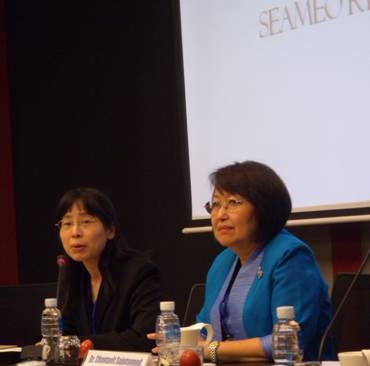 JICA

-RI Yuki Takako and

SEAMEO




RIHED

Dr. Chantavit Sujatanond
Since the 1980s, Southeast Asian countries started to experience an economic surge. This helped to inspire a sense of common identity as "Asian" in the region. Instead of depending on Europe or the U.S. for their economic power, they have been putting effort into promoting interregional cooperation in the area of commerce. Education is no exception. Pushed by a rising need for higher education, governments as well as educational institutions began to seek various collaborations, and now there are thousands of cross-border activities like student and teacher exchanges and cross-border degree programs created. In Northeast Asia, universities in Japan, China and Korea have advanced cooperative relationships among them and relevant ministries and agencies are vigorously promoting to build a network in overall Asia. According to the policy brief by JICA-RI visiting fellow and Waseda University professor Kazuo Kuroda and research fellow Takako Yuki, the number of Asian schools which have an exchange agreement with Japanese universities skyrocketed from 57 in 1981 to 2,948 in 25 years. This pan-Asian phenomenon is showing a sign to expand further, given the de facto trends as well as increasing policy discussions on the regionalization of higher education in East Asia.
Latest Findings Shared and Discussed with Prominent Key Experts
Kuroda and Yuki's team is conducting a project to examine the trends and effectiveness of these programs and their ways of contribution to the development of higher education systems, as well as how they promote the integration in Asia. To share the preliminary findings, JICA-RI held a workshop on February 23-24, 2011 in Bangkok, "the capital of education in Asia" where renowned Southeast Asia's higher education-related organizations gather. The event was co-hosted by Southeast Asian Ministers of Education Organization Regional Centre for Higher Education and Development (SEAMEO RIHED), and about 50 guests including officials of governments, development agencies and international organizations like UNESCO Bangkok, and experts in higher education participated.
The workshop, titled Analysis of Cross-Border Higher Education for Regional Integration and Labor Market in East Asia, was divided into three sessions, and the first session focused on the analysis based on the survey JICA-RI's team implemented on the internationalization of 300 leading universities in the region and their cross-border collaborative degree programs. Kuroda and Yuki revealed that each institution, active in cross-border higher education, recognizes the importance of these programs and their potential for enhancing regional alliances and boosting economic development. In response, the audience noted the rarity and the value of the survey so extensively done in this agenda while some raised a point, saying interregional cooperation to improve the quality of education essential.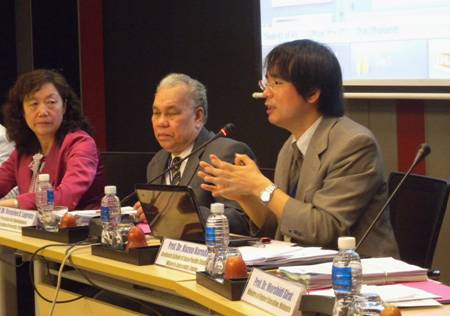 JICA

-RI - Waseda University Kazuo Kuroda
At the second session, JICA-RI research collaborator and Hiroshima University professor Kazuhiro Yoshida and education expert Yoshiko Koda gave a presentation on the JICA's loan projects to promote Malaysia engineering students' study-abroad in Japan from the early 1990s. After introducing three phases of the Higher Education Loan Projects (HELP), Yoshida covered its influence to institutional governance in the involved countries, reporting that some of the Japanese universities have applied the experience to manage their own international programs. Meanwhile, Koda compared the second phase of HELP, which was a twinning program to pursue a degree by spending two years in Malaysia and three in Japan with the Look East Policy Program -- a four-year study-aboard program-- to find differences in the effectiveness and in their graduates' activities. She noted that the high percentage of them is employed by Japanese firms and the objective to foster human resources in the engineering field has been fulfilled in both projects.
On the second day of the workshop, leading figures in higher education of East Asia such as Dr. Gwang-Jo Kim, Director of UNESCO Asia and Pacific Regional Bureau for Education, and Dr. Supachai Yavaprabhas, Acting Director of SEAMEO RIHED, discussed their activities and strategies on international development and regional cooperation. The final session ended with rich comments including those that indicate the necessity to get the Northeastern three nations involved in expanding a regional cooperation, the significance to establish an assessment mechanism to maintain and manage the quality of researches at participating schools, and the question whether English should be set as a mediating language or students should be encouraged to learn one another's language.
Japanese Contribution for Higher Education: The Future
Waseda University prof. Kuroda explains that the move to construct a cross-border higher educational framework is getting aggressive in East Asia and Asia-Pacific even and stresses that's where Japan can contribute. He explains, "The relationship was donor-recipient before but now it's changing to equal partnership due to the high quality of Asian schools' researches. Some in Singapore rank higher than the ones in Japan. Japan should lead this effort of framework-building and lay a foundation of interchanges and regional public goods of higher education. The impact would be significant, and meaningful to Japan."
Yuki of JICA-RI reflects on the workshop and says, "It was stimulating as the distinguished guests actively provided their valuable comments on our work, which we'll apply in order to advance analyses by capturing dynamic movements of cross-border higher education in the region."
JICA-RI's research team is currently preparing papers on this agenda. With the feedback and comments received at the workshop, they plan to publish them sometime this year.
Related Research Area: Aid Strategies
Related Research Project: Analysis of Cross-Border Higher Education for Regional Integration and Labor Market in East Asia
MOVIE COMMENTARY
Dr. Morshidi Sirat
Deputy Director General of Higher Education, Dept of Higher Education, Ministry of Higher of Education,Malaysia
Dr. Chantavit Sujatanond
Special Advisor, SEAMEO Regional Centre for Higher Education and Development, Thailand
Day
February 23, 2011(Wed) - February 24, 2011(Thu)

Place
Bangkok, Thailand
Organizer
JICA-RI, Southeast Asian Ministers of Education Organization Regional Centre forHigher Education and Development (SEAMEO RIHED)
Language
English
Inquiry
JICA-RI Research Program Div.
TEL: +81-(0)3-3269-2357 FAX: +81-(0)3-3269-2054