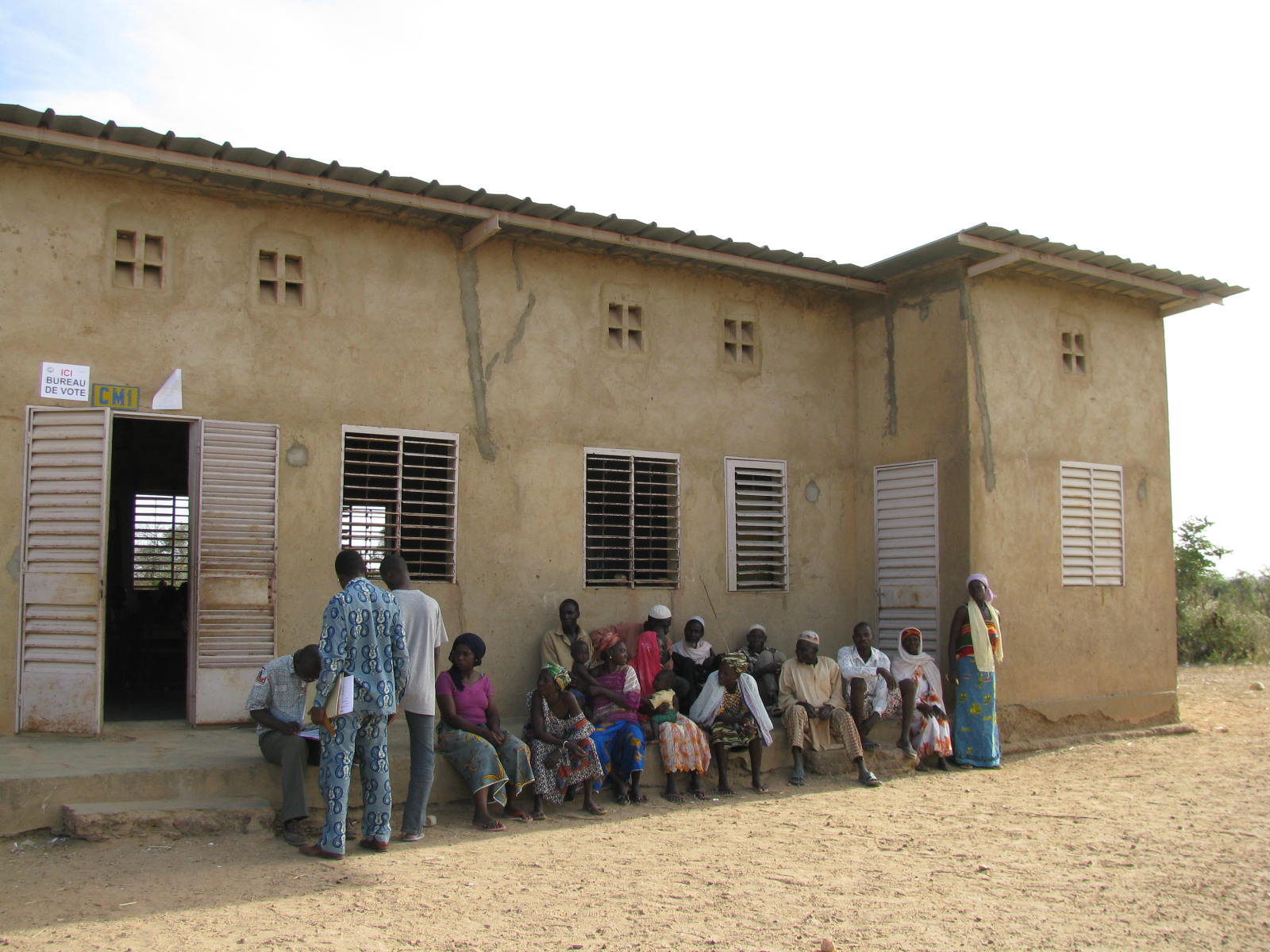 "School for All" Project (Burkina Faso)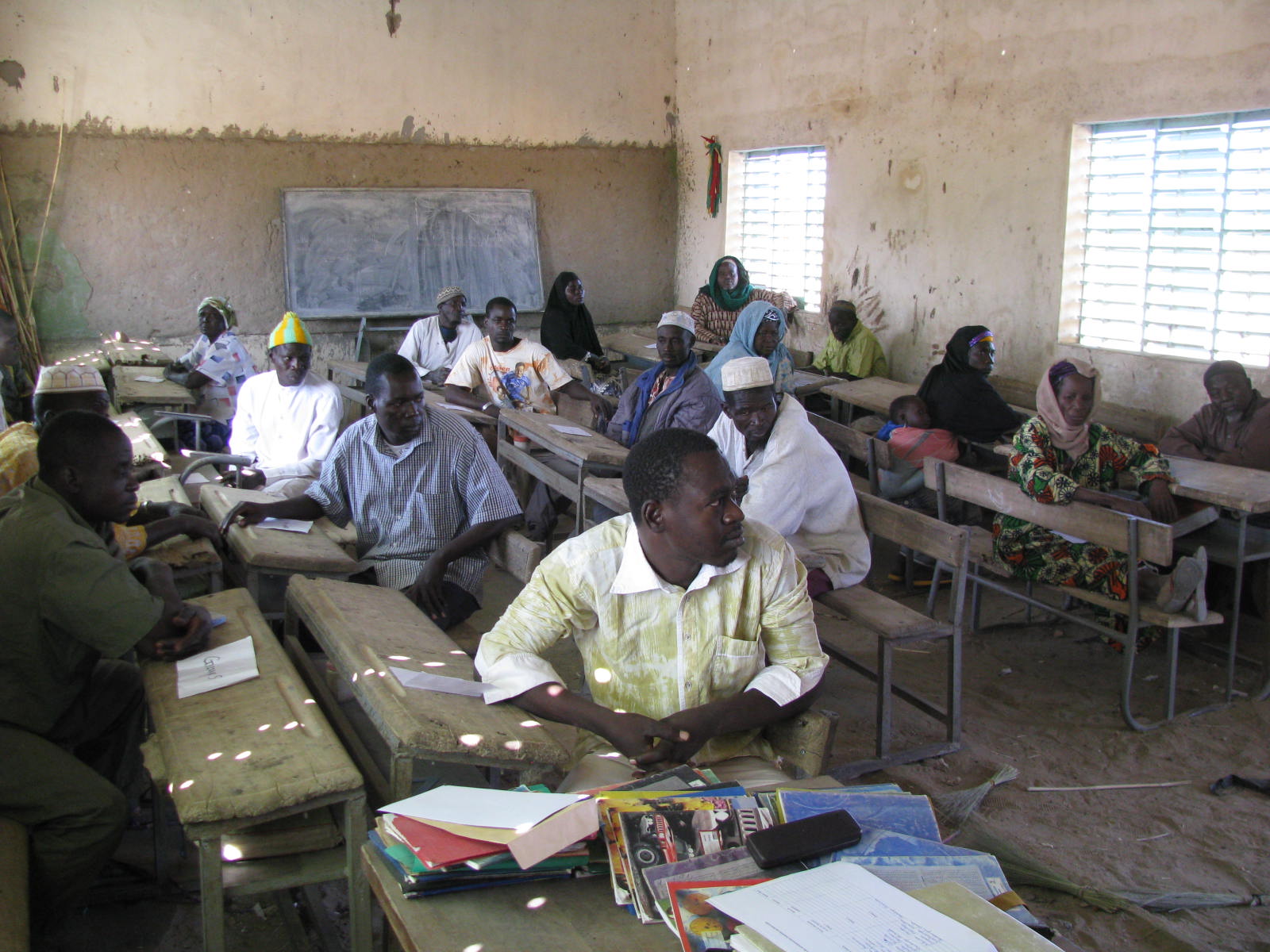 COGES members in a talk on school management
At the Japanese Economic Association's 2011 Spring Meeting in Kumamoto on May 21-22, JICA-RI visiting fellow Yasuyuki Sawada shared his research findings in a presentation titled "Do Community-Managed Schools Facilitate Social Capital Accumulation- Evidence from COGES Project in Burkina Faso."
His presentation focused on the impact evaluation carried out on the "School for All" Project* pilot phase, the JICA technical assistance in Burkina Faso from November 2008 to June 2009. The "School for All" Project is an effort to improve educational environment with community participation in school management by establishing "COGES," a community organization formed by local members. The evaluation study was conducted on the total number of approximately 248 school representatives (parents, principals, teachers, and COGES executive members) of both COGES schools and non-COGES schools to measure the level of community trust fostered by the project.
The public goods game, one of the most popular laboratory experiments in economics, was applied to elicit the level of trust and voluntary cooperation among stakeholders. While social capital has become an important concept in development economics in the last decade, it has been difficult to precisely quantify due to its intangibility. However, recent studies have proved that the public goods game is an effective method for measuring the level of social capital.
In Sawada's experiment, groups of four people were formed, each including various combinations of parents, school principals, and teachers. Each person was given five 100 FCFA (about 17 JPY) coins and asked to participate in a game with the following rules: 1) The participant decides how many coins he/she contributes to the group for public goods, and he/she can keep the rest of the coins for himself/herself; and 2) The number of coins contributed to the group will be doubled, and the money will be distributed equally among the group members. Through this experiment, Sawada's team can monitor the participants' tendency as to how much they keep for themselves or contribute to the group. Thus, by means of voluntary contribution of public goods, the team can estimate and compare the level of trust among the people of COGES schools and non-COGES schools.
Yet, in selecting pilot schools, various factors such as average scores of graduation exam are taken into account, and if COGES schools and non-COGES schools are simply compared, selection bias arises due to unobserved heterogeneities among schools, students, and parents. Therefore the robustness of the results is verified by removing the bias using econometric methods such as instrumental variable and propensity score matching (PSM) methods.
The estimation results revealed that, on average, COGES school stakeholders are likely to contribute more coins to their groups than those of non-COGES school, which implies that the voluntary contribution of public goods are significantly larger at COGES schools than that at non-COGES schools. Results of various econometric analyses also supported the robustness of this effect. Contributions to public goods at COGES schools were approximately 16-27% higher than those at non-COGES ones. The results suggest that COGES school stakeholders have a higher level of mutual trust as well as a tendency to voluntarily work together for school management: this effect was particularly significant among the committee members of COGES schools. The significant increase in the voluntary contributions at COGES schools also indicates the COGES model's effectiveness in enhancing the project's sustainability through beneficiary cost-sharing.
In the context of development assistance, this is the first study to quantitatively examine the increased level of mutual trust and social capital of stakeholders through education projects. Using the results of on-going randomized controlled trials (RCT), JICA-RI continues further rigorous policy evaluation with expanded survey on 6,870 school representatives (at 270 schools, including 42 target-schools of the public goods experiment) in Burkina Faso.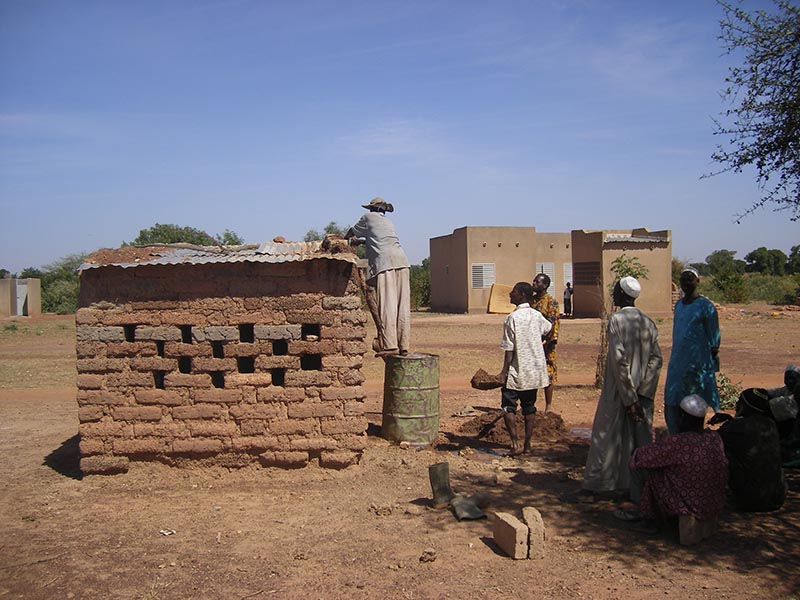 School dining hall built with local residents' cooperation
*) The "School for All" Project (or "Support to the Improvement of School Management through Community Participation") is a project to establish a community-participatory school management by setting up COGES, a school management committee consisting of school principals, teachers, parents of students, and members of the local community. To provide a better learning environment for children, members of the local community are expected to make an action plan and provide financial and human resources in activities like preparing classrooms, wells, and bathrooms, providing lunches, cleaning school yards, and buying textbooks. This education reform project was implemented as the first pilot case in Niger in 2004. It has since spread to Senegal and Mali, and is now being employed in Burkina Faso.

Note: This April, JICA-RI published "Japan-original Technical Cooperation that Changed the West Africa's Education" on this "School for All" project as the third installment of the Project History book series, which introduces the accounts of accomplishments of selective JICA projects. (Author: JICA visiting senior advisor Masahiro Hara. Publisher: Diamond Inc. )
Related Research Area: Growth and Poverty Reduction
Related Research Project: Empirical Study of the Impact of Infrastructure Building in Southern Africa: the Role of Space, Infrastructure and Human Capital
| | |
| --- | --- |
| Day | May 21, 2011(Sat) - May 22, 2011(Sun) |
| Place | Kumamoto Gakuen University, Kumamoto, Japan |
| Organizer | Japanese Economic Association |