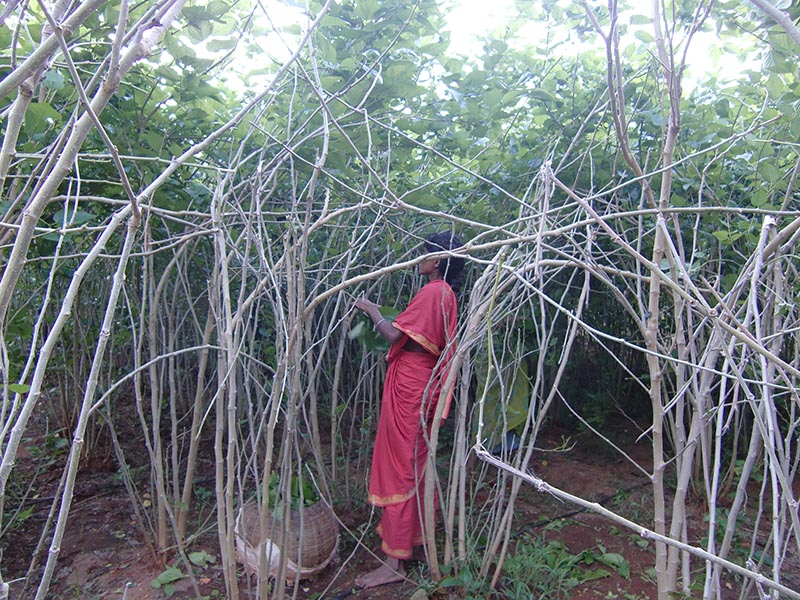 (Before) Dense mulberry plantation
From June 13 to July 2, JICA-RI senior advisor to the deputy director Koji Yamada conducted a field survey in South India for "Project History," a book series project to introduce JICA's past accomplishments. [Go to the articles on the book series.]
India is one of the largest raw silk producers in the world. Yet the most is low-quality, made from multivoltine* silkworm species, and, for weaving saris and other silk fabrics, they heavily rely on import from countries like China.
The Indian Government, determined to reverse the situation, requested Japan to share Japanese advanced sericultural technologies. From 1991 (for the next 16 years), JICA dispatched experts to develop species and technologies best suited for the local environment, and promoted bivoltine* sericulture in Karnataka, Andhra Pradesh and Tamil Nadu --- three southern states which account for over 90% of India's total silk production. Later, JICA proved that those technologies could boost farmer's income as well as the quality of silk to the international standard.
During the stay, Yamada, former representative of JICA India office from 2007 to 2010, visited Karnataka and Tamil Nadu and interviewed numerous people engaged in the projects and sericulture industry including: officials at Central Silk Board at the Ministry of Textile, Departments of Sericulture in both states, other related agencies and institutions; and 40 silkworm-rearing farmers.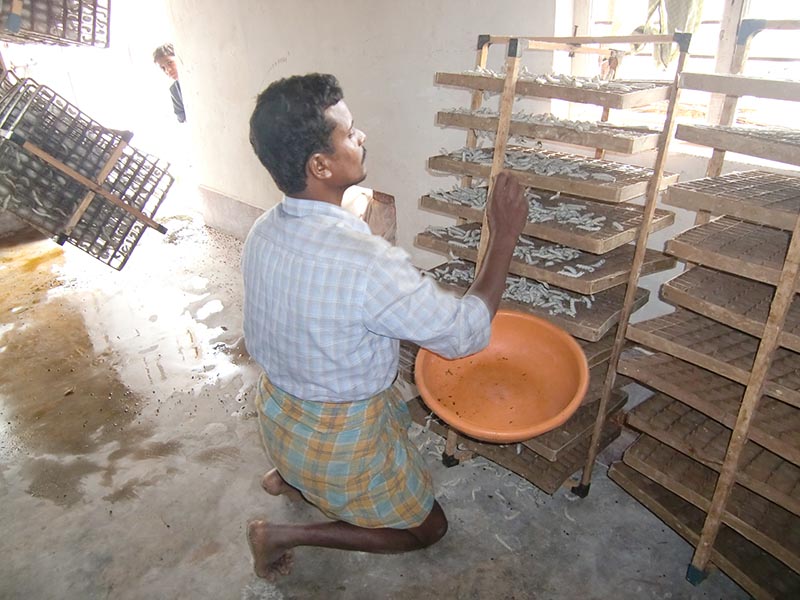 Rotary mountage introduced by JICA
In four years after the last project was completed, Yamada could confirm Japanese technologies and ideas were well-adopted at the JICA-selected farmers, and other positive effects such as income increase to the level high enough to be able to send their children to university. He says, "It is noteworthy that some large-scale farmers [who became successful with the new technologies] are keen in contributing to their communities, by training other sericulturists, providing financial assistance to their laborers for their contingency, or hosting a free temporary eye clinic for their communities, for example." Due to their success, these large-scale farmers expand their operations, consequently creating more job opportunities for middle to small-scale farmers. Yamada adds, "There are quite a few cases that even landless farmers were able to get engaged in silkworm-rearing [as some of the large-scale farmers allow them to operate on their land due to lack of successors]. This JICA's technical cooperation has achieved to help the poverty reduction effort in a way."
Yamada plans to thoroughly examine all the valuable data and information gained this time and will incorporate it in the manuscript of the book he's currently preparing.

*NOTE: While bivoltine silkworms go through two lifecycles per year and spin prolific and quality cocoons, multivoltine ones experience multiple lifecycles and their silk is less in quantity and quality.
Related Research Area: Growth and Poverty Reduction
MOVIE COMMENTARY
Koji Yamada
JICA Research Institute
| | |
| --- | --- |
| Day | June 13, 2011(Mon) - July 02, 2011(Sat) |
| Place | India |