Land, Property and Conflict; Intricately Intertwined
Conflicts violently derange states of people's lives, but those of land and property go hand-in-hand. In conflict, people flee, temporarily settle, and return home. These usually drastic and collective displacements are common as well as "land grab" phenomena, where groups with power secure territory in a manner unfairly favorable to their benefits. In the midst of confusion and destruction, property lines are re-drawn repeatedly and its ownership gets opaque.
People's livelihood relies on land, especially in developing countries, while land is critical for farming, manufacturing, and producing tax revenues, to name a few, which all lead to overall economic development of a country. At the same time, land disputes, when occurred, are laden with risks of new violence. Thus, once peace is regained, a new government quickly moves to bring order to the country and usually implements policies to manage their national territory. Yet, there remain doubts whether these policies (or any kind of governmental interventions) contribute to improving people's lives and peace-building as a whole.
To tackle this agenda, a team of area study experts, led by JICA-RI's senior research fellow Shinichi Takeuchi, launched a new project "Land and Property Problems in Post-conflict Sate-building and Economic Development" this July. The team aims to investigate land issues in eight countries from Africa, Asia, Europe and South America. Studies over individual cases exist, but a comparative and cross-regional analysis of this scale is unprecedented. By taking a close look at examples of various countries, the researchers hope to discover conditions, patterns and similarities, if any, by country and region.
When organizations like JICA engage in aid projects for agricultural production, environmental management, or infrastructure building, for example, you always encounter land and property issue. Takeuchi explains, "By delving into the issue and gaining policy implications, we can gather fundamental information (such as characteristics and social structure) to comprehend that country or region. This provides valuable knowledge for any aid operation to be taken place there."
Cases of the "Twin" Countries: Rwanda and Burundi
As the first field trip for this project, Takeuchi visited Rwanda to see the progress of its land registration policy, and Burundi to collect basic data in August-September. Two countries, located side by side in central Africa, are often dubbed as "the twins" as they share features in common including geography, agriculture-centered economic structure, ethnic proportion, and history of conflicts caused by the complicated mix of ethnic groups. However, they sought different political systems in the post-conflict phase, and, consequently, the situations regarding land vary.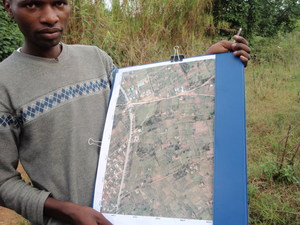 Registration team staff checking ownership of
each plot using aerial photos (Rwanda)
Rwanda:
According to Takeuchi, one of the primary causes of the land problem in Rwanda lies in the social background. Its population has been growing fast, with the density already reaching the level of Japan. In a society where polygamy has been traditionally accepted, a plot is divided and inherited by children as many as they exit, and, as women can officially claim an inheritance now, the issue is rather complex.
Moreover, conflict-originated displacements of major ethnic groups have aggravated the situation in the last half a century. Especially, after the end of the conflict in 1994, close to one million Tutsi refugees returned, only to find that the patches which formerly belonged to them are now owned by someone else. In 1996, the interim government ordered to halve the plot and recognize the ownerships of both parties in hope of resolving the problem.
In 2009, the Rwandan government decided to carry out a land registration policy, and have been minutely measuring every plot one by one, recording data such as its location, size, and owner. Takeuchi explains this could be one of the first steps for Rwanda to build a foundation for growth as it would lead to effectively utilize the territory and promote economic activities as well as investment. Also, by officially recognizing individual ownership, they aim to clarify disputes over land, if any.
People seemed to accept the measure positively as the idea that they could officially own the plot might be motivating them to conform, Takeuchi says. To determine the effectiveness of the policy, however, more time and research is necessary. He adds that as the stability of the country relies on the dominant power of the current government, there are concerns for possible dissatisfactions regarding the land issue which might surface once a political situation changes. "We should not consider it [the registration law] as a panacea," Takeuchi comments.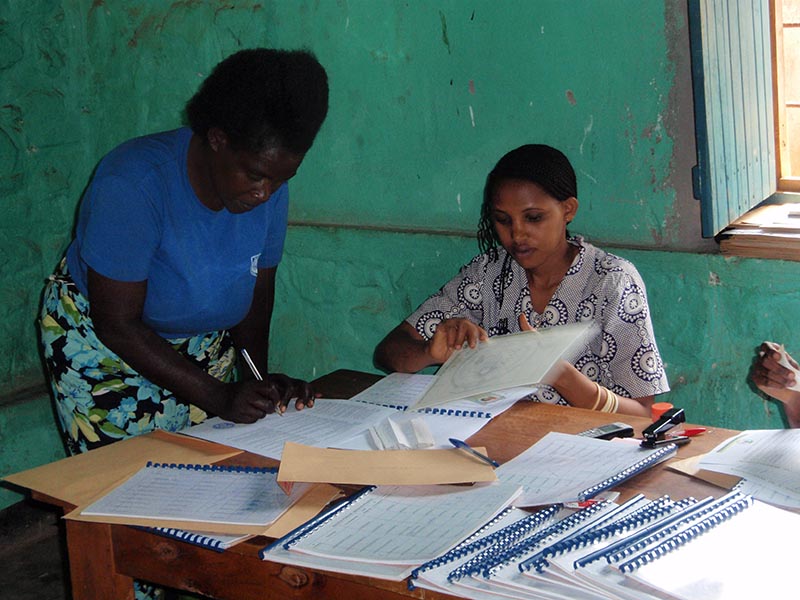 Rwandan woman signing as she receives her land certificate
Burundi:
Similarly to Rwanda, most of the land disputes in Burundi originate from repeated displacements of the citizens caused by ethnic tensions and genocide. The Hutus fled to Tanzania in the 1970s when a massacre occurred. The country went into a civil war in the early 1990s, and some Tutsis were driven out of their plot by the Hutu neighbors. After the peace agreement in 2000, Burundi adopted a power-sharing approach, which sets proportions of major posts at public and private organizations by ethnicity.
Since the end of the conflict, as many as 800 thousand Hutu refugees are returning, only to learn someone else already occupies their land. Subsequently, the government has taken a basic stance over a land dispute that it allows people who currently use the plot to stay, and urge a dialogue between them and returnees to decide on a solution.
Takeuchi observed that this ethnically reconciliatory measure seems to be widely accepted among the citizens. Yet, here, too, it is early to draft any summary at this point, he says.
Making a Difference in the Aid Trend
Takeuchi hopes this project will be able to propose a new angle in the international aid trend. Research on peace-building has mainly focused on state-building or institution-building, but "it hasn't sufficiently addressed how to support people's livelihood," he confides. "[Enhanced] livelihood is critical for peace-building, and it's essential to improve it within the frame of peace-building," he concludes.
| | |
| --- | --- |
| Day | August 14, 2011(Sun) - September 11, 2011(Sun) |
| Place | Rwanda, Burundi |