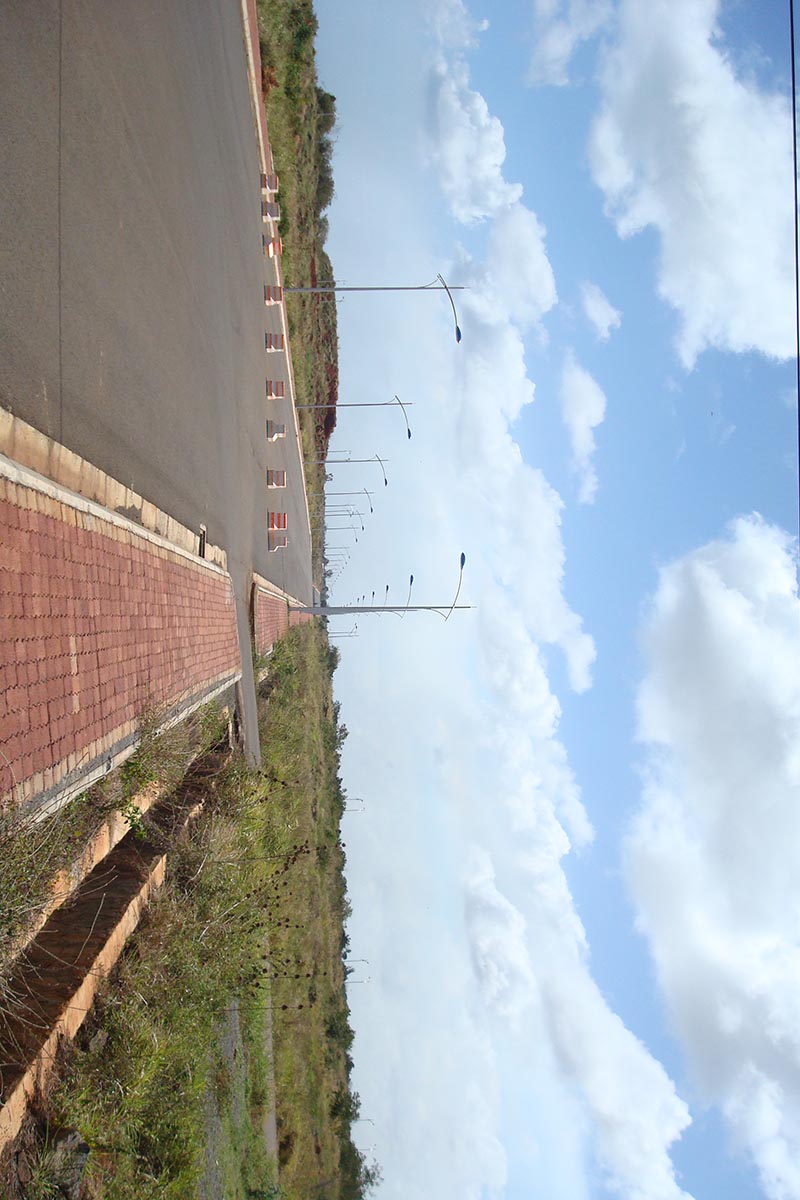 Inside the China-led Jin Fen Zone, a brandnew main road has been
built and many more is expected to come (Mauritius)
From September 10 to 25, JICA-RI research fellow Jean-Claude Maswana visited Zambia and Mauritius for the research project "Exploring Areas of Potential Sources of Growth for African Economies."
At a glance, Zambia and Mauritius give a contrasting picture. Zambia, an inland nation in southern Africa with a population of 12 million, has just been classified as lower-middle income economy by the World Bank this summer. Though it is still very poor, it is expected to go through a rapid economic transformation in the near future. Meanwhile, Mauritius, an island country with 1.3 million people, is located off the coast of Madagascar in the Indian Ocean and the average per capita income is over US$7,000 -- almost seven times higher than that of Zambia (the World Bank data). In 2008, the World Bank ranked Mauritius, this upper-middle-income country, the top among all Africa in its Doing Business Report.
The keywords that connect these two countries are: China and special economic zone (SEZ). Zambia and Mauritius are at different development stage, but nonetheless both have attracted China to invest in their SEZs in hope of positive spillover effects such as future technological transfer and expansion of manufacturing activities.
If active commercial linkages can be built between local businesses and these zones, it would become possible to capitalize the benefit of Chinese economic initiatives. Yet, it would not be successful unless Zambian and Mauritian enterprises have enough absorptive capacities. Thus, to investigate this point, Maswana conducted a field survey with the participation of local small-and-medium-sized enterprises (SMEs) in both countries. He also met officials of public agencies, representatives of local commerce associations and foreign business people to examine the current situation relative to SEZs.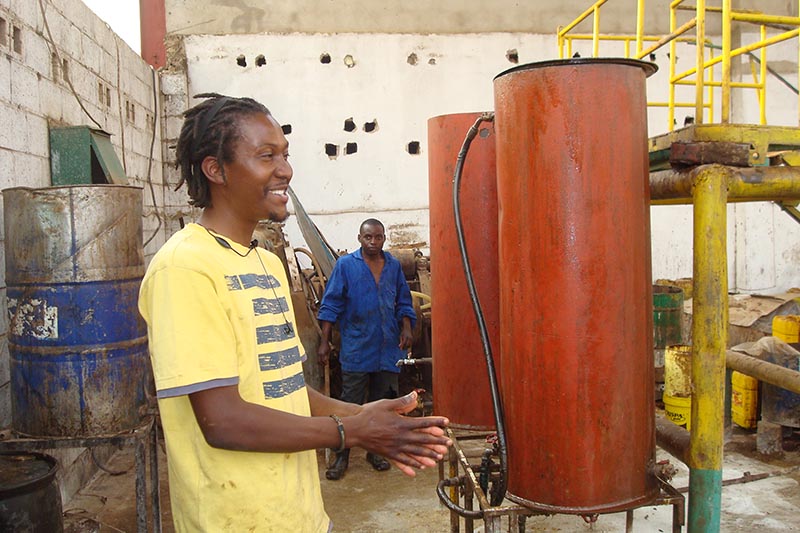 A Zambian entrepreneur, who produces bio-fuel from kitchenwaste and
vegetable oil, looking forward to the business opportunities from the special
economic zone
Among several SEZs in Zambia, the largest is Chambishi Multi-facility Economic Zone (MFEZ), which has been developed with a China's cooperation, and this is the very first SEZ project for the country. As this region is known for bountiful reserve of copper, more than 15 Chinese companies are doing business for mining-related operations so far. According to Maswana, the Chambishi MFEZ expects about 50 to 60 corporations to invest and create 6,000 jobs, with an estimated investment of US$900 million over the next five years. Currently, different SEZs are being set up with other countries' initiatives for various types of industries (such as manufacturing, light engineering and food processing), but they are yet to commence the operations.
Mauritius has a rich experience in SEZ programs. Since the 1970s, it successfully shifted from mono-crop economy -- relying solely on agricultural produce like sugarcane and tea-- to diversified industry structure – tourism, textile and manufacturing besides agriculture – by drastically cutting tax for foreign enterprises to operate on its islands. China-led SEZ is called the Mauritius Jin Fei Trade and Economic Cooperation Zone (MJ-FETCZ) and China is expected to invest US$700million which would potentially create 40,000 new jobs, Maswana says. The Government of Mauritius hopes to boost light engineering, precision works, and high-tech industries here though the MJ-FETCZ has not started running at this point.
Regarding the knowledge absorption capacities, a brief look at the survey results indicate that Mauritian entrepreneurs perceive the skill shortage as the major constraint while their Zambian counterparts point to access to finance. Maswana explains, "In order to capitalize on SEZ spillovers, knowledge and technical skills are critical for African economies. Although access to finance can, to some extent, help improve their technology absorption capacities, it is my view that skills and knowledge are more crucial in a highly competitive world insofar as they can push outward the boundaries of what is possible."
Still, Maswana has just begun analyzing the data from the surveys and final results will need to wait for a full review.
| | |
| --- | --- |
| Day | September 10, 2011(Sat) - September 25, 2011(Sun) |
| Place | Zambia, Mauritius |