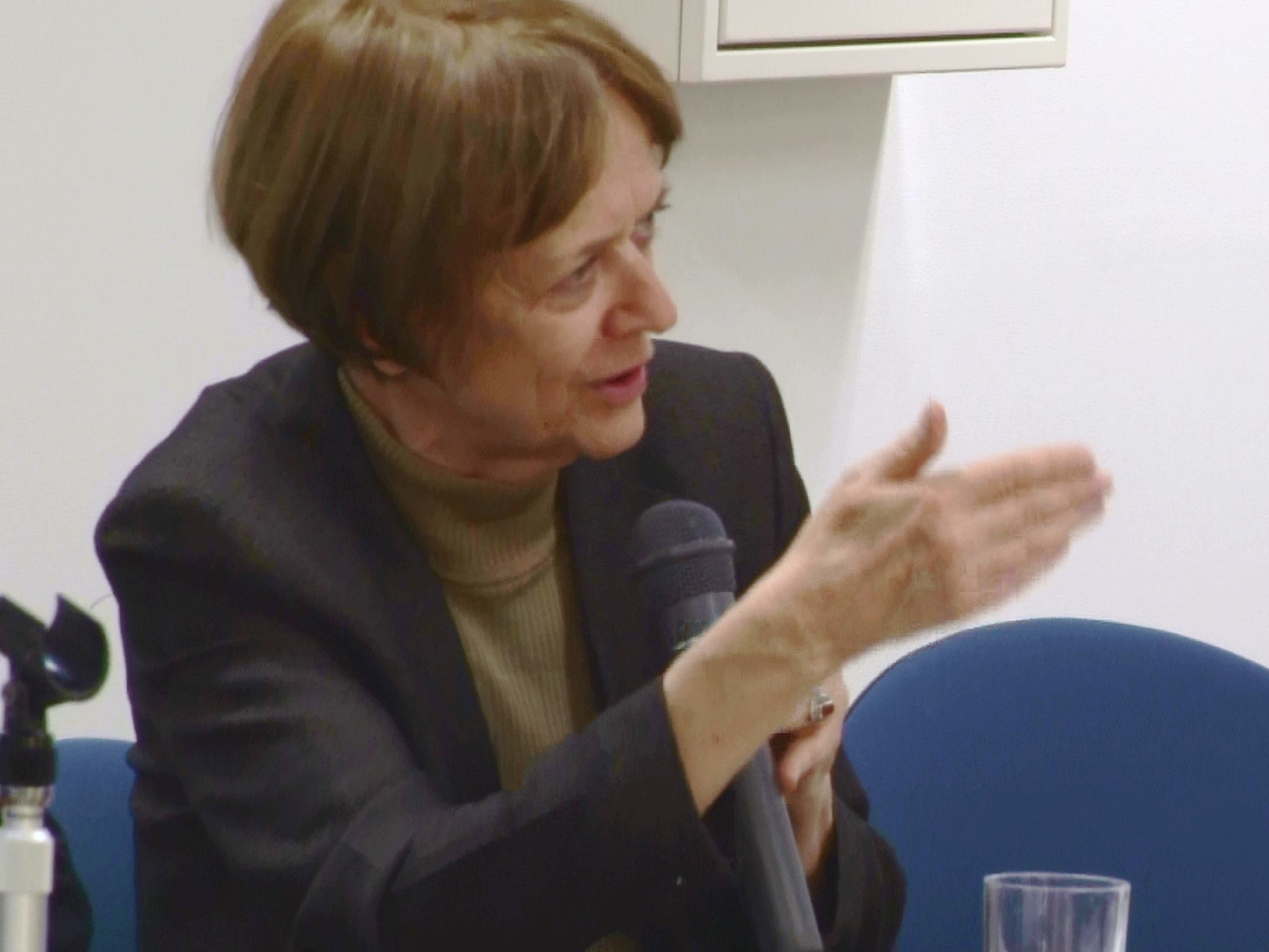 Prof. Stallings discussing East Asian donors' ODA
On October 27, JICA-RI invited Professor Barbara Stallings, who specializes in economic reform and development in Latin America and East Asia at Brown University in the United Sates, and held a small seminar to listen to her lecture titled "Japan, Korea and China: Changing Patterns of ODA in East Asia."
Prof. Stallings previously served as director of Economic Development Division, at U.N. Economic Commission for Latin America and the Caribbean in Chile, and is currently involved in a project on Korean foreign aid at Seoul's Ewha Womans University.
In front of eager attendants, she first illustrated comparisons of ODA by four large East Asian donors – Japan, South Korea, China and Asian Development Bank (ADB) – and the Western counterparts in volume and geographical and sectoral allocation. Her analysis showed the Asian donors' patterns of aid including their tendencies to provide a much higher portion of their ODA to East Asia, and to economic infrastructure and productive activities. She pointed out the difference in ODA philosophy between the two groups, saying the West tends to take a direct approach in poverty reduction and governance by giving to the poorest recipients while the Asian group pursues indirect tactics – "to replicate their own development experience to Asian neighbors" through rapid growth, assuming that poverty reduction and good governance will follow. Additionally, she argued that the role Japan played as the long-term leading donor in Asia has influenced ODA by South Korea and China and thus the similarities in their approaches exist.
Prof. Stallings finished her presentation by introducing the Vietnamese case as an example of a recipient of the aid. ODA from the above-mentioned Asian donors and foreign investment from fellow Asian countries have played a major role in bringing about Vietnam's remarkable growth. She explained that Vietnam much preferred the Asian approach to concentrate capital in economic infrastructure and production.
JICA-RI Deputy Director Hiroshi Kato complemented Prof. Stallings' analysis by sharing more details of Japan's ODA regarding history, facts and figures, and elaborating on its current status. He emphasized that though Japan faces various difficulties such as the mounting government debt and the reconstruction of the earthquake-hit areas, Japan remains committed to the aid work and will do its best "with ingenuity, established human network and accumulated knowledge" over the past five decades.
| | |
| --- | --- |
| Day | October 27, 2011(Thu) |
| Place | JICA Research Institute |
| Organizer | JICA Research Institute |
| Language | English |