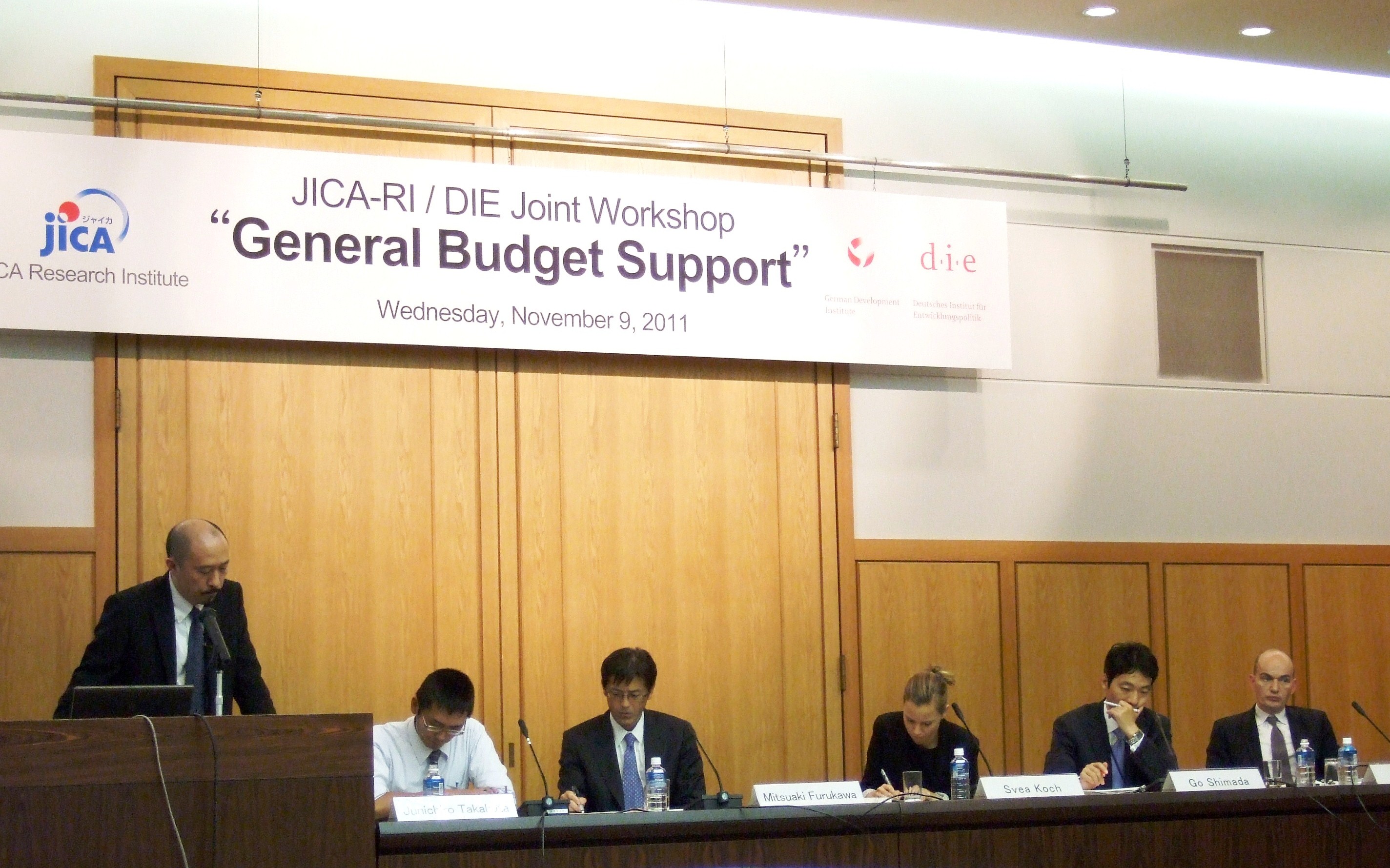 On November 9, JICA-RI and the Deutsches Institut für Entwicklungspolitik (DIE) held a joint seminar titled "General Budget Support Workshop" at JICA-RI in Tokyo. Both research institutes have been studying the effectiveness of "general budget support" -- an aid scheme that finances a recipient country's budget through direct transfer of funds to its general account. This workshop was organized to deepen the understanding of budget support through discussions and exchanging views.
The joint workshop was divided into two sessions. Session 1 focused on the macro-level impacts of general budget support, and Session 2 introduced case studies in African countries.
In Session 1, JICA-RI senior research fellow Mitsuaki Furukawa and research associate Junichiro Takahata presented findings from their research on the effectiveness of general budget support from a macro-level perspective. DIE research fellow Svea Koch followed with a presentation titled "EU Budget Support and the Coordination Challenges (or Failures) between the European Commission and European Member States."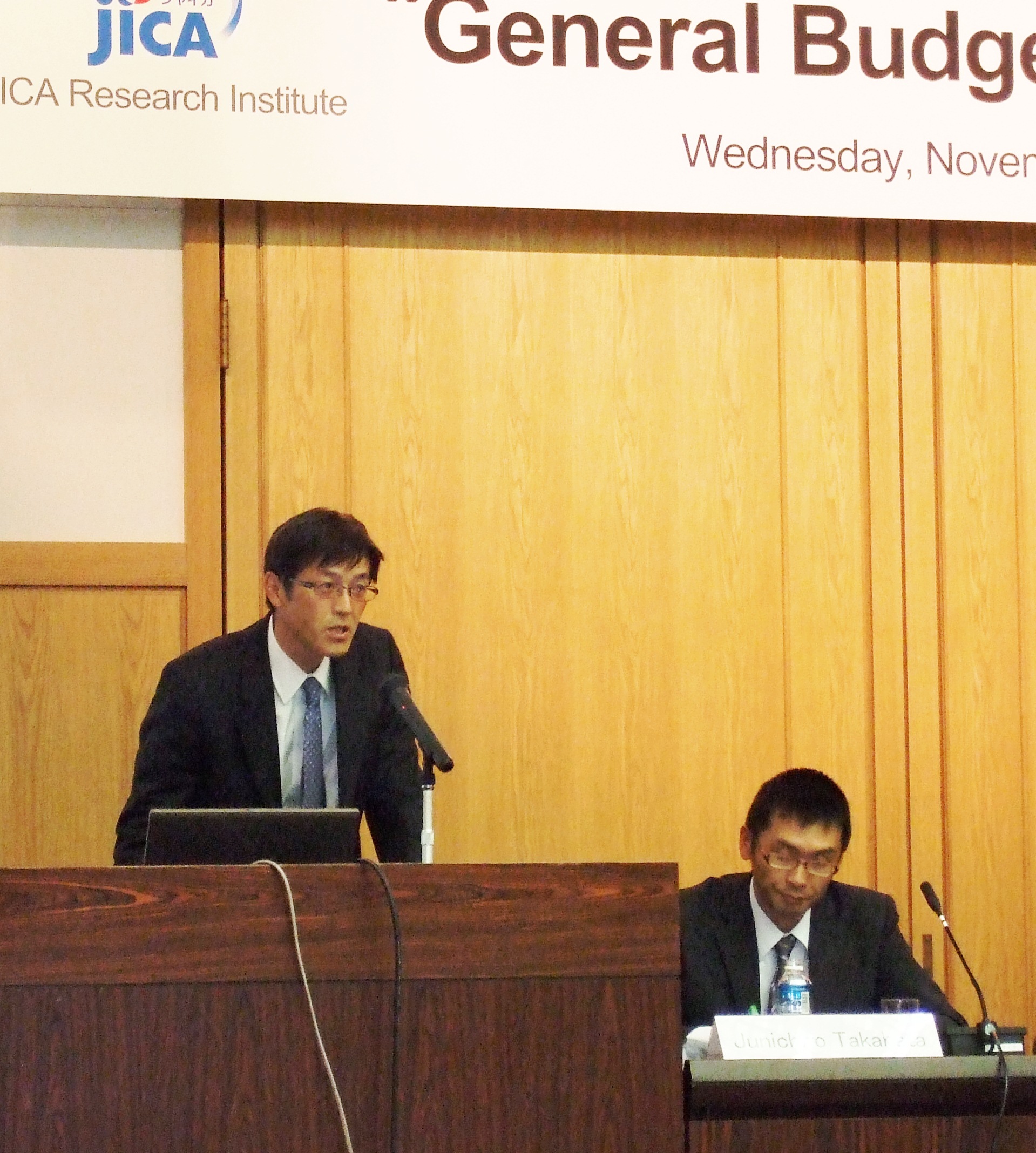 (from left) Mitsuaki Furukawa and Junichiro Takahata
Furukawa and Takahata first outlined how general budget support became one of the most preferred aid modalities of today. They explained the way the aid scheme was first introduced in Uganda in 1998 and later spread to other African countries, South Asia, and Latin America. They, then, showed what they discovered in their study, which examined questions such as whether this scheme increased government expenditures for health care and boosted efficiency of government heath spending for health indicator improvement.
Their analysis revealed that general budget support did neither increase government health spending nor improve health indicators by boosting efficiency of government health spending. Meanwhile, when focusing exclusively on low-income countries, the research team confirmed its positive influence on the health budget. Yet, it was unclear as to how much increased government health spending contributed to the improvement of health indicator. This showed the effectiveness of general budget support limited.
In Session 2, Furukawa and DIE economist Stefan Leiderer shared case studies of budget support in Tanzania and Zambia, respectively.
Furukawa presented the details of budget support in Tanzania, with special focus on the timing of disbursement from a donor. He specifically paid attention to the fact that late disbursements negatively affect the delivery of planned public services. This was a problem already pointed out by Tanzania's central government and local governments. Further, he listed other problems including overall capacity of local government such as shortage of staff. He concluded by stressing the importance of complementarity between budget support and other aid modalities such as project assistance.
Though aid scheme preference is changing from project aids to general budget support in Europe especially, there exist very few studies that have comprehensively analyzed the aid effectiveness of general budget support. JICA-RI contributes to the promotion of the understanding on this topic by conducting a research project "Role of Budget Support in the Development Aid Regime." This study looks into how general budget support affects delivery of public services and various indicators, and examines the bottlenecks of the scheme in developing countries.
MOVIE COMMENTARY
・Dr. Jörg Faust
Head of Department Governance, German Development Institute
・Mr. Stefan Leiderer
Economist, German Development Institute<
・Ms. Svea Koch
Research Fellow, German Development Institute
| | |
| --- | --- |
| Day | November 09, 2011(Wed) |
| Place | JICA Research Institute |
| Organizer | JICA Research Institute, German Development Institute |
| Language | English |