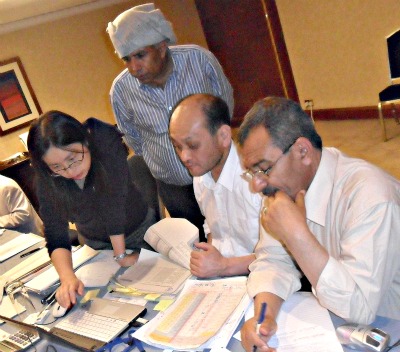 Yuki (left) , assistant Katsumi Nakayama (second from right), and Yemeni researchers going through the data
Research fellow Takako Yuki is the leader of a project Human Capital Formulation and Gender Equality in Conflict-Affected Islamic States: Cases of Basic Education in Yemen and most recently visited Jordan to meet with a group of research collaborators from January 22 to 26, 2012. The project, which was launched in April 2010, focuses on girls' access to education, quality of teaching, and influence of Arab mentality over girls' education. Although they met the counterparts in Yemen last winter, the meeting this time was convened in Amman, the capital of Jordan (which is also located on the Arabian Peninsula) instead due to security concerns from the political unrest in the country.
The Yemeni researchers, who are from a research institution under Ministry of Education, have been working for Yuki's team, and last year they conducted surveys targeting primary schools and villages in Taiz and Dahmar governorates, where JICA has been running a girls' educational program. A total of 80 schools and 40 villages in the above two states participated. In Amman, Yuki and her staff from JICA-RI sat down with the Yemeni counterparts and reviewed selected samples from the collected survey results together, making sure their digital copies reflect the originals.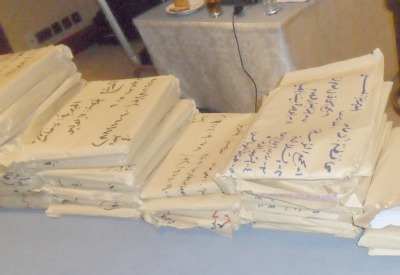 Bundles of survey results -- treasure troves of valuable hints for improving girls' education in Yemen
Additionally, Yuki's team received a variety of data such as school principals' and teachers' basic information, 5th-6th grade and 8th-9th grade students' information, and their test scores. By going through enormous volume of data and results, the team noticed some unexpected findings. One of them was that students, who are in a governorate considered to place more importance on education than another, actually scored low. Yuki's research assistant Yuriko Kameyama explains that this result supports their hypothesis that quality of education is not necessarily high in a place with rapid increase in access to education. According to her, numerous initiatives have improved students' environment to study at various places of the world, thanks to new school buildings, more teachers and others. Yet, there have been cases that those students were not learning more due to other problems (like teachers' absenteeism). Kameyama says the case in one Yemeni governorate looks similar, but it is too early to make any assumption at this early stage.
| | |
| --- | --- |
| Day | January 22, 2012(Sun) - January 26, 2012(Thu) |
| Place | Jordan |