JICA-RI cohosted a conference titled "Addressing Local Conflicts before They Turn Global" with the Konrad Adenauer Stiftung (KAS) and the European Japan Advanced Research Network (EJARN) in Tokyo on February 21, 2012. KAS is a German political foundation and a think-tank/consulting agency that conducts studies and education programs globally, while EJARN is a group of European scholars on Japan, whose mission is to engage in policy research on Japanese politics, economy, and security as well as Euro-Japanese relations. The conference, which about 150 researchers, practitioners, diplomats and students attended, was convened as part of a KAS-EJARN joint project that examines obstacles and potentials for further cooperation between Europe and Japan in areas such as post-conflict reconstruction, stabilization and development of conflict-affected countries.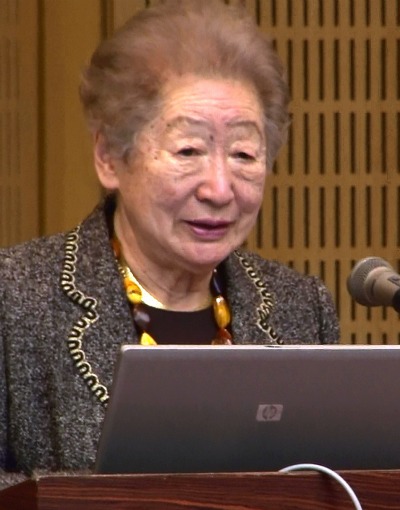 Sadako Ogata, JICA president
JICA-RI Director Akio Hosono opened the conference with his welcome remarks, and JICA President Sadako Ogata and H.E. Hans Dietmar Schweisgut, ambassador of the European Union to Japan, each gave an opening speech. President Ogata discussed the issue of a gap between humanitarian aid and work of a development agency and the concept of human security in practice from her first-hand experiences as former United Nations High Commissioner for Refugees and head of JICA. She pointed out that the best solutions to human security problems vary by each country, context or times, and thus it is challenging to meet each need and circumstance. Ambassador Schweisgut introduced some of the EU's conflict-preventive measures. He spoke of their operations in countries like Afghanistan, Somalia and South Sudan and stressed the importance of a comprehensive approach and long-term engagement.
Subsequently to the introductory session, Paul Midford, Norwegian University of Science and Technology, and Michito Tsuruoka, National Institute for Defense Studies, provided their analysis on "Linkage between Micro Security and Development and Global Stability" from European and Japanese perspectives, respectively.
Marie Söderberg,
Stockholm School
of Economics

Jörg Wolff, KAS Resident
Representative Japan,
made closing remarks
In the following session on Asian experiences, Axel Berkofsky, University of Pavia, talked about the case of Mindanao, and Jun Honna, JICA-RI visiting fellow and Ritsumeikan University professor, made a presentation on maritime crimes in Southeast Asia. Honna is the leader of a project "Mainstreaming Human Security in ASEAN Integration" at JICA-RI. He told the audiences there is a variety of maritime crimes besides piracy (illegal fishing and human trafficking, among others) and recommended effective counter measures including non-militaristic regional cooperation between each enforcement agency at sea and tackling poverty problems in coastal areas. "They are considered problems at sea, but actually, they are problems on land," Honna said.
In Session 3 on Africa, Marie Soderberg, Stockholm School of Economics presented the findings and suggestions for EU-Japan cooperation based on her recent visit to South Sudan, and Research Fellow Mari Katayanagi introduced the study "Prevention of Violent Conflict in Africa". Katayanagi described the structural problems of African societies by analyzing them with the concept of Horizontal Inequalities (HIs) and the measures taken to address the issues in countries like Burundi, Ghana and Nigeria. Her team's survey revealed that there is a difference between objective HIs (how each ethnic group's situation is assumed according to survey results) and subjective HIs (how each group perceives their own situation). To prevent recurrence of a conflict, it is important for development actors to plan their activities with a possibility of a gap in perception like this in account, and to assist the government of a recipient country in development through sensitive planning, according to Katayanagi.
Mari Katayanagi,
research fellow

Ryutaro Murotani,
research associate
In the final session, panelists reviewed and summarized major discussion points indicated throughout the day and proposed ways of furthering an EU-Japan contribution to global security, stability and development. Research Associate Ryutaro Murotani participated as one of the discussants and emphasized the significance of understanding a comprehensive nature of security agendas from non-traditional (such as human security) to traditional security (military security, for example). He noted that, given the difference in their preferences on aid modalities, it is necessary to identify areas where EU-Japan cooperation can maximize its effect, either on the ground level or policy level. When doing so, how to work with governments of recipient countries is the first thing they must consider, he added.
The conference was an opportunity to exchange information and views from both Europe and Japan, according to Murotani: "For the Japanese researchers and practitioners, the conference provided a forum to illustrate what JICA is doing on the ground to the European counterparts, and for those from Europe, who will design their policy recommendations." He also said, "The discussion reminded us of the width of the security agendas and the importance of operationalizing the concept of human security in the Japanese development assistance."
Day
February 21, 2012(Tue)

Place
JICA-RI
Organizer
JICA-RI
the Konrad Adenauer Stiftung (KAS)
the European Japan Advanced Research Network (EJARN)