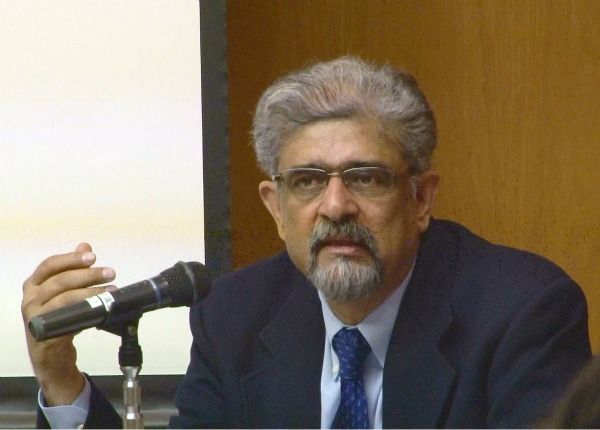 Mr. Khalid Malik from UNDP
On March 14, 2012, JICA-RI invited Mr. Khalid Malik from United Nations Development Programme (UNDP) and organized a short seminar titled "Diverse Development Paths: Practice and Theory." Mr. Malik is a development economist with a long career at UN, and, as director of Human Development Report Office, supervises Human Development report which is published annually to shed light on the latest development issues and trends of the world. He is currently working on the upcoming report for 2012-13 and was in Tokyo to attend the UNDP-JICA co-organized consultation for this report with development practioners and experts from East Asia.
For the 2012 edition, Mr. Malik's team focuses on emerging economic powers like Brazil, China and India and how their growing presence is affecting the world and the people. Titled "Rise of the Global South: Human Progress in a Diverse World," the report is scheduled to be out this fall.
In the seminar, Mr. Malik raised three questions in thinking development: 1) "Why do some countries do better than others?" 2) "What policies make differences? And are they applicable anywhere?" and 3) "How to measure success?" and he shared his thoughts in tackling them.
Conventionally, factors like labor and capital are considered important, but he suggested a broader framework to pay attention to ownership, capacities and policies as drivers of development. He mentioned some examples of small-country success cases like Bangladesh, Iceland and Mauritius as well as major ones including China and India. He explained that these countries all share qualities such as openness to global market, rising entrepreneurship, social innovation and government that can deliver, while policies are different according to each state and situation. He, then, went on to discuss measures of success. According to him, most literature refers to indicators like GDP but they are insufficient. He said, "Human development is, in my opinion, really a center of measurement" and described Human Development index which UNDP introduces as the one which gives a more objective sense of issues human beings are facing.
After speaking to the roomful of audience for over an hour, he closed the seminar, saying "In a philosophical sense, we have to keep eyes on what matters to human beings after all."
MOVIE COMMENTARY
Khalid Malik
Director, Human Development Report Office, UNDP
| | |
| --- | --- |
| Day | March 14, 2012(Wed) |
| Place | JICA-RI |
| Organizer | JICA-RI |