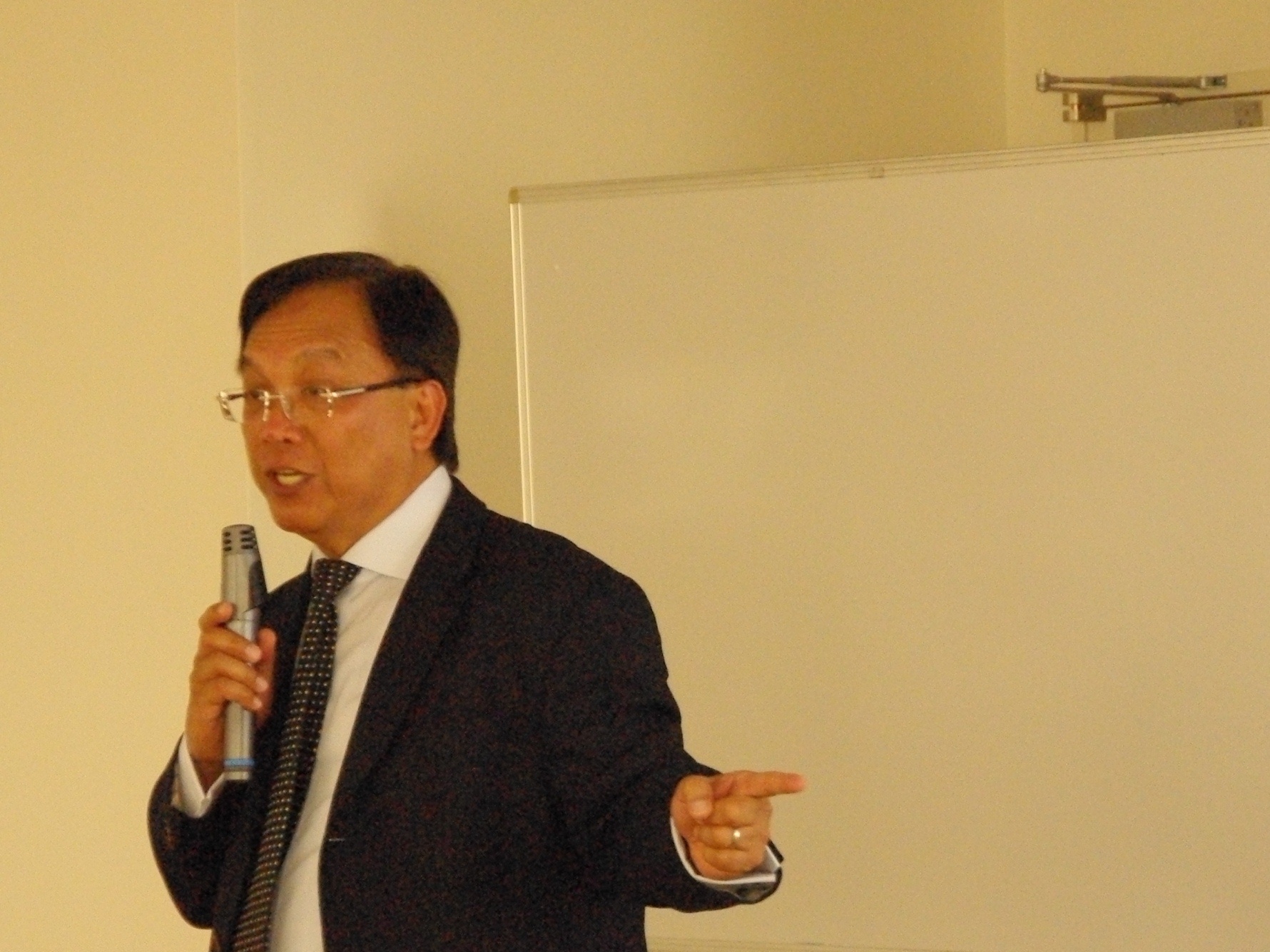 Dr.Garcia
On September 10, 2012, JICA-RI invited an economist from the World Bank to hold a public seminar titled, "Do Conditional Cash Transfers (CCTs) Really Improve Education and Health and Fight Poverty?"
In his recent book The Cash Dividend: The Rise of Cash Transfer Programs in Sub-Saharan Africa, Dr. Marito Garcia, lead economist and program manager at the Human Development Department, Africa Region of the World Bank, reviewed 123 cash transfer programs implemented in 37 countries in Sub-Saharan Africa. At this seminar, he presented his findings on the current state of CCTs in Africa, their usefulness in reducing poverty and improving education and health, along with the factors behind the worldwide acceptance of CCTs. JICA officials and participants from universities, nongovernmental organizations and members of the public engaged in active discussions.
In his opening remarks, JICA-RI Director Akio Hosono pointed out, "CCTs are effective tools for achieving the MDGs, such as poverty reduction and better access to health and education services."
Since the introduction of cash transfers in Mexico and Brazil in the 1990s, the programs have spread throughout low- and middle-income countries. CCT programs worth US$32 billion are currently implemented in over 52 countries worldwide, with more than US$10 billion of the total amount allocated in Africa.
Dr. Garcia first outlined CCTs, explaining that the beneficiaries selected include those families who suffer from chronic and transient poverty, and vulnerable groups such as orphans and girls. He stressed: "The programs show a great impact especially on the fields of education and health care: educational opportunities for children (particularly girls), the cure and prevention of HIV/AIDS, the improvement of nutrition, and support for regular medical checkups for infants."
He also introduced a few factors for ensuring success, drawing on examples of CCTs in Mexico and Latin America. To finance projects, the governments carefully select programs, resulting in an effective distribution of funds. During the implementation of the programs, project management is streamlined including cut in operational cost.
Referring to cash transfer operations in Sub-Saharan Africa, Dr. Garcia said: "The sharp rise in cash transfer cases in the past two years is attributable to a number of factors: poverty, food insecurity stemming from soaring grain prices due to natural disasters like droughts, and the dissolution of safety nets caused by internal conflicts. Implementing CCT programs helps solve these problems."
In his presentation, Dr. Garcia pointed out that about half of the existing cash transfer programs in Sub-Saharan Africa are funded by nongovernmental sources, while the share of the budget solely from governments is only 33 percent. Meanwhile, it is also expected that many Sub-Saharan African countries, if governance is enhanced, may be increasingly able to fund cash transfer programs in the medium to long term.
MOVIE COMMENTARY
Marito Garcia
Lead Economist and Program Maneger, Human Development Department, Africa Region, World Bank