The Asian Development Bank (ADB) and China's Ministry of Finance jointly organized the High-Level Forum on South-South Knowledge Cooperation at the ADB headquarters in Manila on September 13.
This is the fourth forum of the PRC(People's Republic of China)-ADB Knowledge Sharing Platform, an initiative established in 2008 by China's Ministry of Finance and the ADB with the aim of improving the quality and efficiency of South-South knowledge cooperation.
ADB President Haruhiko Kuroda and China's Assistant Minister of Finance Zheng Xiaosong, as well as some 40 participants from 16 countries and two international organizations attended the three sessions of this meeting.
At one of the sessions, "An Evolving Agenda for Effective Development Partnerships," JICA-RI Deputy Director Naohiro Kitano gave a presentation on JICA's experiences with South-South and Triangular Cooperation. Referring to the results of JICA-RI research, he stressed that JICA's South-South Triangular Cooperation projects are characterized by the "Centers of Excellence: CoE," implementing agencies of developing countries, the role of which scale-up their experience and knowledge through cooperation with JICA, to share them with other developing countries.
Kitano, citing a few cases from JICA's experience, introduced "Total Quality Management (TQM) for Better Hospital Management" program in Africa, with the cooperation between JICA, Sri Lanka and Tanzania and "ProSAVANA," an agricultural development in the African Savannah through the triangular cooperation of Japan, Brazil and Mozambique.
Furthermore, he touched on a number of ongoing collaborations between Japan and China since the high-level meeting between JICA's former President Sadako Ogata and China's Vice President Li Kequiang in 2009, including with the Ministry of Finance,
the Ministry of Commerce, China Ex-Im Bank and the Chinese Academy of International Trade and Economic Cooperation (CAITEC).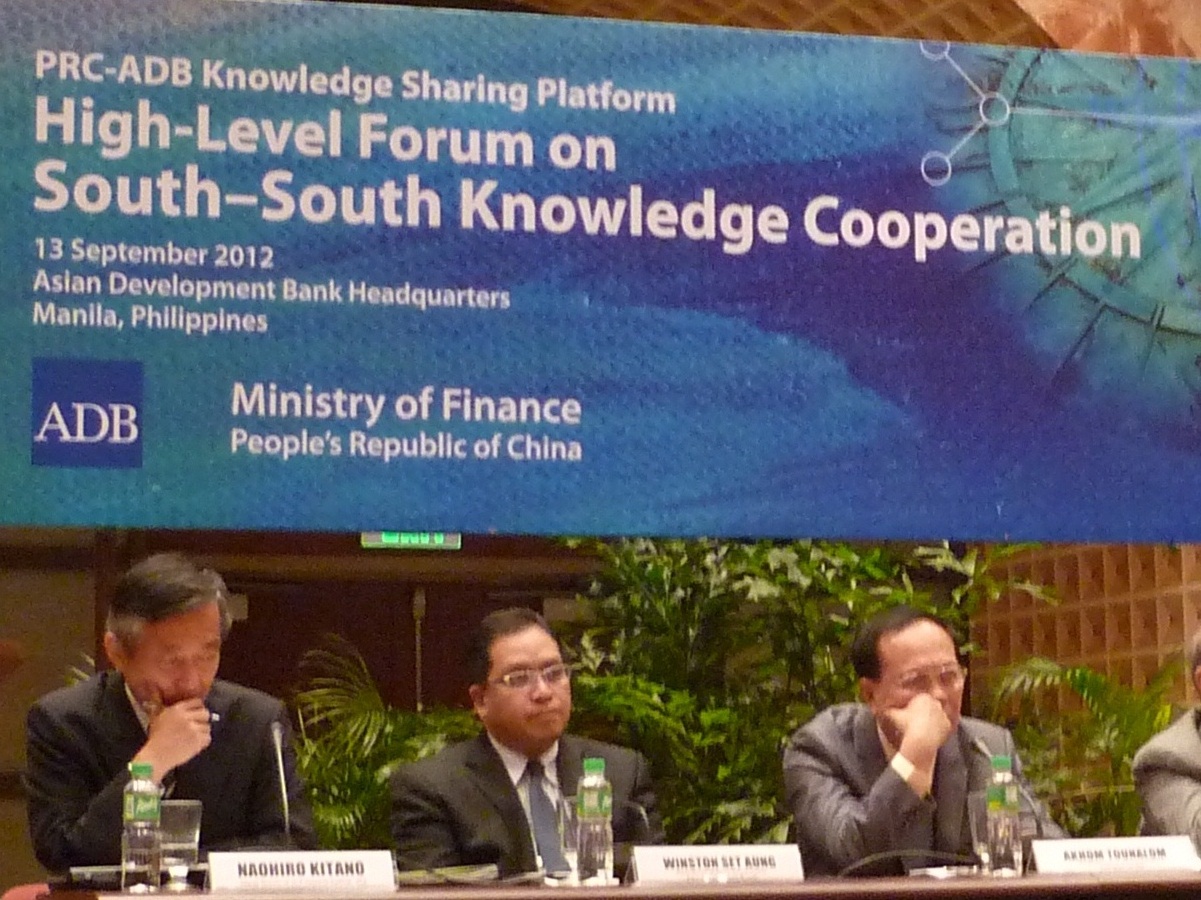 Kitano Deputy Director (left)
The ADB has been striving to develop knowledge-management, while it set up the Regional Knowledge Sharing Initiative (RKSI) with China this August to promote South-South cooperation. At the same time, JICA-RI intends to analyze and disseminate the results of JICA's successful cases of South-South and Triangular Cooperation through interaction with the ADB and China.