The Independent Evaluation Group (IEG) of the World Bank (WB), the Interdisciplinary Policy Research Laboratory of the University of Tokyo and JICA Research Institute jointly hosted a seminar titled "Evaluation of Development Assistance: Perspectives from the World Bank Group and JICA" at the University of Tokyo on October 8.
This seminar aimed at discussing evaluation of development assistance, which is an indispensable key, to enhance the impact of development. The hosting institutes shared their respective experiences in project evaluations across various areas such as post-disaster reconstruction, social protection, and technical cooperation.
From WB, Director-General and Senior Vice President of IEG Caroline Heider and Director of Public Sector Evaluations of IEG Emmanuel Jimenez were invited to this seminar. The participants from Japan included JICA-RI Director Akio Hosono and two professors at the University of Tokyo, also JICA-RI Visiting Fellows, Yasuyuki Sawada and Yasuyuki Todo.
In her opening speech, Heider talked with a theme of "Improving the Effectiveness of Development Agencies through Independent Evaluation, referring to WB's advantage: "The World Bank Group has the largest evaluation group and a distinct system that assures independence of evaluation on aid effectiveness and report on the evaluation results directly to the Board." She also pointed out: "We employ multiple evaluation methods to meet diversified needs, and provide evaluation results at such levels as project, country and sector, and summary report of evaluation. The importance of this evaluation system has never been greater than the present."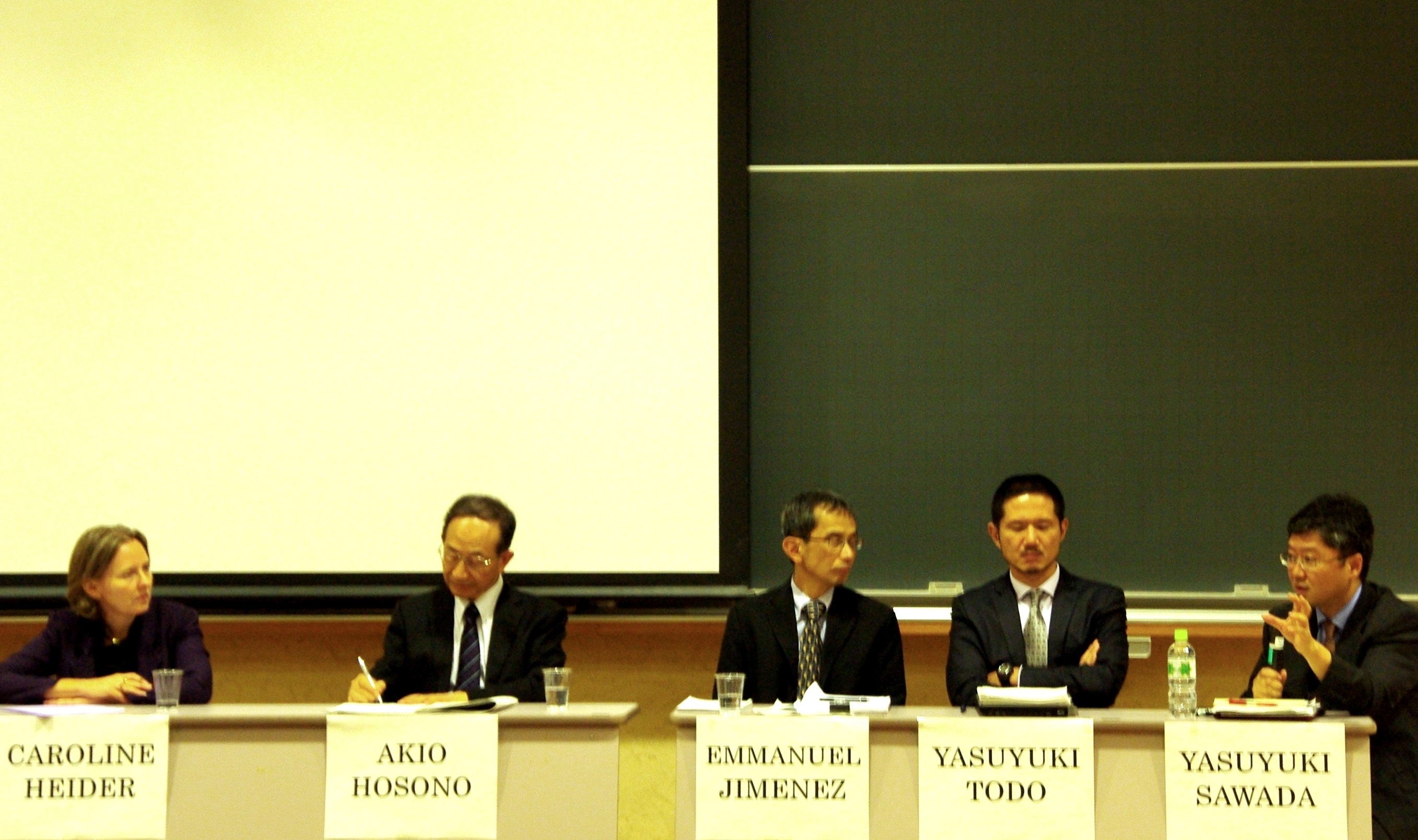 Caroline Heider, Akio Hosono, Emmanuel Jimenez,
Yasuyuki Todo, Yasuyuki Sawada (From the left)
Hosono, another guest speaker, gave a speech titled "Resilience and Disaster Risk Management," and outlined disaster prevention measures taken in urban areas from the experience in the Great East Japan Earthquake and the Great Hanshin-Awaji Earthquake. Drawing on a few JICA project examples of disaster prevention measures in Latin America—the BOSAI Project in Central America, the TAISHIN Project in Mexico and El Salvador, and the GENSAI Project in El Salvador—he especially underlined the call for a more comprehensive approach to disaster risk management that involves not only national and local governments but local communities.
Then, Jimenez, taking climate change examples, stated that the World Bank has employed the independent evaluation method for the total of around 400 projects each year. He also touched on the outcome of disaster crisis management based on their past experience in evaluations and the importance of capacity building for crisis management.
Lastly, Todo proposed a formulation of a system to keep JICA's independence in evaluation, as well as to utilize the impact evaluation to convince tax payers in order to make precise impact appraisal, citing JICA's Participatory Forest Management Project in Ethiopia and Impact Evaluation of Technical Assistance in the Foundry Industry in Indonesia.
The discussion at this seminar gave an invaluable guide for JICA in developing a more effective evaluation approach.
| | |
| --- | --- |
| Day | October 08, 2012(Mon) |
| Place | THE UNIVERSITY OF TOKYO, Tokyo |