JICA-RI Distinguished Fellow Surin Pitsuwan visited Pakistan from October 1st to October 4, 2014.
Dr. Surin had served in several key positions including Minister of Foreign Affairs of the Kingdom of Thailand, Secretary-General of ASEAN, and a member of the UN Commission on Human Security between 2001 and 2003. He is currently an International Academic Advisor at the Oxford Centre for Islamic Studies and Professor Emeritus of Thammasat University in Thailand. Since November 2013, Dr. Surin has assumed the position of Distinguished Fellow at JICA-RI.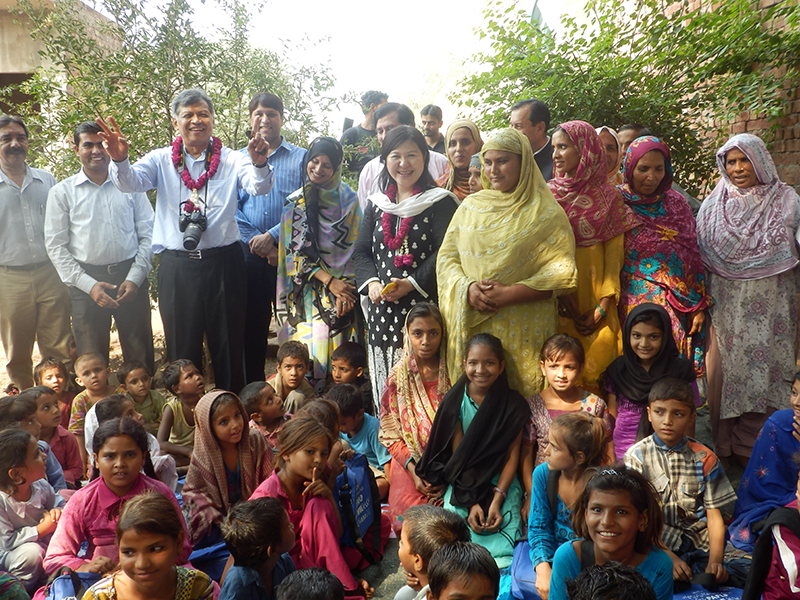 With students, teachers, and parents
at Non-formal education school
Dr. Surin chose to visit the Islamic Republic of Pakistan, where JICA has assisted the country for many years in the field of education for two reasons; firstly, Dr. Surin is himself a Thai Muslim and has a deep interest in peace and stability in Muslim societies in Asia; secondly, based on his perspective on human security, he attaches importance to inclusive development that takes into account the socially vulnerable, such as women and children. During his four-day stay in Pakistan, Dr. Surin visited various projects supported by JICA and enthusiastically listened to the voices on the ground. He also exchanged views on the country's development strategy through dialogue with such leaders in the government as the Minister of Planning and Development and the Minister of Finance
Dr. Surin considers education as a key factor for mutual understanding and a better future as he states that "education opens up the mind." He visited several projects and institutions in the education sector. When he visited the Non-Formal Education Promotion Project in Punjab, he observed non-formal basic education classes for children aged between 5 and 15. With about 40 children, their parents and guardians, and project staff, he shared his personal experience. Having been brought up as a member of Thailand's minority Muslim population, he had devoted himself to his studies through the guidance of his family and his own efforts and it was entirely thanks to education that he was able to become a researcher, a politician, and Foreign Minister. He told them that education was a source of power and that it offered an opportunity to draw children into a new world. He encouraged those present to continue with the children's education, saying that the 40 children were all brimming with potential and might become physicians, nurses, or politicians in the future. The powerful words of Dr. Surin engaged the hearts and minds of all present.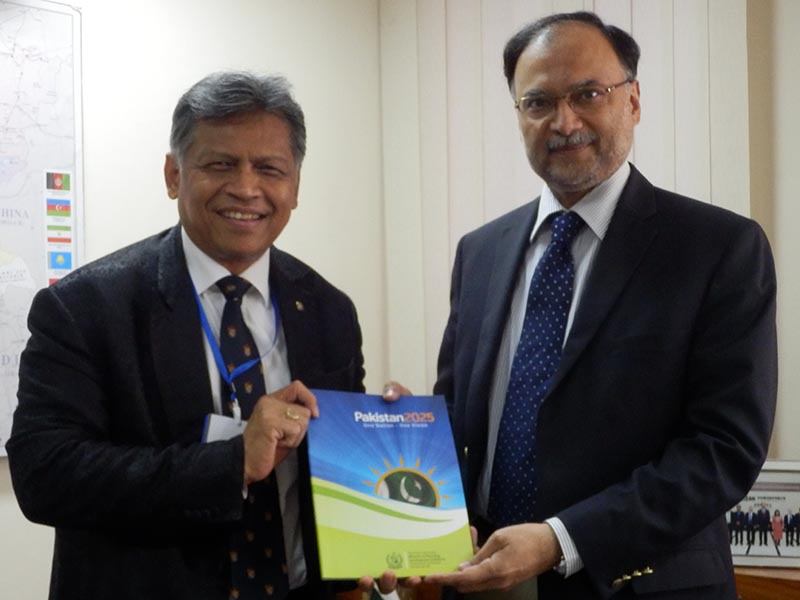 Pitsuwan (left) receiving "Vision2025"
In his meetings with Pakistan's Minister of Planning and Development Ahsan Iqbal and Finance Minister Mohammad Ishaq Dar, Dr. Surin exchanged views with them regarding Vision 2025, a development plan for Pakistan. Dr. Surin pointed out Pakistan's growth potential, referring to the case of Malaysia, where an initiative launched by Prime Minister Mahathir "the Vision 2020 plan" led to rapid economic growth in the country. Moreover, he shared his views on the common challenges of Pakistan and ASEAN countries including Thailand: the importance of collaboration between research and industry to achieve national development, and the role of government in bringing them together.
Dr. Surin expressed his respect for Pakistan's history, culture, and way of life, and encouraged the people he met in Pakistan. He highlighted the importance of education as well as keeping an open mind to gain knowledge, which will benefit Muslim societies for mutual understanding. At the same time, he offered important suggestions for JICA projects and research to ensure stability in Pakistan and other Muslim countries.
In November, Dr. Surin will present a report in Japan concerning the findings from his visit to Pakistan.