JICA-RI Deputy Director Naohiro Kitano told Asian policymakers, researchers and experts gathered in Phnom Penh, Cambodia, on May 27 about Japan's experiences with South-South and triangular cooperation.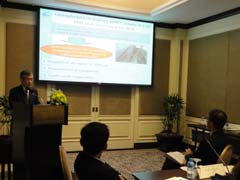 JICA-RI Deputy Director Naohiro Kitano
gives a presentation
The occasion was the fifth event in the Asian Approaches to Development Cooperation dialogues, co-organized by the Korea Development Institute and The Asia Foundation. The gatherings are held annually to facilitate discussion of approaches to development in Asia.
The purpose of this fifth event was discussion and evaluation of South-South Cooperation from the viewpoint of developing countries. The event allowed a frank exchange of views among donor countries and institutions on the one hand and recipient countries on the other. Participants hailed from Australia, Bangladesh, Cambodia, China, India, Korea, Myanmar, Nepal, the Philippines, Sri Lanka, Thailand, the U.S. and elsewhere.
In his presentation, entitled "Japan's Experiences on South-South and Triangular Cooperation," Kitano outlined JICA's history and efforts on South-South and Triangular Cooperation. He explained the "center of excellence approach."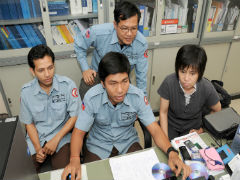 A training course is held at
the Cambodia Mine Action Centre
(Photo: JICA/Stephan Janin)
The approach involves JICA working with a partner country to establish a center of excellence in that country and transfer innovative practices to it. This center is often based on achievements from past cooperation. The center then provides assistance to developing countries with similar conditions, in partnership with JICA through its training programs and other methods, he said.
Kitano explained examples of such centers of excellence. One is the Cambodia Mine Action Centre. The center received cooperation from JICA in the sector of landmine and unexploded ordnance removal, and is sharing what it learned with Laos, Angola and Colombia. Another example Kitano mentioned is the Better Hospital Services Program. The center of excellence in this program is the Castle Street Hospital for Women in Sri Lanka, where the Japanese quality improvement method KAIZEN was introduced and it led to reduced infection among newborn babies and improved healthcare services. This innovation has since been shared with 15 countries in Africa.
In addition to centers of excellence, Kitano talked about JICA's "regional hub approach" to South-South and Triangular Cooperation. One example is the Asia-Pacific Development Center on Disability, which the Thai Government and JICA established in Bangkok in 2002
JICA-RI is carrying out research projects on South-South and Triangular Cooperation and has issued several publications, Kitano added.
| | |
| --- | --- |
| Day | May 27, 2015(Wed) |
| Place | Phnom Penh, Cambodia |