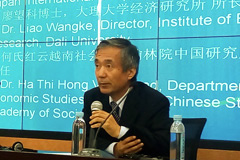 JICA Research Institute (JICA-RI) Director Naohiro Kitano recently attended two conferences held in China to give presentations on the lessons of Japan's "Pacific Belt Zone" initiative and on Japan's own experience of ODA.
"'10+3' Connectivity Partnership International Forum 2016: Roadmap for East Asian Connectivity" was held on October 24 and 25, 2016, in Nanning, Guangxi Zhuang Autonomous Region. The conference was co-hosted by the National Institute of International Strategy of the Chinese Academy of Social Sciences and Guangxi University. It brought together experts from ASEAN plus three countries, Japan, China, and South Korea to discuss the current situation of connectivity in East Asia, as well as challenges and the outlook for the future. JICA-RI Director Kitano and Suguru Miyazaki, senior representative of the JICA China Office, were in attendance.
Kitano spoke in the third session "Joint Promotion of East Asian Connectivity by ASEAN and East Asia, Not ASEAN or East Asia: Link Together!" to discuss connectivity in ASEAN and East Asia. He introduced Japan's development experience including its "Pacific Belt Zone" initiative which was shared with other Asian nations, and JICA's initiatives in strengthening connectivity in ASEAN.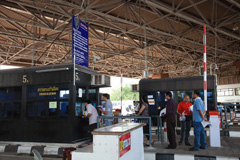 During the Forum, participants confirmed the importance of strengthening connectivity in the ASEAN plus three countries and of strengthening collaboration as entities with common interests. Meanwhile, responding to capital needs and ensuring political trust between nations were pointed out as challenges.
Following this connectivity forum, "North-East Asia Development Cooperation Forum 2016" was held in Suzhou, Jiangsu Province. The conference was held on October 28 and 29 to share knowledge between Northeast Asian countries and discuss the possibility of cooperation. Kitano and Miyazaki participated in the conference. It is a feature for participating countries from Northeast Asia such as Japan, China, South Korea, and Russia to have a common experience in both receiving and giving development aid.
The Forum has been held since 2014 to examine cooperation that makes use of these experiences. This year's Forum was co-hosted by the East and North-East Asia Office of the United Nations Economic and Social Commission for Asia and the Pacific (UN-ESCAP), the China International Development Research Network (CIDRN), and the Development Research Center of the State Council of China (DRC), and co-sponsored by societies for development from Japan, South Korea, and Russia.
Researchers from Cambodia and Bangladesh also participated, providing viewpoints from outside the region. There were also participants from the BRICS New Development Bank (NDB) and the Silk Road Fund. Discussions expanded a broad range of perspectives, including how to involve not only governmental agencies but a variety of players as well in the effort to achieve the SDGs.